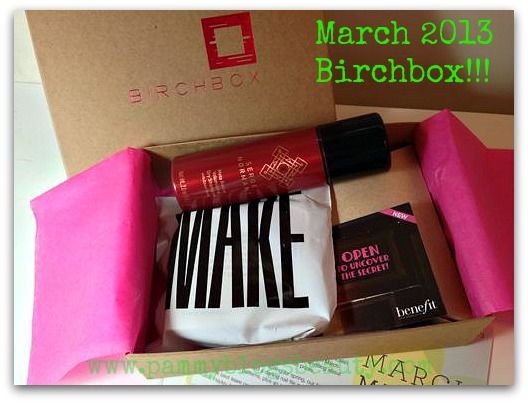 Even if you are not into Sports, I am sure that you hear the chatter surrounding the games.
Birchbox
is getting "into the game" with this box full of beauty "all stars" and up-and-coming "rookies", lol! There is a competitive spirit on the Birchbox facebook page this month, too! They will be posting beauty face-offs: eg., liquid vs. gel liner, etc. So, be sure to log in and join the fun. Even if you are not into the competition, there are prizes to be won! As always, there is an element of "fun" with Birchbox! :)
What is the
Birchbox monthly box
?
Have you not heard of
Birchbox
, or would you just like to find out more? Well then here is the scoop if you would like a subscription for yourself: For only $10.00 per month, you get deluxe high-end beauty and lifestyle product samples delivered right to your door. Each box contains about 4-5 samples plus a small lifestyle extra or two. The boxes are so cute and incredibly fun! It is like getting a little present in your mailbox each month. :) With a subscription, you get your fabulous Birchbox and full access to the Birchbox website (with tips, tutorials, articles, videos, product info, and shopping)! Review your Birchbox items and earn points on the Birchbox website! Plus, if you refer friends, you can earn points for that, too.
So, let's find out what is inside this month's
March Madness Birchbox
!!!
I am so excited about the items inside this month's box! I just love it when my
Birchbox
arrives and the items inside are things that I literally have on my list to buy because I am out! I literally just ran out of makeup remover and dry shampoo. So, I am thrilled to find those items inside. Plus, I get to explore some new brands!
Inside the Box:
Caldrea | Body Lotion in 3 Scents: Coconut Fig, Tea Olive Lime, and Aloe, Water, Apricot (3 foil sample packets, full size cost: $22): I wish these samples were larger! While I appreciate trying a new brand, I really slather on body lotion. So, a little foil sample packet is only enough for like one arm, lol! These are going to be tossed right into my travel bag for my next trip. I opened up Coconut Fig right away. I couldn't resist! I adore the scent of fig. Yum!!!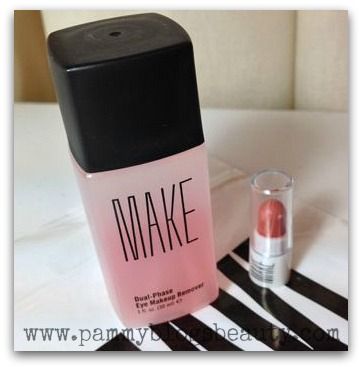 MAKE | Dual Phase Eye Makeup Remover (sample size: 1 fl oz, full size cost: $18): OMG!!! I adore MAKE's Cosmetics!!! Actually, I am currently working with the brand's PR for a review of their recent collection (so, stay tuned! That review is coming next week!) Whoo-hoo for this generous deluxe sample! This eye makeup remover should last me awhile!!! Yay! For those of you who are not familiar with MAKE, they are from the same makeup manufacturer as NARS Cosmetics and they are known for their amazing pigments! Plus, a portion of all sales go to benefit the "We See Beauty" foundation that supports women! More of all of this coming soon with my MAKE review. :)
MAKE | Lipstick in Putty (tiny little sample bullet, cute! full sized cost: $18): MAKE's lipsticks are amazingly pigmented and long-wearing. So, I am happy to get this cute little sample. I am really in love with this brand!
Serge Normant | Meta Revive Dry Shampoo (sample size: 2 oz, full sized cost: $25): Yay!!! As I mentioned, I just ran out of dry shampoo. So, I am thrilled about this very generous sample. I almost prefer a travel sized dry shampoo as you can toss it in your purse to freshen on-the-go. I have never tried this brand! So far, I really like the scent of this! I use dry shampoo every other day. So, I am very excited to get this sample!!! You can get both freshening and volume with dry shampoo! Love!!!
Birchbox Extra | Madewell for Birchbox Emery Board (full sized!): I can always use an emery board! Plus, I like that they included a plastic sleeve for it. Otherwise everything in my purse gets scratched. The floral print on the emery board is patterned from Madewell's Spring Collection. :)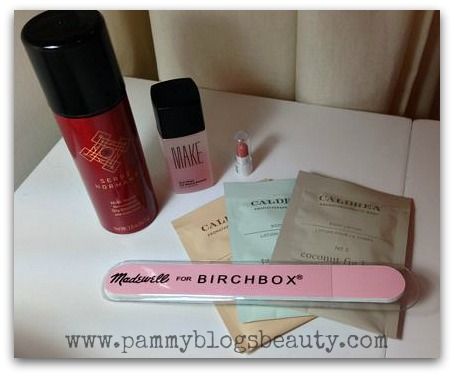 My fellow
Birchboxers
, what do you think of this month's box? Are you excited about MAKE Cosmetics, too? I would love to hear what you got in your box and how you like it! :)
I have been a
Birchbox subscriber
for over 2 years (OMG! Crazy!!!). I have reviewed each and every Birchbox that I have gotten! So, if you are curious to know the exact deets about what is inside. Please feel free to go through and read my previous Birchbox "Box Opening" posts! Here they all are! Whew!
Birchbox Introduction Post
,
Jan 2011 Birchbox
,
Feb 2011 Birchbox
,
March 2011 Birchbox
,
April 2011 Birchbox
,
May 2011 Birchbox
,
June 2011 Birchbox
,
July 2011 Birchbox
,
August 2011 Birchbox
,
Sept 2011 Birchbox
,
Oct 2011 Birchbox
,
Nov 2011 Birchbox
,
December 2011 Birchbox
,
January 2012 Birchbox
,
February 2012 Birchbox
, and the
March 2012 Teen Vogue Birchbox
,
April 2012 Birchbox Box Opening
,
May 2012 Gossip Girl Birchbox Box opening
,
June 2012 Birchbox
,
July 2012 Birchbox
,
August 2012 Back to School Birchbox
,
September 2012 Birchbox
,
October 2012 "Goop" Birchbox
,
November 2012 Birchbox
, and
December 2012 Birchbox
,
January 2013 Birchbox
, and
Feb 2013 Birchbox
.
Thanks for reading!
XOXO!!!
I pay for my Birchbox subscription.
In addition, this month Birchbox sent
me a box to review.
Note: My referral link is in
this post.