Hello
Lovelies
! This post is a companion post/review to my niece's Pammy Blogs Beauty Totally Teen feature that recently published on my blog. If you missed that post, please check it out here: Totally Teen: Makeup and Beauty Items from
SFRbeauty
. Like Mollee, I also had a chance to try out some really great items from the Purely Pro Cosmetics line available at SFRbeauty!
For this review, I tested out PurelyPro's Blush, 5-Well Eyeshadow Palette, and Vegan Buffer Brush.
PurelyPro's 5-Well Eyeshadow Palette in "Behind These Hazel Eyes":
No, lol, my eyes are not hazel. :) While this palette is designed for gorgeous hazel eyes, the neutral shades would look great with any eye color! Actually, I found that these shades looked lovely with my light blue eyes.
I just adore the color selection in this palette. It contains (from left to right) a buttery vanilla, a light neutral cool toned brown, a soft pink, a deep chocolate brown with the slightest hint of shimmery eggplant, and a deep army green. All of the shadows have a subtle almost-metallic shimmer. The shadows are all richly pigmented with a soft and blend able texture. I am super happy with this palette!
The palette itself is long and slim. It features a flip top with a long mirror on the inside. The packaging is lightweight and not overly bulky. So, it will be great for travel. Actually, I have traveled with it a couple times already! :)
The Skinny:
PurelyPro has 15 different 5-Well Eyeshadow Palettes.
Each palette contains 5 coordinated eye shadows.
Each palette retails for $56.99.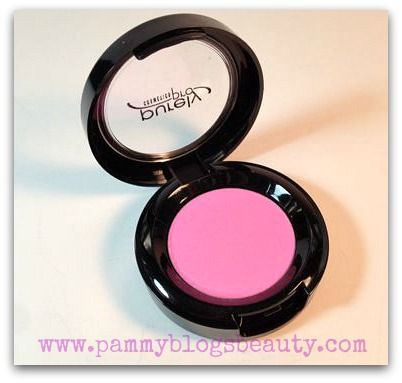 PurelyPro's Blush in "Universal"
:
Now ya'll know how I adore blush!!! :) This beautiful bright pink blush by PurelyPro is exactly the type of shade that I love to wear!!! "Universal" is a richly pigmented matte bright "Barbie" pink. It is a lovely pop of color on my fair skin. I just love it!
The packaging is simple and chic: just a black round compact with a clear lid.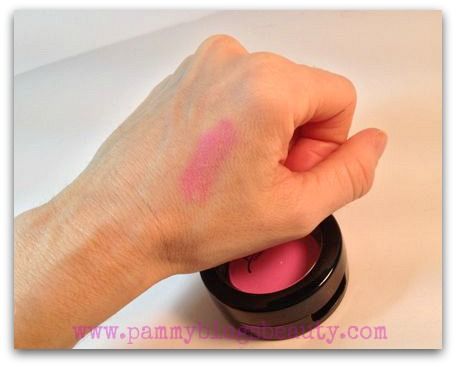 The Skinny:
Currently there are 12 shades of PurelyPro blush available on the SFRbeauty site
PurelyPro blush retails for $21.99 each
Purely Pro Jumbo Buffer Vegan Brush
#330:
I can't get over how amazingly soft this brush is!!! It is essentially a long handled compact kabuki. You can use it to apply powder foundation/mineral foundation, bronzer, or blush. I like to use it for bronzer and blush. The brush hairs are synthetic and vegan. It washes well and is of really nice quality! I really love the soft feel of this brush on my face. The brushes in the Purely Pro line are totally worth exploring! Retails for $40.99.
Have you tried anything from this line? I am hoping to explore this line further in the future!
Thanks so much for reading! Stay beautiful ya'll! :)
XOXO!!!