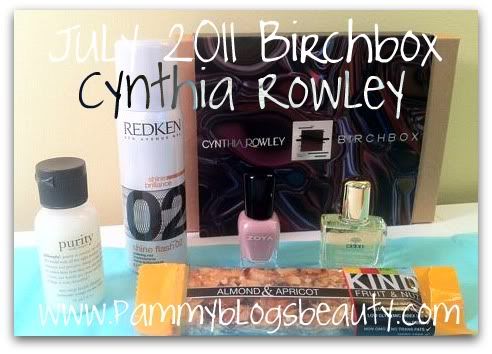 Its my favorite time of month again! Time for my monthly Birchbox! Whoo-hoo! Ya'll know I look forward to the 10th of every month for this fabulous box of beauty goodies. I love opening it "with" you readers and sharing all about the wonderful treats inside (and hearing what you guys got too my fellow Birchboxers)!
Last month's Birchbox was soooo good. So, I had high hopes for this box. Especially since I knew that the box design and contents were specially selected by famous designer Cynthia Rowley. I admit, I very eagerly anticipated this month's box!
Just in case you are new to my blog or haven't heard of Birchbox, it is a monthly sample subscription of a gift box filled with 4-5 deluxe sized samples plus occasionally a "treat" or an "extra". The subscription is about $10/month and it includes the monthly Birchbox, access to the fabulous member's only
Birchbox website
, free shipping on full sized products included in the current month's box, and opportunities to earn Birchbox points for reviewing the products on the Birchbox website (accumulated points go towards discounts on purchases).
Curious about my previous Birchboxes? Check out my monthly posts: January 2011 Birchbox, Feb 2011 Birchbox, March 2011 Birchbox, April 2011 Birchbox, May 2011 Birchbox, and June 2011.
For all the details about the goodies in the Cynthia Rowley July 20ll Birchbox, keep reading!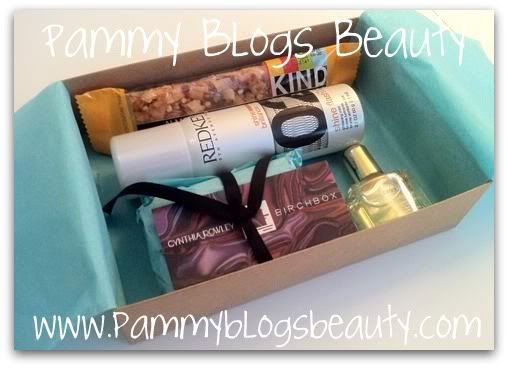 Okay...so, before I even opened July's Birchbox, I was curious about the contents as the box itself felt much "heavier" than usual. All I was thinking as I was cutting through the tape of the outer delivery box was "this one is going to be GOOD"!!!
I was absolutely delighted to remove the outer box to see such an artistically designed sleeve on the Birchbox. This is a new twist! Even from the outside, this month's special box just "feels" designer. I believe that gift giving (even if you give yourself a Birchbox subscription as a gift to yourself) is all about the presentation. A beautifully wrapped gift is an art form. So, in that way, this is the best Birchbox yet! The swirl design on the box sleeve and in the box insert cards is just beautiful. Another noticeable difference: Instead of the trademark Pink and Burgundy tissue paper, the inside of this box was wrapped and lined with pretty sky blue tissue paper. The overall effect is gorgeous! Well done Cynthia! You know, its just these beautiful touches, attention to the little details, and impeccable customer service that make me such a loyal customer of Birchbox.
What are some of the other little details that make Birchbox standout from month-to-month (these are the things that Birchbox has consistently done well):
E-mail notifications of your pending Birchbox.

The timely delivery of your actual Birchbox to your mailbox.
Well packaged for shipping: I have never had anything smooched nor broken.
Beautifully wrapped packages: complete with giftbox, tissue paper, monthly letter from Birchbox, some individually wrapped items (tied with grosgrain ribbon), and card inserts. I am such a sucker for good packaging. It truly feels like opening a present when you open the monthly Birchbox.
Very well selected and thought out contents. They select such a wide variety of items. I also like that the items are selected to coordinate with the monthly theme. I have found so many new and fun beauty items and brands from Birchbox!
The value of the the items always far exceeds the actual cost of the box.
The Birchbox website: Well designed! It is easy to earn Birchbox points for feedback on Birchbox items. I am also pleased with my orders that I have placed. There is a ton of great information on the site. It is fun to visit! My only critique is that I wish there was more variety and selection when shopping on Birchbox.com.
A quote from Cynthia Rowley (quote found on card insert inside Birchbox):
"I'm super low maintenance but I do have my favorites. These are products that I feel enhance beauty without masking it or changing it too much-its always better to be low-key and rely on your natural good looks!"
The July 2011 Cynthia Rowley Birchbox:
I know ya'll are ready to hear the details about what was included in this month's box!
philosophy | purity made simple one-step facial cleanser (1 oz sample, full size cost: $20/8 oz and $32/16 oz): I am so excited to see this sample in my Birchbox!!! Honestly, I have wanted to try this classic cleanser for the longest time (especially since I recently got a Clarisonic and heard this cleanser is great with the Clarisonic!). This award-winner is pH-Balanced to gently clear away dirt, oil, and makeup without drying out skin.
Nuxe | Huile Prodigieuse Muli-Usage Dry Oil (10 ml sample, full size cost: 50 ml/$29.50 and 100 ml/$44.50): I am so intrigued by this product! I generally enjoy trying multi-use products. This little bottle is so pretty! The small sample size makes it perfect for travel or slipping in my makeup bag. My dry skin loves oil. So, I can't wait to try this on my cuticles, hair, and skin. It smells lovely. The scent reminds me of essential oils or of an Aveda store. A makeup artist favorite. This multi-use oil gives face and body a pretty glow (minus any slickness), and it works to smooth flyaways, too.
Redken | Shine Flash Redken. Honestly, I am realizing that I need to write more about hair products on my blog! Can't wait to give this a try. My hair is highlighted. So, I am always in need of a good shine product. This is a generous size sample (and I believe the "cause" of the Birchbox feeling so heavy this month!). A must for all Cynthia's runway shows, this weightless spray gives hair a brilliant flash.
Zoya | Touch Collection Polish in Pandora (.25 fl oz sample, full size cost: .5 fl oz/$8): Yay!!! Another sample from Zoya! Birchbox introduced me to Zoya a few months ago with a sample and I am thrilled for another one! I love these little sample sized polishes as I never use up a full bottle anyway! :) Great size for travel! This is a beautiful and shimmery beige/taupe polish. This will make a lovely and professional looking manicure (I am in "back to work/school" mode). Neutral gets a sexy makeover in this creamy, slightly metallic nude. The perfect accessory to summer's bright fashions.
Birchbox Extra: KIND | Almond & Apricot Fruit & Nut bar: LOL! This all natural snack bar lasted only about 5 minutes after I opened my box as I was hungry and ate it immediately! :) I really like how Birchbox always includes an extra non-beauty item in the box. They really choose a nice variety of extras and this yummy snack was no exception! I would totally repurchase these. I am pregnant and always hungry, lol! These bars would be great to keep in my purse for snack emergencies! It tasted of Almonds, fruit, and coconut. Yummy! Snack right with this wholesome bar-no preservatives or hard-to-pronounce ingredients.
So, are designer themes a new and hopefully ongoing trend with Birchbox? I sure hope so!!! This month's box is beautiful from the inside out! I know I will enjoy exploring the contents of this months box. Also, I will for sure check out the rest of Cynthia's product picks on the Birchbox website.
Fellow Birchboxers, did you get the same box this month? Anything different inside?
Thanks so much for reading my dears!