Hey dolls! It is time for another beauty sample box opening. This time we are opening the
Total Beauty Collection and HSN Box
! Let me just go ahead and tell ya'll...WOW! You are going to love this box!!!
The Scoop on the
Total Beauty Collection Boxes
:
The Total Beauty Collection Boxes are unlike other beauty boxes: there is no subscription! Total Beauty curates boxes throughout the year. When a new box is available, you simply pay a one time flat fee for that specific box. There are no surprises: you know exactly what is inside the box. That way you can determine for yourself if you want or need the box and the products inside. These boxes are amazing deals! Prices range from $15-$30 (depending on the specific box). From the Total Beauty Collection boxes I have reviewed previously, I can tell you that these boxes are amazing values.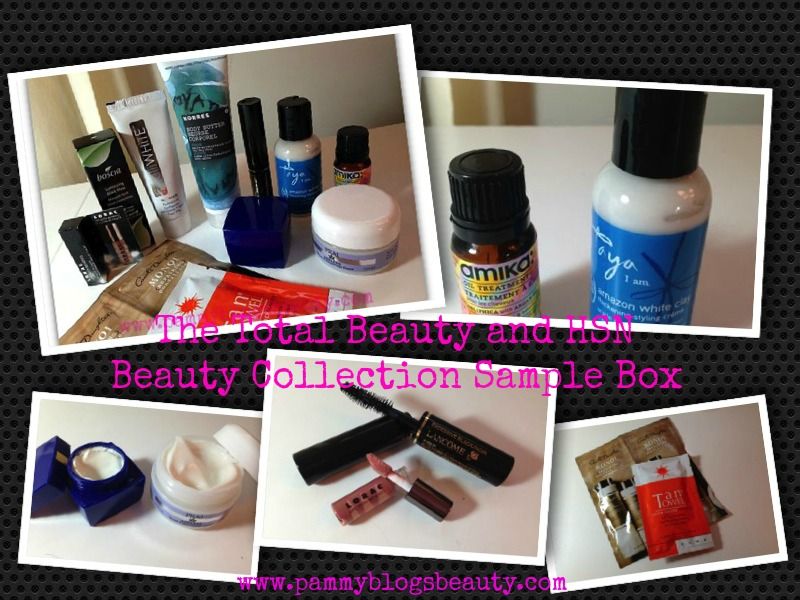 The Skinny on the
Total Beauty Collection and HSN Box
:
This is almost the same Collection that was sold with HSN previously (in Sept 2012), but this time they added 3 great new products!
The box contains 12 products from 11 fan-favorite brands, plus a $10 coupon for HSN!
The Total Beauty and HSN Collection box retails for $19.95
The Collection box goes on sale March 18: be sure to tune in that day to see the show!
The Collection can be purchased online: I will add a link when the box is available
Other Total Beauty Collections are now on sale (for a variety of price points) at www.TotalBeautyShops.com
Lets find out what is inside this box!!!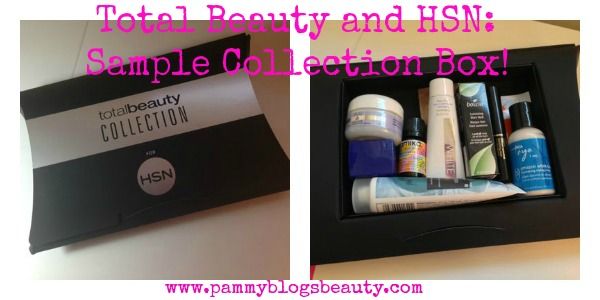 The Total Beauty Collection and HSN Box Opening:
This is am amazing box!!! It is absolutely packed with samples from so many great brands. Lets dig inside together and scope out the product details!
Inside the Box:
Signature Club A | Precious Moroccan Oil Oasis Day Cream SPF 25 (sample size: .35 oz, full sized cost: $28.50): This is an anti-aging day cream formulated with Moroccan oil and SPF. It is thick and creamy; yet, it is not heavy on the skin. I am always looking for a good day cream with SPF. So, I am excited to try this one out!
Boscia | Luminizing Black Mask (sample size: .35 oz, full sized cost: $34): This peel-off mask from Boscia removes impurities while minimizing pores. I love facial masks and I am a huge fan of Boscia products. So, I can't wait to try this out! This sample size should be big enough for one mask treatment.
Taya | Amazon White Clay Thickening Styling Creme (sample size: .5 fl oz, full sized cost: $29.95): This non-greasy styling cream from Taya adds fullness to your hair while smoothing it and preventing flyaways. You can apply it at the root to give your hair some "oomph" and bounce. I love using thickening products. Not because my hair is thin, but because I really like the look of volume at the roots. My hair is very long. So, I need volume there to give my hair some style. This white clay creme from Taya has a very fresh and clean scent. I like it!
Amika | Oil Treatment for the Hair (sample size: .34 oz, full sized cost: $34): Have you ever tried a hair oil? I am such a fan of hair oils! This oil from Amika restores moisture to your hair while leaving it shiny and smoothed down. Just apply a few drops to your hair and distribute. It does not make your hair look oily. It makes it shiny and smooth. This product is formulated with argan oil, jojoba oil, and sea buckthorn oil.
IntelliWHITE | Pro White Professional Toothpaste (sample size: 1 oz, full sized cost: $16.95): This is a whitening toothpaste with flouride. It has a light minty scent that is very pleasant. While some people are not fans of getting toothpaste in beauty boxes, I rather like the treat! I rarely splurge on nice toothpaste. So, I am really going to enjoy using this!
Korres | Body Butter in Guava Extra-Moisturizing Cream for Dry Skin (sample size: 1.69 fl oz, full sized cost: $29): This is a super thick and moisturizing body butter. It has a yummy tropical scent and it is so moisturizing! It is thick enough to be used for a hand cream too. I am so excited to use this! My hands and body have been so dry from the cold weather. This product is such a treat! This sample size is just perfect for my purse/diaper bag!
LORAC | Lips with Benefits Lip Gloss in Chuck (sample size: .05 fl oz, full sized cost: $18): OMG! This sample is so cute! It is seriously the tiniest little lipgloss that I have ever seen. Sure, I wish that this sample was a bit bigger. However, I am kinda obsessed with the idea of bringing it on a short weekend trip and using it up in just a few days. I am going to toss it right in my travel bag for that specific reason! Hey, anything to help me travel light! I love traveling with my beauty samples. I get so excited to use everything!!! :)
Lancome | Hypnose Drama Volume Mascara (sample size: .135 oz, full sized cost: $26): I love Lancome mascaras!!! This Hypnose Drama Volume mascara has a very unique and cool brush! It is shaped like an "s". The shape seems to help it grip your lashes to create volume. I am typically a drugstore mascara gal; so, I love getting high end mascaras in beauty boxes. This mascara is a nice treat!!!
Prai | Ageless Throat & Decolletage Creme (sample size: .5 fl oz, full sized cost: $29): This is a cream specifically designed for the delicate throat & decolletage area. I know that we should always pay as much attention to this area as our face; but, quite honestly, I always forget! I know that I could just use my skincare on my throat and decolletage; but, for some reason I just never remember to apply it there. That is where this product comes in! Having something specifically designed for this area is a great idea! This product moisturizes while increasing firmness and elasticity. It contains antioxidants and shea butter. Plus, it has a lovely scent!
Tan Towel | Self-Tan Towelette (sample size: 1 towelette, full size cost: $23 for 12 towels): You can get a full application with just one towel! These are absolutely ideal for travel! Who wants to pack a big bottle of sunless tanner? Not me! You can quickly give yourself a tan by wiping one of these towelettes over your body after exfoliation. What a great idea!!!
Carol's Daughter | Monoi Repairing Shampoo and Conditioner (sample size: foil packet, full sized cost: about $20 each): This shampoo and conditioner is formulated with monoi oil, coconut oil, bamboo juice, and pro-vitamin b5. While I wish that these samples were larger, I will enjoy using these on my next trip! I am new to this brand and am excited to test these out!
$10 coupon for HSN (off $30 or more)!!! Who doesn't love a good coupon! :)
What a fabulous box from
Total Beauty and HSN
! There is not question that this box is an amazing value for the $20 price!
Have you tried a beauty collection box from Total Beauty? Does this one interest you?
Thanks so much for reading!
XOXO!!!