I Bought It
Press  Sample
Affiliate Link
Blogger Ambassador
Ever wonder what a Beauty Blogger keeps in her handbag? Only the best beauty and on-the-go essentials, right (for me it is that and a whole lot more, lol)? Well, the Beauty Spotlight Team has been taking turns every/other week sharing what we have in our purses. This week it is my turn!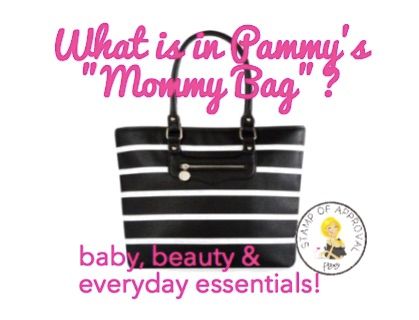 About Me: What would I need in my purse? 
A woman's day-to-day life pretty much dictates what she carries around in her bag. For a girl like me, my bag is full of on-the-go essentials for a busy Mom of a 14-month old and a 3-year old. My days and weeks are packed with play dates, preschool events, grocery shopping, YMCA/gym time, swim lessons, park-time, carpool lines, ballet lessons, Mommy-and-Me story times, family time, lunches with Grandma and kids, MOMS Club events, MOPS events/meetings, whew...I feel busy even just writing all of this!
How did I decide upon my Mommy bag?
Some Moms carry a purse and a diaper bag. I have found, through trial and error, that my best bet is to go with one huge bag that carries everything. Sure, I sometimes default to your standard diaper bag. However, I find that an inexpensive and trendy large tote-style purse is so much more chic! I can fit all that I need for my baby boy, my active preschooler, and myself...while still looking stylish. Us Mommies carry around a LOT of stuff, lol! I find that another "key" with this method is to go with an inexpensive bag. There will be spills (sippy cups, snacks, etc) and you might even end up toting away a dirty diaper or clothes from time-to-time...so, why mess up a pricey designer bag? Go with an inexpensive one and you won't be sorry.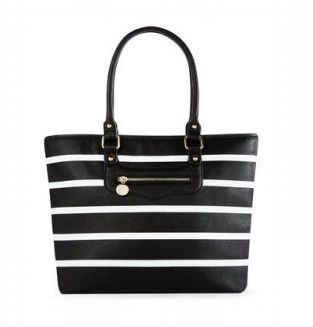 The bag I am carrying right now is the
Ethan striped tote in black from JustFab
. I absolutely love it! If you haven't checked out
JustFab
, they are a great source for inexpensive shoes, handbags, accessories, and now even a full clothing line! You can shop the full look from head-to-toe or browse individual items. Shoes and Handbags start at $39.95 and clothing starts at $9.95. When you join as a VIP you get the option to purchase items monthly from a personal boutique created with your style in mind, or can skip the month if you don't feel like spending.
Let's dig right into my purse, shall we ya'll? What does a busy Mommy Beauty Blogger carry around? I am going to go over everything! First we can talk Mommy Essentials and then I will go over all of my beauty items! :) Click "read more" below to hear more!