It is "
Back-to-School
" time with
Birchbox
!
There is a certain thrill to this time of year. The excitement of a new beginning and a change in the mark of time. As a new stay-at-home Mom, this is a first for me: The first time NOT going back to school in decades! That is right, I went straight from high school to college, and then college to grad school, then grad school to my first job as a Speech Therapist at a School. While not personally going "back to school", I still feel that certain "excitement" for this time of year! So, I think that this "Back-to-School Birchbox" theme is cute and timely.
What is the
Scoop with Birchbox
?
Many of you readers know the drill with how Birchbox works. If you do, just skip over this next section. If you are not familiar with Birchbox, please read on! :)
Birchbox
continues to be one of my very favorite beauty subscriptions!!! You can't beat the price, and the samples are always great!
Birchbox
is a monthly beauty sample subscription service. For $10 per month, you get a beautifully wrapped box full of 4-5 deluxe size (and the occasional full sized) luxury or boutique beauty products. It is a great way to discover new beauty brands and get out of a makeup/skincare/haircare rut! Plus, it feels as if you are unwrapping a little present! It is my monthly gift to myself and I just love it! I have subscribed for over a year and have just been so happy with the service and the items I have gotten in the boxes. Beyond the boxes being a great value, they are fun! I honestly have found some great new brands and some new favorite products through my Birchbox sample subscription.
Curious what has been in some of my previous Birchboxes? Be sure to check out these posts:
Birchbox Introduction Post
,
Jan 2011 Birchbox
,
Feb 2011 Birchbox
,
March 2011 Birchbox
,
April 2011 Birchbox
,
May 2011 Birchbox
,
June 2011 Birchbox
,
July 2011 Birchbox
,
August 2011 Birchbox
,
Sept 2011 Birchbox
,
Oct 2011 Birchbox
,
Nov 2011 Birchbox
,
December 2011 Birchbox
,
January 2012 Birchbox
,
February 2012 Birchbox
, and the
March 2012 Teen Vogue Birchbox
,
April 2012 Birchbox Box Opening
,
May 2012 Gossip Girl Birchbox Box opening
, June 2012 Birchbox, and July 2012 Birchbox.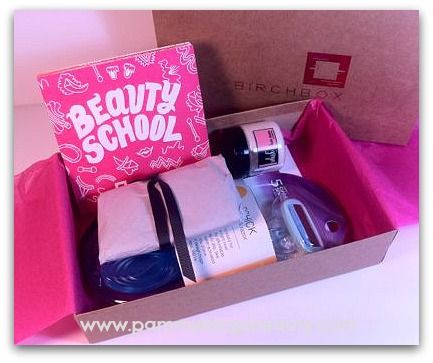 August 2012 "Back-to-School" Birchbox:
This is such a great time of year! It is late summer, the weather is beautiful, and Fall is just around the corner!
"Pencils of Promise": Shop at Birchbox and Birchbox Gives!
In honor of the August box's Beauty School theme,
Birchbox has
teamed up with Pencils of Promise, a non-profit dedicated to making quality education available to communities in need. This month, we're donating 15% of the proceeds from all sales in the Birchbox Shop to the organization, with the goal of building a school in Guatemala*.
Instead of
Birchbox
's usual postcard, they included a "Beauty 101" folded pamphlet. It is a tips sheet with tips on beauty tools, reading product labels, getting a better shave, makeup quick fixes, and skincare. Cute! I love reading tips like these. How fun! On the back of the folded card is the "supply list" which is your list of samples.
Inside the Box:
Juicy Couture | Viva la Juicy La Fleur ($70.00 for 2.5 oz, sample size: mini vial with spray): OMG, I have sooooo many sample perfume vials on hand from my various beauty sample subscriptions. I honestly do not need any more of these! However, I really adore this scent and I am obsessed with perfume in general lately. So, I am happy to have it! I just wish that the sample was a bit larger. I really, really like this scent! The scent has the fruity top notes (mandarin and berries) of the origional Viva la Juicy combined with honeysuckle, gardenia, and jasmine. Mmm!!!
Stila | stay all day 10-in-1 HD beauty balm, foundation, and concealer ($38-$44.00 for 1 oz full size, sample size: foil packet on a card): I am really surprised that this foil packet/card is considered one of 4-5 "deluxe sized" samples? I think this would be better suited as an extra. Birchbox is normally really very generous with their samples. So, I am a bit surprised. I would have loved a larger sample. Oh well! These multi-tasking favorites are your cheat sheet to flawless skin.
whish | Shave Cream ($20.00 for full sized, sample size: I don't see it listed...but am guessing 1 oz?): Oh goody! I have always wanted to try something from this brand. This is a very generous sized sample. This product smells so good: like apples! It is nice and creamy. It will be a treat to use! The organic shea butter in this foam-free shaving cream softens your skin as you shave.
Yu-Be | Moisturizing Skin Cream ($16.00 for full sized, sample size .1 oz): I love this stuff. I actually have a full-sized tube already and am planning on reviewing it soon! It is my newest go-to treatment for softening my feet (love using it overnight with cotton socks...but with this summer heat, it is too hot for socks at night, lol!). I recommend it to anyone with dry/calloused feet! It is a super rich balm-like cream. I am happy to have a sample size of this for travel. This will go right in my travel product kit for my next weekend getaway! This best selling Japanese cream hydrates chapped lips, rough heels, and cracked hands.
Birchbox "Finds": Schick Hydro Silk Razor (Full size!!! Price $9.99): This Birchbox "finds" category is new! It looks as if the Birchbox finds are value products that Birchbox recommends. Personally, I love both drugstore and high-end products. So, I like that they are including drugstore finds. I am a huge fan of Schick Razors! I love the Hydro Silk!!! Actually, I was just about out of refills for the one I already have it my shower. So, good timing! Clearly the $9.99 value of this full-sized product pays for the Birchbox itself. This razor contains a long-lasting moisturizing serum in the water-activated strip around the blades. It makes for a very smooth shave!
So that is it!
I like that this month had some "coordinating" products: the razor and the shave cream. The "Back-to-School" theme was cute too. Be sure to check out Birchbox's online magazine too! The August issue is great with articles, videos, how-tos, and of course the Birchbox blog! No, this was not my favorite Birchbox ever; but, I am still happy with Birchbox as a whole. While I would prefer that the samples be more "luxury" than say...a razor, I am still happy because it is an item that I needed and will use. I am very surprised that the Stila foundation card counted as a "deluxe sample"...but, that is the first time that Birchbox has done that in one of my boxes. As with all beauty subscriptions, I look at the quality of boxes over time. Birchbox has been consistently good. So, while this particular box is not one of my faves, I am still pleased with my subscription.
As a former educator, I am thrilled that Birchbox is donating proceeds from this month's sales to "Pencils of Promise"! Donating towards a child's education is a a gift that truly keeps giving (for a lifetime!).
with referral link (all links
in this post are referral links)