Can you believe that it is time for my monthly
Birchbox Box Opening
post? Time just seems to be flying by these days! Summertime is one of my absolute favorite times of year. Long, warm, and sunny days filled with pool-time, dog walks, and now baby-activities too! Hectic schedules give way for thoughts of summer vacation planning and packing for the beach. Even if I can't get out of town, I mentally take a break. So that might mean just stopping by CVS to load up on celebrity gossip and beauty magazines for an afternoon of reading on the back porch under the ceiling fan with a big glass of lemonade!
Apparently the folks over at Birchbox are like-minded! The June box has a "
Jet Set
" theme. How perfect for this time of year and my general frame of mind! This month's box is packed with travel friendly items that you can put right in your carry on bag.
The Scoop on Birchbox:
Birchbox
is a monthly beauty sample subscription service. For $10 per month, you get a beautifully wrapped box full of 4-5 deluxe size (and the occasional full sized) luxury or boutique beauty products. It is a great way to discover new beauty brands and get out of a makeup/skincare/haircare rut! Plus, it feels as if you are unwrapping a little present! It is my monthly gift to myself and I just love it! I have subscribed for over a year and have just been so happy with the service and the items I have gotten in the boxes. Beyond the boxes being a great value, they are fun! I honestly have found some great new brands and some new favorite products through my Birchbox sample subscription.
I admit to having many beauty sample subscriptions (cough, beauty sample junkie, cough) and
Birchbox remains my favorite
! Curious what has been in my previous Birchboxes? Check out those posts here:
Birchbox Introduction Post
,
Jan 2011 Birchbox
,
Feb 2011 Birchbox
,
March 2011 Birchbox
,
April 2011 Birchbox
,
May 2011 Birchbox
,
June 2011 Birchbox
,
July 2011 Birchbox
,
August 2011 Birchbox
,
Sept 2011 Birchbox
,
Oct 2011 Birchbox
,
Nov 2011 Birchbox
,
December 2011 Birchbox
,
January 2012 Birchbox
,
February 2012 Birchbox
, and the
March 2012 Teen Vogue Birchbox
,
April 2012 Birchbox Box Opening
, and
May 2012 Gossip Girl Birchbox Box opening
.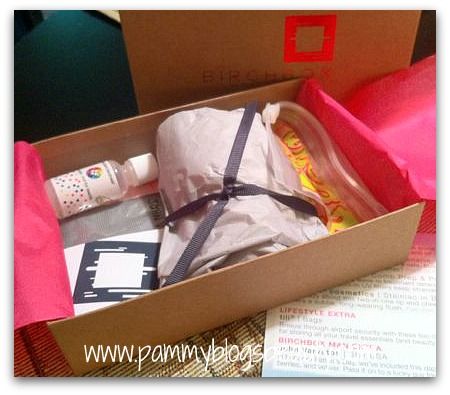 I loved last month's
Gossip Girl themed Birchbox
(and I am a total Gossip Girl fan too!). So, my expectations for this month's box are extra high! Is this month as good as last months? Keep reading to find out what was inside my June 2012 "Jet Set" Birchbox!
The June Birchbox, as always, comes beautifully wrapped. Birchbox has continued to set the standard to which I judge all other beauty sample boxes! The boxes are always well packed with tissue, tied up with ribbon, and (of course) full of samples!
What is inside?
beautyblender | blendercleanser (sample size 1 oz? Full size cost: $17.95): Seeing this reminds me that I need to test out my beautyblender! I do actually have a beautyblender that I haven't tried yet. I heard nothing but great things about the beautyblender for so long that I finally got one. I am glad to have this little cleanser sample for cleaning the beautyblender and makeup brushes as well. Perfect for travel! Keep your makeup sponges and brushes in prime condition with this soy-based formula, which removes built-up bacteria and oil.
Comodynes | Self-Tanning Intensive (sample size 2 packets, Full size cost: $14.99 for 8 pack): Oh! These are actually a product that I have scheduled to review soon! Funny! :) Tanning towels sure are handy. I know already that one of these towels is enough to do your entire body. Who needs the sun when you can get a safe, buildable, and natural-looking tan with these bestselling European towelettes?
Number 4 | Super Comb Prep & Protect: (sample size 1.45 fl oz, Full size cost: $32.00): OMG! Yay!!!!!!! I am so thrilled to see another No. 4 sample! A few months back, I got the Lumiere d'hiver Reconstructing Masque in a Birchbox and I totally fell in love with it. This line is a bit pricey. So, I am so happy to sample these generous deluxe sizes! I really can't wait to try this!!! This gorgeous-smelling leave-in treatment detangles and defrizzes with nutrient-rich botanicals, while built-in UV filters keep strands protected.
theBalm cosmetics | Stainiac in Beauty Queen: (sample size .04 fl oz, Full size cost: $17.00): Whoo-hoo! A sample from theBalm! Are you familiar with theBalm? theBalm is quickly becoming one of my favorite makeup lines. I just tested out the Nude'tude palette and that review will be coming soon for ya'll. Love it! Also, I reviewed the Time Balm concealer previously (Check that out here). So, you know that I am thrilled to try out another product from this brand. This little stain sample is soooo cute! I am always happy to get a makeup sample in my Birchboxes. Especially from one of my favorite brands! We're crazy about this two-in-one lip and cheek stain: the sheer gel formula delivers a subtle, long-wearing flush.
LIFESTYLE EXTRA: tili | Bags: (sample size: 1 bag, Full size cost: pack of 9-12 $8.49-$9.49)This is a fancy zippered ziplock-type bag that is the perfect size for going through airport security. What a cute extra for a travel-themed box! I know that I never seem to have quart-sized ziplocks on hand when prepping for travel. Plus, this one is super cute and looks more durable than your typical ziplock. This will likely last for a few trips! Can't wait to use it. I am going to out it right with my travel bags for my next trip! Breeze through airport security with these too-cute plastic bags. They're perfectly sized for storing all your travel essentials (and beauty samples). I am just about to place a Birchbox order today and I think I will add these to my order!!!
BIRCHBOX MAN EXTRA: John Varvatos | Star USA: (sample size: vial inside a packet, full sized cost: $55-70) Okay, this is kinda cute. Birchbox included an item for the man in your life. Be it your husband or Dad, I am sure that your man will appreciate a little something! I know my Hub is always like "What is this Birchbox charge on the bill?". :) So, now he gets a Birchbox treat too! Plus, ever since watching Fashion Star, I am a huge John Varvatos fan! ...A blend of ginger, juniper berries, and vetiver.
Overall, another great month for Birchbox!!! I absolutely can't wait to try quite a few items in this box. Namely: the No. 4 Leave-In Hair treatment (I just got my highlights touched up a couple days ago. So, I really need a hair treat!), the Balm Stainiac, and the tili bag! :) The BIRCHBOX MAN extra was a cute addition. But, I don't want to see too many repeats of men's samples. Also, I like the variety represented in the samples: tanning, travel bag, hair treatment, makeup, brush cleanser. Nice variety!!!
If you haven't subscribed to
Birchbox
yet, I highly recommend this beauty sample service! It is by-far my favorite. Yes, GLOSSYBOX is good too (but you are going to pay double for it!). In the $10 per month beauty sample category, Birchbox can't be beat!!!
with referral link (all links
in this post are referral links)