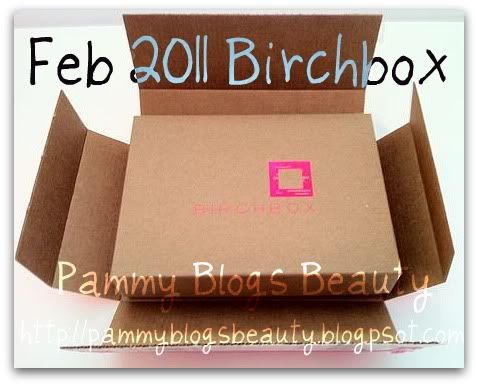 Hello Beauties! Can you believe it is that time again, yes, my
February Birchbox
just arrived!!! So, here is my monthly Birchbox haul/first impressions post! As always, Birchbox has outdone themselves with another fab box of deluxe samples. To see my January Birchbox, please read
here
.
Basic summary of how Birchbox works:
Birchbox is a online members-only luxury beauty company. They offer a sample "subscription" for $10 per month or you can sign up for a 3 or 6 month or 1 year subscription (prices vary). With a subscription your get a monthly "Birchbox" which contains 4-5+ Deluxe sized samples of high end products. Each box seems to have a theme and they come wrapped beautifully! It is like getting a present every month! The boxes contain a card which explains the month's theme and describes the products you get!
When you join, you create a beauty profile with specifics about what you are looking for in your products, your skin type, etc. This way your Birchbox can be customized to your preferences, coloring, skin type, etc. Perfect! I have checked out what some other friends have gotten and the boxes truly do differ slightly depending on what you like. Very personalized.
The boxes are just super classy! Not only do I love it for myself, but it would be great to give someone as a gift! I think any beauty or product lover would get a kick out of these monthly boxes. The samples vary in size, but overall I think they are very generous! You are definitely getting more than your money's worth here. High end treats for $10 per month! What a nice splurge!
Another bonus, the website has fabulous tips for using the specific items in your Birchbox! After testing out the products, you can rate them on the website and gain loyalty points that can accumulate for money off your purchase of full sized products. If you want to order a full sized product of something in your Birchbox, you can order it with free shipping (and will gain more loyalty points). I am really enjoying the actual Birchbox website, it has not only shopping and tips about your particular samples, but also great general beauty tips. Its a fun site to visit, browse, and read! I am so happy I signed up and am continuing to love the Birchboxes, samples, and general member benefits (like gaining points and having full access to the website).
So, now on to the February box!!!
For photos and contents, please keep reading after the jump!
February 2011 Birchbox
I love this Month's Box!!! Fittingly, this month's box has a Valentine's theme: indulgences. So, Birchbox wants to "treat us" in this box with indulgent samples. LOVE it!!!
This is a first impressions/haul post, so you aren't getting reviews here...just a sneak peak and my first impressions of the items. Stay tuned for future blog posts with reviews of various Birchbox items! I will be posting a My Face Works Mask (from the January box) in the next few days! :)
Okay, side note before I get into specific products...these boxes always smell lovely when you open them!!! They really choose their samples well as the box just has such a wonderful "Aveda-like" herbal and natural scent when you open it (from the combined fragrances of the samples included). My last box had a lovely scent too! It just adds that extra touch when you open it to have that lovely scent waft out.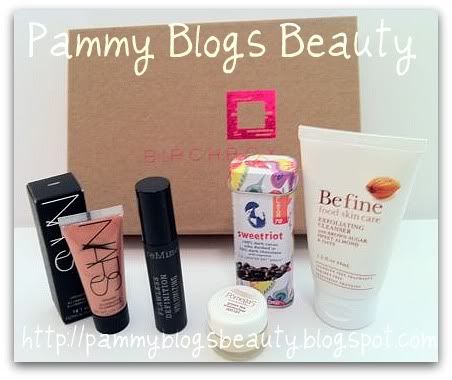 So, here is what I got:
Bare Escentuals Flawless Definition Volumizing Mascara in black (5 ml): Nice size for the purse. I am excited to try this!
Befine Exfoliating Brown Sugar Cleanser (1.5 fl oz): Smells Yummy!!! It states that it will nourish dry and sensitive skin (I am both).
NARS Orgasm Illuminator (.29 oz tube): WOW!!! This is my fave of this month's box!!! I am a huge fan of NARS's Orgasm blush and this is pretty much that same shade in a liquid form. So pretty! The value of this one sample is worth more that the $10 monthly fee! Sweet!!!
Pomega5 Green Tea Mattifying Moisturizer: This sample is tiny (in a little jar). I am not sure the exact size. It has a rather strong herbal scent (I am not generally a fan of highly scented facial products...so, we will see if this one is a hit or a miss). It smells yummy though (and I am guessing that this is what is making the box smell so pretty!). Worth a try at least!
Birchbox "Treat": Okay, I am thinking these "Birchbox treats" are going to be a monthly thing. I love it! This is a non-beauty "treat" item. Last month it was some fancy chai tea in a cute canister. This month it is Sweetriot Chocolate-Covered Cacao Nibs. These are cacao nibs dunked in dark chocolate with espresso. YUM!!! This will get me through my day at work tomorrow, lol...and are going right in my purse. The little tin is ADORABLE! AND, this is *just* the size of reusable tin that I had been wanting to store q-tips in my purse and for travel (when the chocolates are all eaten of course!). What an adorable "Birchbox treat" this month. Birchbox-keep the treats coming!!!
So, if you can't tell already? I am *thrilled* with this month's Birchbox!!! I can't wait to try out and test everything. The whole act of receiving the box, opening it, and going through each items is such a wonderful treat...this is the kind of "self-pampering"that I just love!!!
I will be posting a separate Birchbox "Box Opening" Video in a couple days! I still have to edit the video, but that will be posted to my
Pammy Blogs Beauty YouTube channel
soon (and will link it here on the blog as well). If you haven't already, please subscribe to my YouTube Channel! :)
I already can't wait to see what next month's Birchbox will bring! My fellow Birch-boxers, please leave a comment with what you got in your box this month!
Thanks for reading everyone! Stay beautiful!!! XOXO