Happy Mother's Day to all you Mothers out there!!!
So, Birchbox surprised me yesterday with an earlier-than-expected delivery! What a great idea for Birchbox to ship out this month's Birchbox early so that it would arrive before Mother's Day! Very fitting considering that this month's theme is Mother's Day!!! Typically my Birchboxes arrive between the 10th-12th, but this month's arrived right on the 7th!
The info card states "Mom Knows Best"; so, the box is filled with classically elegant products. This month's selections are timeless and will "always be in style, just like Mom".
If you are not familiar with Birchbox, it is a monthly sample subscription of a gift box filled with 4-5 deluxe sized samples plus a "treat" and an "extra". The subscription is about $10/month and it includes the monthly Birchbox, access to the fabulous member's only
Birchbox
, free shipping on full sized products included in the current month's box, and opportunities to earn Birchbox points for reviewing the products on the Birchbox website (accumulated points go towards discounts on purchases).
I actually made my first "free" Birchbox purchase last month and I am highly pleased with my order, the shipping, and the customer service (I am a sucker for great customer service!). It is so fun getting the monthly Birchboxes!!! They are wrapped beautifully! Its just like getting a little present every month. Perfect for a beauty-blogger like myself (and great to give as gifts). Curious as to what my other month's Birchboxes contained? Check out my previous posts:
January 2011 Birchbox
,
February 2011 Birchbox
,
March 2011 Birchbox,
and
April 2011 Birchbox
.
If you would like to see what was in May's Birchbox, please keep reading after the jump for photos and descriptions!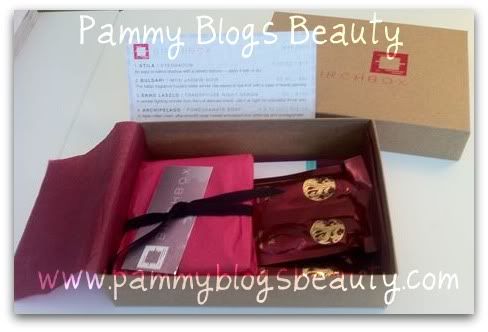 So, Here is the May 2011 Birchbox! As always, it is wrapped beautifully. I have noticed that in addition to being asthetically pleasing, the Birchboxes always smell so lovely right when you open them up!
So, here is what I got!
Stila Eyeshadow (14 kt): An easy-to-blend shadow with a velvety texture-apply wet or dry. Yay! One of my fav makeup brands!!! LOL, I think I actually squealed when I opened up this box to see a goody from Stila! This is a full sized eyeshadow refill pan. These retail for about $18.00. What a great deal for a $10 sample box!!! Clearly this box is already worth the $10.00 price. I am going to pop this baby right into my Z-palette! It is housed in a little plastic disposable container that could act as a temporary (or permanent) container if you didn't have an empty palette. I don't own any yellow/gold eyeshadows. So, this will be a great addition to my eyeshadow collection!
Bvlgari Mon Jasmin Noir Eau De Parfum sample: The Italian fragrance house's latest winner has waves of ripe fruit with a base of heady jasmine. This comes in a card with a 1.5 ML spray mini sample vial. The scent is very luxurious (Yes, fitting with the theme, this totally smells like a perfume that my mother would like and wear). A full sized bottle of this perfume retails for $80.
Erno Laszlo Transphuse Night Serum: A wrinkle fighting wonder from the cult skincare brand. Use it at night for noticeably firmer skin. Now I must admit, I am not at all familiar with this brand. According to my Birchbox insert card, this was one of Audrey Hepburn's favorite skincare lines. So, the "classic" products theme continues. This is a nice 2 ml sized sample in a small squeeze tube. A full sized tube of this costs $190.00.
Archipelago Pomegranate Soap: A triple milled (read: ultra-smooth) soap loaded with antioxidant-rich white tea and pomegranate. YUM!!! This soap smells divine!!! I am not familiar with this brand. But, I am excited to give it a try! I have been obsessed with pomegranate flavor lately. I am also a huge fan of bar-soaps in general. So, I might as well try a pomegranate soap, lol! ;) This soap is rich in antioxidants and contains "Phase II Enzyme Boosters". This sample is a 1.1 oz bar ("hotel" size: Funny, this must normally be used as a hotel soap as the box says "Remember your stay, take me home"). A full-sized bar retails for $12.50. What a treat to use a fancy bar-soap! Thanks Birchbox! I love my usual Olay bar, but will enjoy trying something new. But, I must admit, I doubt I will ever pay $12.50 for a bar of body soap. I just go through them too quickly.
The "Extras:
The "Treat": Tiny Prints Card: We are hooked on Tiny Prints, which lets you customize all of their adorable greeting cards. How fitting is it that there is a blank card in this month's Mother's Day Birchbox! Yes, all of our Mom's did teach us right! Thank you notes are so nice! I adore fine stationary and will certainly put this card to good use and check out the Tiny Prints site as well.
The "Extra": Oribe Beautiful Color Shampoo and Conditioner: This extra is actually 4 large foil-pouch samples. Yay for them putting 2 of each (shampoo and conditioner) instead of just one! I have uber-long hair and use a ton of shampoo and conditioner (and one sample packet of each just wouldn't have been enough). I am not familiar with this brand. So, I am curious to test these out. Especially since I have color treated hair.
Another great Birchbox! I am happy with this month's selections! It is a nice variety of products: fragrance, skincare, hair, and makeup. I would like to think that Birchbox must really be reading my feedback (and other customer's) as I specifically requested more makeup and more variety. Thanks Birchbox! The May 2011 Birchbox is a hit in my book! :)