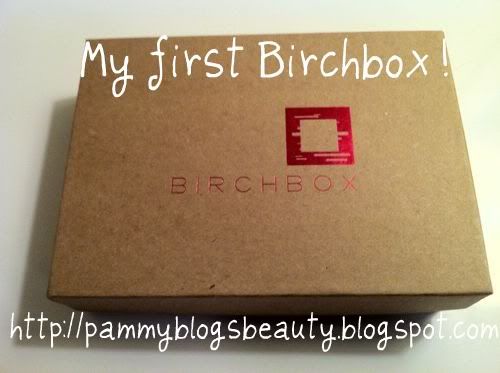 Hello my dear readers!
I am so excited that I finally got my first
Birchbox
!!! Yay!!! Our mail was delayed about a week here in Atlanta due to the snow shut-down, so my highly anticipated Birchbox delivery was a little late, gasp (lol)! So, did my little January Birchbox live up to my high hopes from my eager anticipation? In a word, yes! I am completely delighted with this month's box!
So, what is the scoop on Birchbox? Check out my
Birchbox Intro Post here
. Birchbox is an online members-only company that specializes in high-end (HE) products from a variety of great brands. Birchbox offers free shipping to members, a monthly deluxe sample box full of beauty treats (the best part!!!), and a variety of opportunities to earn loyalty points (which can be accumulated and used towards free full sized products). Your monthly beauty samples are customized according to your online profile at Birchbox, how cool is that?!?! As a beauty blogger and product enthusiast, I totally love this whole concept!!! I get to try new luxury brands and products and can earn points towards future purchases.
My adorable pink Birchbox arrived yesterday! The perky pink box really stood out in my sea of non-pink mail. :) A perpetual lover of all things girly, the little "touches" like the pink box really make the Birchbox delivery special! Inside the outer wrappings is a nice recycled paper-looking Birchbox gift box.
You open the Birchbox giftbox to reveal a Birchbox card with a note about the package's theme on the front and product descriptions on the back. This month's theme is "Reset & Recharge" in honor of the New Year. Products included are intended to be ones to "recharge" your complexion and revamp your routine to kick-off a New Year. Cute concept! I like the idea that the boxes have a "theme"! I really hadn't realized that they organized the boxes in that manner. So, cool!!! The card is lying on top of the products that are nicely wrapped within coordinating burgundy tissue paper.
Opening the box and the tissue gives you a waft of a lovely herbal-like scent which hints of the treats inside. Your first glance reveals a lovely small canister and another pink wrapped package lying atop some foil-package samples. There is no question at this point that I am dying to just dig in and discover what I received.
Here what I got!
Ahava Dermud Intensive Nourishing Hand Cream (I think this is what is making the box smell so good!!! :) This is a nice size sample. Great for the purse!!! Honestly, I have always wanted to try Ahava creams! I hear they are great!!!
Dr. Dennis Gross Alpha Beta Peel: This is an at home facial treatment (came in smaller foil type sample packages): I am a bit "nervous" about trying this one as I have never tried an at home "peel" on my sensitive skin. I will certainly do a "test patch" before trying this on my whole face. I am curious though!
myfaceworks Sheet Mask: This looks cool...you just lay this one-time use sheet mask right on your face for 15 mins. Sounds very pampering!!!
Oscar Blandi Olio di Jasmine Hair Serum (this might be what smells yummy too!!!): I can't wait to try this on my very dry highlighted hair!!!
Birchbox Treat (not sure if the "Birchbox treat" is a monthly thing, or if this is unique to the January package): An adorable little tin of organic calming tea! Really, this is an IDEAL treat for me as I am a huge tea-drinker!!! The tin itself is really cute too! After I finish the tea, I think I might store my little LUSH bar serum in there (that is currently just in a little yellow LUSH bag, but needs a better "home"). :)
Overall, I am really pleased with this month's Birchbox!!! Some samples are a bit "smaller" than I expected. But, still, I feel that value of the box exceeds the actual cost. So, still totally worth it! Another great Birchbox bonus: If you test and review the products you receive in your box on Birchbox.com, you earn extra loyalty points!
If you haven't had a chance to check out Birchbox for yourself, check them out here at
Birchbox
. It's just $10 per month or $100/year to join and get your own monthly samples box (and all the other benefits of being a member). You fill out an online profile and they will tailor your Birchbox samples to your specific profile and product preferences.
I am thrilled with this month's box and can already tell that this Birchbox membership is worth it! I can't wait to use and test out these products...and can't wait to see what next month's Birchbox will bring!
As always, thanks for reading my beauties!!!
XOXO!!!