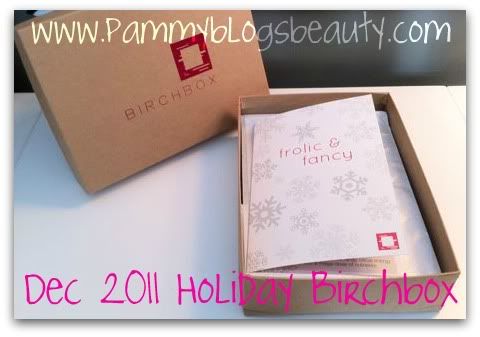 Can you believe that the Christmas is just a few weeks away? What a busy and wonderful time of the year!
I must admit, I had a bit of "extra anticipation" about this month's
Birchbox
! Would Birchbox be doing something special for us for the Holidays? Would the box be "extra big"??? I became even more excited when I opened up my mailbox to find my hot pink Birchbox with a white snowflake pattern (sorry ya'll, I forgot to snap a photo of the outer box before I recycled it!). Yes, Birchbox went with a Holiday Themed box for the month of December.
What is Birchbox
? It is a monthly sample subscription of deluxe beauty samples wrapped up cutely and delivered right to your door for only $10.00 a month. Plus, you get access to the members-only site (with great shopping), you earn points (that can be used towards product discounts) for referrals and reviewing the items on the Birchbox site, and they offer great free shipping discounts on current box items. I just love being a subscriber! I look forward to my box every month! Check out some of my previous boxes:
Birchbox Introduction Post
,
Jan 2011 Birchbox
,
Feb 2011 Birchbox
,
March 2011 Birchbox
,
April 2011 Birchbox
,
May 2011 Birchbox
,
June 2011 Birchbox
,
July 2011 Birchbox
,
August 2011 Birchbox
,
Sept 2011 Birchbox
,
Oct 2011 Birchbox
, and
Nov 2011 Birchbox
.
So, how did this month's box compare? Was it extra-special for the Holidays? Keep reading to find out!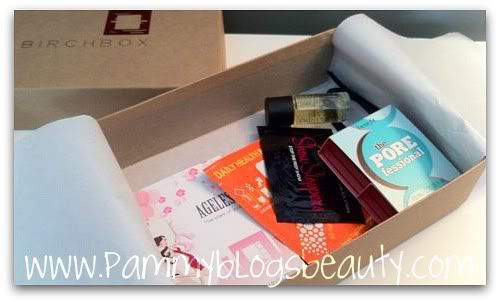 December 2011 Birchbox: "Frolic & Fancy":
This month's theme is "Frolic & Fancy". Instead of the traditional maroon and pink tissue paper and post-card note, you open the box to reveal white sparkly tissue paper and a white snowflake card. The products in this month's box are supposed to get you
ready for frolicking and fancy fetes.
Also, the Birchbox site is featuring holiday-themed info: celeb-inspired party looks, red lipstick tips, and a guide to Aspen.
But, what impresses me the most is that Birchbox is partnering with a non-profit organization,
Baby Buggy
, for the Holidays. Birchbox is donating 100% of their profits from full-sized purchase to Baby Buggy. Baby Buggy supplies needy families with essential items for their children. Way to go Birchbox!
Also, another reason I have been anticipating this month's box? Birchbox posted to Facebook (before the release of this month's box) about Jouer doing a custom Birchbox-only shade of lipgloss...so, I am quite curious to see this special gloss...
So, what was in this month's box?
Alright ladies, I am going to go ahead and say that I think the box seemed "small" this month. Maybe I got myself too worked up thinking it was going to be a "bigger and better" Holiday box. Plus, I loved last month's
Nov 2011 Birchbox
so much that I think I had my hopes set a little too high. This December box just doesn't seem as "meaty" as some of my previous boxes. What can I say, I love *big* samples, and overall, these samples do seem a bit small. But, lets see how it all adds up.
The Goods:
BeneFit | The POREfessional (.25 fl oz sample, full size $29 for .75 oz) This is BeneFit's primer. I am a HUGE BeneFit fan, so I am pretty thrilled that there is a BeneFit item included in this month's box. Like all BeneFit products, it has a catchy and cute name. The sample is a pretty nice size and I am looking forward to trying this! Camouflage visible pores with this velvety face primer. The translucent formula works wonders beneath makeup.
Harvey Prince | Ageless (small sample vial, full size 50 ml $55 and 100 ml $98): Okay, ya'll know that I am not a huge fan of getting these small perfume samples as one of my 4-5 deluxe samples. But, with that said, the scent of this one is quite pretty. I just wish if Birchbox sent perfume samples that they would truly be a deluxe sized sample. Most scents just smell pretty, but this one is designed to make you smell more youthful, high-tech, no?
Jouer | Moisturizing Lip Gloss in Birchbox Pink: (2 ml sample, .21 oz full size $20): Okay, lol...this is the tiniest lipgloss I have ever seen. Literally, I LOL'ed when I saw the size of this sample. I would have been thrilled if this had been a full-sized sample! Birchbox-maybe next time we can hope for a larger gloss? Anyways, it is a hot pink gloss. I have never tried glosses from Jouer. So, I am egar to test this out. We teamed up with one of our favorite brands to create this custom fuchsia shade. Apply one coat for semi-sheer pigment, or build it for a hot pink pout.
Orofluido | Beauty Elixir: (.17 fl oz sample, full size 3.4 oz $29.99): OMG...Yum!!! This product smells absolutely divine! Seriously, I can't stop smelling it! I can't wait to apply this to my hair! For sure the best thing in this month's box. I am not familiar with this brand. So, I am excited to test out this hair oil. The sample is sizable yet also purse size for smoothing on dry ends while on-the-go. We don't know what we love more- this hair treatment's trio of nourishing essential oils (argan, linseed, Cyprus) or its intoxicating vanilla amber scent.
Birchbox Extra: "PREP" Showstoppers (2 strips, full size 24 strips for $9.99): This is a little foil packet containing double sided tape. Celeb stylists swear by these double-sided tape strips, which will ensure that your party dress stays perfectly in place.
Birchbox Extra: "RECHARGE" EBoost: Orange Natural Energy Booster: This is a powdered vitamin supplement. This might be helpful if you have a late night on New Years or over-indulged during the holidays. ;) Bounce back post-party with this tangy citrus energy booster, packed with mega-dose of nutrients.
So, that is it for this month's box! As I mentioned, the box seemed a little bit smaller than my two previous boxes (just because the sample sizes were very small). Ya'll know me, I love it when the samples are huge and the box is heavy. But still, there are certainly items in this month's box that I am excited to try out. I can't complain too much though, especially since the profits from purchase of full-sized items from Birchbox this month go directly to charity.
Fellow Birchboxers, what did you get this month?

These samples come with a
paid subscription which I pay