Can you believe that it is already time for my monthly
Birchbox Box Opening post
? I don't know about ya'll, but for me, October really flew by! I know I seem to always say that, but for real! Maybe it is because this is my favorite time of the year. Or maybe because I am expecting a baby next month! :) Things have just been busy and exciting lately!!!
Birchbox in a Nutshell:
Birchbox
is a monthly sample box that I subscribe to. For just $10.00 per month, I get a lovely box of high end deluxe-size sample goodies delivered right to my door. These beautifully wrapped boxes are my monthly "treat" to myself. I have subscribed for almost a year now and have been consistently pleased with the contents of the Birchboxes. I have found it to be a great way to discover new brands and to branch out! Plus, you can earn points towards free products or product discounts with referrals, ordering off of the Birchbox Members-only website, and product reviews on the Birchbox site! Plus, the Birchbox site is full of great tips and gives a lot of extra information about the items in each month's box.
Are you curious about my previous Birchboxes? Be sure to check out some of my other Birchbox Box Opening Posts:
Birchbox Introduction Post
,
Jan 2011 Birchbox
,
Feb 2011 Birchbox
,
March 2011 Birchbox
,
April 2011 Birchbox
,
May 2011 Birchbox
,
June 2011 Birchbox
,
July 2011 Birchbox
,
August 2011 Birchbox
,
Sept 2011 Birchbox
, and
Oct 2011 Birchbox
.
Last month's Birchbox was spectacular! So, does the November Birchbox measure up? Keep reading to find out!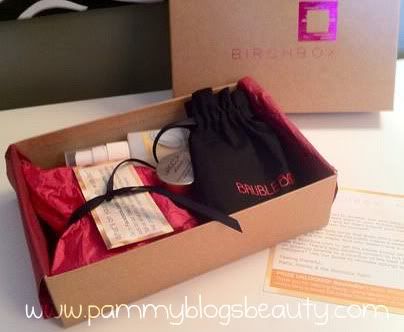 I just love going to my mailbox and finding that hot pink Birchbox!!! Granted, I usually know it is coming anyway from email shipment notifications, but it is still a fun "surprise" anyway just to see that fun pink box nestled amongst other non-fun mail items like bills (blah!).
As with all Birchboxes, this month's has a theme: "
Getting Gifty
". How appropriate for November! Birchbox is hoping to help us out with our gift shopping this month by filling the box with
gift-worthy
items! In the meantime, it feels like a gift for yourself (who doesn't love that!). :)
Something new! I noticed this month's Birchbox appeared a bit "more full" than usual...well, there is a new section on the post-card letter: "
Prize Unlocked
" Birchbox sent me an
"extra treat" for buying products and for referrals
. What a nice and unexpected extra treat! I will list my Prize Unlocked item below.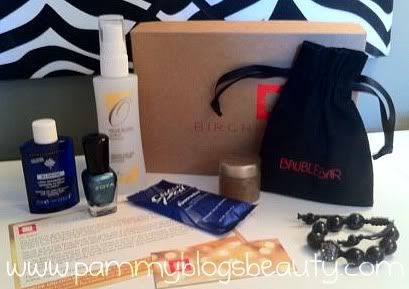 Getting Gifty: November 2011 Birchbox Contents
Klorane | Soothing Eye Makeup Remover with Cornflower ($9 for 3.4 oz full size, sample size: .8 fl oz): I just love getting sample-sized eye makeup removers!!! This little one is just perfect for travel! This is a clear liquid remover. The scent is so nice...subtly floral. I can't wait to try this. Actually, if I like it, it might just end up in my bag that I am packing for the hospital for baby delivery! Klorane is a new brand for me. Cool! Infused with French cornflower extracts, this formula is designed for even the most sensitive eyes.
LaROCCA Skincare | Champagne & Shimmer Body Polish ($35 for 6.76 oz full size, sample size: .05 oz): Oh, I love a good scrub! This scrub is in a screw top jar. There is probably enough in here for 2 full body applications if you use sparingly. The scrub itself is a grainy scrub in a moisturizing and somewhat oily-feeling base. The scent is very clean light citrus. Apparently this scrub contains gold??? I can't really see it, but the finish after you rub the product in is somewhat luminous (but that could just be because it is hydrating/moisturizing). I am curious to give this a try! I do wish the sample was a bit larger though for a body product. Call us indulgent, but we love this glam scrb, featuring 24 K colloidal gold.
Oscar Blandi | Jasmine Protein Mist ($18 for 250 ml full size, sample size: 2 fl oz): Now this is what I am talking about! What a nice size sample!!! For me, this sample product alone "makes this box"! I am thrilled to find another Oscar Blandi sample in my Birchbox! A few months back, Birchbox sent a lovely hair Oscar Blandi hair serum. So, I am happy to sample more from this brand! This product is just perfect for me and makes me feel that Birchbox really is listening with feedback and custom selecting products based on my profile, comments, and requests. My hair is extremely dry and constantly abused by highlights. I rely heavily on protein treatments to keep my hair looking shiny and nice! I literally can't wait to wash my hair and test out this protein spray!!! The Jasmine scent is just divine! Plus, I am loving this size of this for travel as well. I always travel with a protein leave-in! Celeb stylist Oscar Blandi's secret weapon: this leave-in spray protects, fortifies, and revives damp or dry strands.
Zoya | Nail Polish in Noel ($8 for .5 oz full size, sample size: .25 oz): Okay, ya'll know me, I *love* nailpolish! I am completely thrilled to find another Zoya polish in my Birchbox! Again, I feel like Birchbox is listening to my feedback as I always say "More makeup!" and "More Zoya polish"! Word! Plus, I just love these little Zoya minis! This color is TDF: a rich silvery metallic aqua blue. Love it!!! Can't wait to apply! This shimmery denim shade from Zoya's holiday 2011 collection fits just right-like your favorite blue jeans. Can't wait to scope out more of Zoya's Holiday collection!
Birchbox Treat: Chuao Chocolatier | Firecracker Chocopod ($6 for 2.8 oz full size, sample size: .39 oz): What girl doesn't love a little bit of chocolate? I know it is my total weakness! Hmm...this sounds "interesting"! Spicy and sweet, these artisanal dark chocolate treats are laced with chipotle and popping candy. Okay, I admit, that sounds strange, but I am intrigued!
Prize Unlocked! BaubleBar | Black Wood Pop Bracelet: Okay, so here is my extra reward! Yay!!! This is an adorable wood bracelet on a tied and adjustable cord. It has black wooden beads and one blingy bead. So cute! This is the type of every-day jewelry that I like to wear. It came in a black BaubleBar drawstring bag. Super cute! Thank you Birchbox!!!
So, what's the verdict on this
November 2011 Birchbox
? I am thrilled (and, lol, I am sure you could already tell that from my raves). I am always happy when Birchbox includes makeup. I mean, after all, my enthusiasm for makeup is what prompted me to start this blog! Also, I love it when the samples are nicely sized.
There are many products here that I am excited to try! Is there anything from this box that ya'll would, in particular, like me to review? Also, I am always eager to hear what my fellow Birchboxers got in their boxes!
Thanks for reading! XOXO!