Fall brings changing leaves, colder weather, pumpkin lattes and my favorite month...October! There is just excitement in the air this time of year! The pending holidays, Fall festivals, beautiful afternoons, you name it! So, as you can imagine, I am just thrilled that this month's
Birchbox
has a "Fall" theme!
As ya'll know, I look forward to my Birchboxes every month. It is just such a treat! My monthly "present" to myself. I mean, just $10/month for a beautifully wrapped custom assortment of high end beauty treats. Yep Birchbox, you had me at hello!
Just finding out about Birchbox now? You can "catch up" on my previous Birchboxes by reading my monthly
Box Opening
posts! Check them out here:
Birchbox Introduction Post
,
Jan 2011 Birchbox
,
Feb 2011 Birchbox
,
March 2011 Birchbox
,
April 2011 Birchbox
,
May 2011 Birchbox
,
June 2011 Birchbox
,
July 2011 Birchbox
,
August 2011 Birchbox
, and Sept 2011.
So, how did this month's Birchbox measure up? Check out my first impressions from my Box Opening after the page jump!
It is always exciting when I start opening a Birchbox and realize it is a "heavy" box! That means substantial/sizeable deluxe samples!!! Whoo-hoo!
At first glance I am already thrilled! A great assortment!!! Also, I am happy that there are no small perfume samples in this box, I have already gotten plenty of those.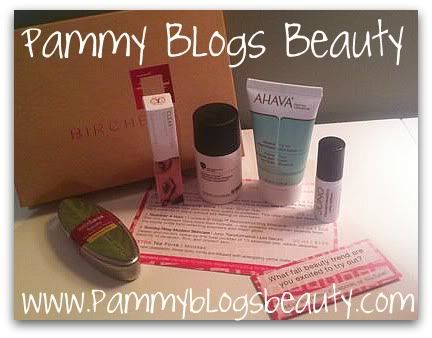 Fall-Themed Birchbox:
Birchbox expresses in their postcard insert that Fall is a time to
get back to business
so products are include to
polish skin, body, and hair.
Sounds good to me! The card also includes reminders to go online to checkout all the Birchbox site has to offer like more information about all the products included in the Birchbox, video tutorials (false eyelash application, wearing Fall's trendy hats, and applying liquid liner), interviews with beauty professionals, and much more!
The Goodies:
Ahava | Mineral Foot Cream (Sample size: 1.3 fl oz. Full size 3.4 oz for $19.00): I was thrilled to find another good sized sample from Ahava in my Birchbox!!! Birchbox actually introduced me to this brand! I am really in need of some foot pampering being 7 months pregnant! I can't wait to use this cream. It smells great and I know that Ahava products are richly hydrating. I can't wait to test this out *tonight*! After all those outchy hours in high heels, our feet deserve a treat-like this hydrating cream, which has natural avocado and jojoba oils to soften and smoothe.
Anastasia Beverly Hills | Clear Brow Gel (Sample size: .085 fl oz. Full size .28 oz for $21.00): Birchbox, did you read my mind? I just ran out of brow gel this week. So, this sample could not be better timed! :) I have long wanted to try this brand as I have browsed Anastasia at my local Ulta a few times. Yet again Birchbox offers the perfect opportunity to try out a new brand and product with a minimal financial commitment. Getting samples like this is exactly why I love Birchbox! My brows are unruly. So, I am curious to see if the Anastasia Gel can tame them. Groomed brows take your look from pretty to polished. This clear brow gel keeps hairs perfectly in place without any flaking or stickiness.
Number 4 Hair | Lumiere D'hiver Reconstructing Masque (Sample size: 1.5 oz. Full size 5.1 oz for $58.00): Ohhh! What a treat! My hair is long, dry, and highlighted. So, I am always looking for good moisturizing hair treatments! I am over-due for a cut and my hair really needs a perk-up. While I have never heard of this brand, this masque sounds lovely and luxurious (Whew, it better be for that price for a full sized!). I can't wait to try this! It smells sooooo nice! This rich treatment does more than hydrate-soy proteins strengthen strands from the inside, while light-reflecting polymers add major gloss.
Sunday Riley Modern Skincare | Juno Transformative Lipid Serum (Sample size: 5 ml. Full size 30 ml for $125): Another brand that I have not heard of. But, I am excited to try it out! This sample serum is packaged in a nice and sanitary pump dispenser. Curious to try this out. I love a good serum. While the full sized retail price is high, serums are a beauty item that I am willing to pay more for. If it works it works, right (worth the price)?!?! Celebs and models swear by this luxe cocktail of 13 essential oils, which absorbs instantly to replenish, firm, and protect skin.
Birchbox Extra: Tea Forte | Minteas (I have to lol at myself with the name of this item...I literally thought it would be "Mint Tea" and I opened up the tin and was like, "oh, duh!!! Minteas="Mintys"...lol, blonde moment!): Sorry, I digress! I love, love, love the addition of this Birchbox treat. Dare I say, this might be my fav item in the whole box??? I am a huge fan of mints...and tea...so a tea-flavored mint...perfect. Not to mention that the shape of the tin and the shape of the mints are an actual "leaf". So cute! These are going right in my purse! The flavor reminds me of cinnamon (yum!). Our new obsession, these tasty mints are infused with energizing yerba mate and rich cocoa.
What a super fun Birchbox this month!!! It was packed with treats that I can't wait to try. The samples were all of generous size and there is no question that the value of this box far outweighs the monthly fee! I am thrilled!
My fellow Birchboxers, what did this month's box bring you? I would love to hear!