Its
Birchbox
time again ya'll!!! Whoo-hoo! I look forward to the arrival of my Birchbox every month!
This month, I was even more excited than usual as I knew that the box is a special edition "
Gossip Girl" Birchbox
. I fully admit to being an avid
Gossip Girl
watcher and fan. I can't help it, I love Chuck Bass. period. I *heart* Chuck and Blair. Serena's hair and fashion is to-die-for! Plus, I love the fashion and the drama. An addictive show for sure! Okay, I know I sound like a gushy teenager here, lol! I can't help it. I am a kid at heart (and we won't even speak of my age, lol!).
When I think of the Upper East Siders on Gossip Girl, I could only imagine that they use nothing but high end products. Could you imagine Blair Waldorf in Walmart? I think not! So, my hopes have been that this box would be packed with high end luxury products. The best that money can buy, but in deluxe sample form packed into a $10.00 Birchbox!
What is
Birchbox
about? In a nutshell: Birchbox is a beauty sample website that offers a monthly Birchbox of luxury and botique beauty samples. The Birchbox is delivered right to your door around the 10th of each month and it only costs $10.00. It has been my experience that the value of the box far exceeds the cost of the actual subscription. Also, the website is fantastic. It offers not only info on your Birchbox and the ability to give feedback on the items (giving feedback earns you points towards a discount on purchases), but also tips, articles, trend reports, video tutorials and more. It is like an online beauty magazine and store in one!
I have many beauty sample subscriptions and
Birchbox remains my favorite
! Curious what has been in my previous Birchboxes? Check out those posts here:
Birchbox Introduction Post
,
Jan 2011 Birchbox
,
Feb 2011 Birchbox
,
March 2011 Birchbox
,
April 2011 Birchbox
,
May 2011 Birchbox
,
June 2011 Birchbox
,
July 2011 Birchbox
,
August 2011 Birchbox
,
Sept 2011 Birchbox
,
Oct 2011 Birchbox
,
Nov 2011 Birchbox
,
December 2011 Birchbox
,
January 2012 Birchbox
,
February 2012 Birchbox
, and the
March 2012 Teen Vogue Birchbox
, and
April 2012 Birchbox Box Opening
.
So, let's see what is inside. Shall we?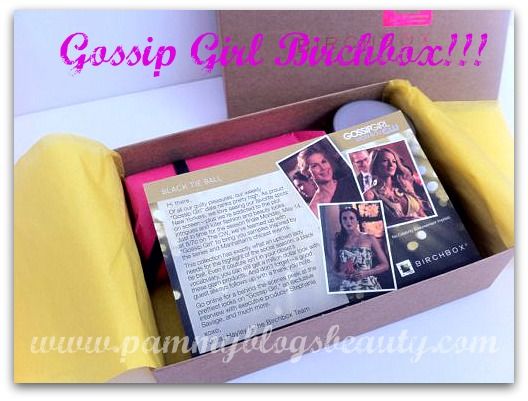 What a surprise to open the mailbox and find a black Birchbox! Tres Chic! ;) LOL, while I love the classic pink Birchbox cardboard mailers, it is exciting to see these special boxes wrapped up differently. You know, I have said it many times: these presentation of these boxes directly impacts my perception of the box as a whole. The box and wrapping is of the utmost importance here!
The Birchbox itself is the usual natural cardboard box. But, it has an outer Gossip Girl Sleeve with the city skyline. Love it! Mostly I love it because I am a Gossip Girl fan. But also I love it because it hypes up the whole "opening the box experience".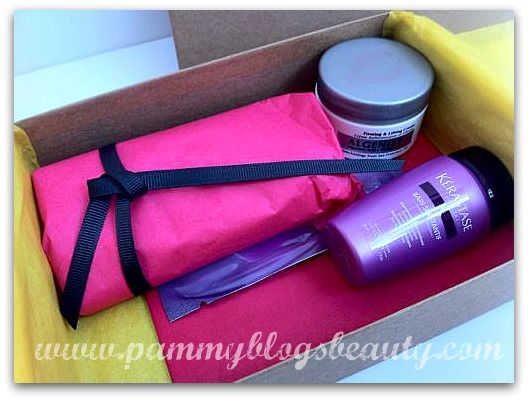 Inside the tissue is green and the usual Birchbox postcard/product info card features Gossip Girl characters. Birchbox admits that watching "Gossip Girl" is a guilty pleasure amongst their New York staff. This Birchbox was specifically timed with the Gossip Girl Season Finale that airs this coming Monday the 14th at 8. Yikes! I need to catch up on my DVR. I have an infant at home. So, I am behind on Gossip Girl (hanging head in mock shame). I need to get caught up before Monday!
Okay, sorry, I digress! The collection in this Birchbox contains beauty treats fit for an uptown lady. Also, Birchbox has special Gossip Girl features on their website! Can't wait to check that out.
Now on to the box! What did I get?
Algenist | Firming & Lifting Cream (full sized cost $94, sample size: .5 fl oz): Whoo-hoo!!! A *nice* sized sample from Algenist. If you follow my reviews then you know that I have actually been in the process of testing and reviewing this very product line! All of Algenist's products are made with a newly discovered ingredient: Alguronic Acid. I have literally liked everything that I have tried from this brand. But, funny, I haven't sampled this specific cream yet! So, I am thrilled with this deluxe sample. What a fabulous skincare line! It is a luxury treat for sure. What to learn more? Check out my review of the Algenist Regenerative Daily Moisturizer and SPF 20 and Algenist Eye Renewal Balm. Coming soon: my review of Algenist's serum! Looking your age is so overrated. This sophisticated moisturizer uses an exclusive microalgae compound to boost skin's elasticity.
Dior | Diorshow Extase (full sized cost $28.50, sample size: .13 fl oz): Yay! Dior!!! I'll admit, I was hoping that I would see some Dior in this Birchbox. When I think "high end" makeup, I think of lines like Dior and Chanel. I have sampled Dior mascaras before. So, I am thrilled that there is one in here! I am a big drugstore mascara gal. I just never seem to want to shell out the big bucks for a mascara that I will toss in a few months anyway. So, this is a huge treat!!! This glam mascara adds tons of volume and length. Plus, its unique ceramide complex helps fortify your lashes.
Dior | Miss Dior Eau de Parfum (full sized cost $62-$102, sample size: small glass tube on a card): Ack! Another perfume sample? I swear ya'll, I have 50 million of these little glass vials at home. So, no, I don't really need another. But, I am in the market for a new perfume and I do love Dior. So, I am not complaining too much. Plus, it kinda "goes with" the mascara. I just don't think that these mini perfume vials add much to the vaule of the box (since you can get them at the mall for free). But, there are tons of great-sized samples in this box. So, no complaints! Chic and feminine, this longtime favorite is a gorgeous bouquet of floral notes deepened by a touch of patchouli.
Kerastase | Age Premium Bain Substantif (Shampoo) (full sized cost $36, sample size 1 fl oz): Perfect! I needed a good shampoo sample as I am going out of town in a couple weeks. I LOVE taking my luxury Birchbox samples with me when going out of town as I feel that it is such a special "beauty treat"! Can you believe that I have never tried Kerastase??? I know, I know, bad beauty blogger! This brand is so well known for great products. So, I am excited that I finally get to try something from this brand. Made with UV filters and hyaluronic acid, this action-packed shampoo fortifies hair against damage.
Extras:
Kerastase | Age Premium Masque Substantif (large foil sample packet, certainly enough for one use): Can't wait to try this! This deep conditioning treatment uses hyaluroinic acid to add suppleness and shine to your strands.
Notecard: The note card has "XOXO" printed on it. If you watch Gossip Girl, this has meaning as that is how Gossip Girl, the shows narrator, always "signs out". But, if you don't watch, this probably wouldn't have meaning to you. Text messages are no match for handwritten notes on fun, modern stationary.
So, that is it! I loved this month's
Gossip Girl themed Birchbox
. Are any of you Gossip Girl fans? Birchboxers, what did you think of the Gossip Girl themed box?
As always, thanks for reading and stay beautiful!
XOXO! (<---had to include that!)