My
Holiday Shopping 2012 Series
continues! Give the gift of Birchbox: It is the gift that keeps on giving! :)
As ya'll know, I am a huge fan of
Birchbox
. I consider it to be not only one of the best Beauty Sample Subscriptions out there, but also consider it to be an amazing value for $10.00 per month! If you are looking for a unique and thoughtful holiday gift this year, a Birchbox subscription for either yourself or for a friend might just be the the gift you are looking for!
What is the scoop on Birchbox?
For those of you that are not familiar with
Birchbox
, here is the scoop if you would like a subscription for yourself: For $10.00 per month, you get deluxe high-end beauty and lifestyle products delivered right to your door. Each box contains about 4-5 samples plus a small lifestyle extra or two. The boxes are packaged beautifully! Not only will you get your fabulous Birchbox, but also you will get full access to the Birchbox website which has tips, tutorials, articles, videos, product info, and shopping! Review your Birchbox items and earn points on the Birchbox website! Plus, if you refer friends, you can earn points for that too.
If you want to learn more about what is inside a Birchbox, be sure to check out some of the previous posts from my ongoing monthly Birchbox Box Opening Series. Every month I open my Birchbox and share about the contents!
Birchbox Introduction Post
,
Jan 2011 Birchbox
,
Feb 2011 Birchbox
,
March 2011 Birchbox
,
April 2011 Birchbox
,
May 2011 Birchbox
,
June 2011 Birchbox
,
July 2011 Birchbox
,
August 2011 Birchbox
,
Sept 2011 Birchbox
,
Oct 2011 Birchbox
,
Nov 2011 Birchbox
,
December 2011 Birchbox
,
January 2012 Birchbox
,
February 2012 Birchbox
, and the
March 2012 Teen Vogue Birchbox
,
April 2012 Birchbox Box Opening
,
May 2012 Gossip Girl Birchbox Box opening
,
June 2012 Birchbox
,
July 2012 Birchbox
,
August 2012 Back to School Birchbox
,
September 2012 Birchbox
,
October 2012 "Goop" Birchbox
, November 2012 Birchbox.
Birchbox Gifting Guide:
Here are Birchbox's Options for Gifting:
For Him: Men's Gifts
$60.00 for a 3 month subscription
$110.00 for 6 months
$195.00 for 12 months
For Her: Women's Gifts
$30.00 for 3 months
$60.00 for 6 months
$110 for 1 year (save $10!)
For Either:
Gift Cards: Giftcards for the Birchbox Shop
Curious as to what might be inside a Holiday Birchboxes for both Men and Women? Here is a preview and box opening!
Holiday Preview!
Are you looking to give Birchbox for a gift? Or are you a Birchbox subscriber and curious about what might be inside your Holiday Birchbox? Well, check out these preview box openings! :)
Lets start with the Guys!
Birchbox Man:
My Husband really liked this Birchbox Man
Holiday Birchbox! Actually, he liked this box even better than the one that he tried out a couple month's ago. The products inside are all items that he needs and is excited to use.
A Man's Perspective: Erik's Birchbox Man Box Opening
My Husband Erik occasionally helps me out when I am considering Men's items for Pammy Blogs Beauty. So, he got to test out and sample the Birchbox Men Holiday Birchbox! My Husband is certainly not as product-obsessed as I am. However, he does like using nice products and discovering new brands. Let's dig inside and see what he got!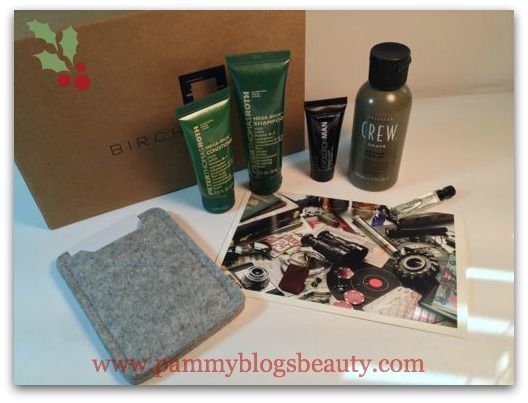 Inside the Birchbox Man Holiday Birchbox:
Atelier Cologne | Vetiver Fatal (small sample vial, full sized cost $70-$185): Erik and I both really like this scent. It reminds us of something he has worn in the past but we just can't place the scent? Either way, we like it! It is a very nice scent for this time of year. Italian Bergamot blends with Sicilian lemon for this new wear-anywhere scent. This sample came packaged with a post card. My husband will likely just toss the card but I liked the touch!
American Crew | Shave Gel (deluxe sample size, full sized cost $19.99 for Essential Travels Kit): My husband is already a fan of this brand. So, he was thrilled to find this in his Birchbox. This product smells really good! Translucent gel that uses pumpkin seed extract to soothe skin while you shave.
Evolution Man | Wash and Buff (deluxe sample size, full sized cost $19): Funny, my husband is already testing out this whole product line for an upcoming review! Stay tuned for that coming soon! The Wash and Buff is his favorite item from this line. So, Erik is happy to have a travel size. Daily face scrub with microbeads to remove dead surface cells without irritation.
Peter Thomas Roth | Mega-Rich TM Shampoo (deluxe sample size, full sized cost $18): I didn't even know that PTR had a hair care line! Erik looks forward to using this shampoo. Funny, my Hub is actually more likely than me to purchase high-end shampoo and conditioner. I tend to stick with Redken most of the time while my Hub buys the fancy stuff that they sell at our Aveda salon. Daily Shampoo with B-Vitamin biotin to thicken and moisturize tired (um, how does hair get tired??? lol!) strands.
Peter Thomas Roth | Mega-Rich Conditioner (deluxe sample size, full sized cost $18): Like the shampoo, my Hub looks forward to trying this out. He has very thick wavy hair. Conditioner is a must for him! This rich cream fortifies to prevent thinning and breakage.
Old Calgary | Oxford Card Sleeve Wallet (full size! Cost $25): This is the "lifestyle extra" item. Birchbox always includes a lifestyle extra for the men's box. Erik really likes this business card holder! It reminds him of him of his favorite store, J Crew. You know how J Crew has those little "extras" around the check out area? This item would totally fit right in there or in a J Crew catalog. It is a handcrafted card sleeve made from 100 percent Merino wool felt. This item alone more than pays for the price of the Birchbox!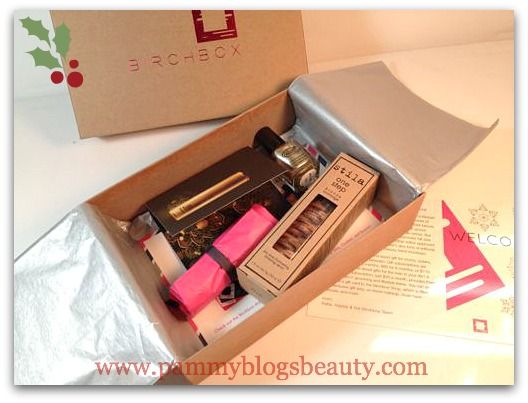 Birchbox Women: Holiday Box Opening
I am so excited about this Holiday Birchbox! There are some really great items inside! Some items are actually repeats of items that I have gotten in previous Birchboxes. That is just fine by me as the repeat items are things that I totally love! Now, this Birchbox is likely different from the one that subscribers will get in December. Birchbox always releases a variety of boxes each month targeted at your specific interests to align with your Birchbox profile info. I will update this post when I get my usual December Birchbox and let ya'll know for sure if they are different.
theBalm cosmetics | Stainiac in Beauty Queen: (sample size: .04 fl oz, full size cost $17) Whoo-hoo! I got this little goody a few months ago in another Birchbox and I am thrilled to have another. It is a little mini lip and cheek stain from one of my fav brands, theBalm! This gives the prettiest sheer pinky-red tint! This sheer gel formula delivers a subtle, long-wearing flush.
Color Club | Nail Polish in Disco Nap (sample size: mini .25 fl oz bottle, full sized cost $8): Birchbox has totally introduced me to Color Club polishes and I am in love! So, I am always thrilled to open up a Birchbox to find a pretty polish! Disco Nap is a gorgeous liquid metal sparkly metallic in a light gold color. Just in time for cocktail season, this gilded shade will make you stand out in a crowd.
Shu Uemura Art of Hair | Essence Absolue Nourishing Protective Oil (sample size: ? small vial, full sized cost: $68): I have sampled this one in a previous Birchbox and really do like it! I am a fan of hair oils in general and this is a good one. I love the scent too. The sample is a bit small and hard to open. However, I am still happy with it overall. Stylists call this luxurious oil "liquid gold" it keeps strands soft and silky.
stila | One Step Bronze (full sized sample! Cost: $36.00): Yippee!!!!! A sample from one of my favorite brands: Stila! Yay!!! I have always wanted to try this product. So, I am thrilled that it is in my Holiday Birchbox! Plus, it is *full sized*! Yes, occasionally Birchbox will treat its subscribers with full sized samples! Fake an island glow year-round with this three-in-one bronzer, primer, and serum. It also keeps your skin's oil production in check.
twistband | Hair Tie (one band, full size 12 pack for $18): Yay! I love twistbands! So, I am happy to get another one in this box. Birchbox loves adding these little bands as "extras". They are gentle on your hair and cute. Give your ponytail a makeover with these colorful, snag-free elastics.
There is no question that a
Birchbox subscription
is a great choice for your Holiday shopping! The boxes have just enough "specialness" to make them great gifts! For yourself or someone you love. Plus, it is the gift that keeps giving every month. Opening the box is so fun! The items are always a surprise. The value of the box's contents always exceed the actual cost of the box. So, you are getting your money's worth here. Not to mention, it is such a treat to discover new products and have them delivered right to your door!
Have you finished your Holiday shopping yet? I still have so much to do!
Thanks for reading!
XOXO!
While I am a paid subscriber to Birchbox,
I got PR samples of these Holiday boxes
to preview and review. Referral links in post.