Sponsored Post
Affiliate Link
Press Sample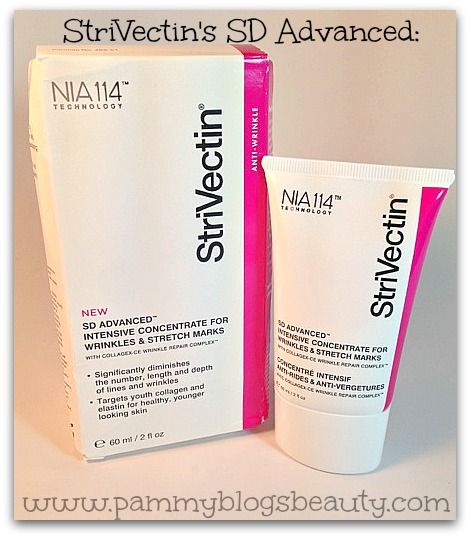 Keeping Skin Looking and Feeling Healthy:StriVectin SD Advanced™ Intensive Concentrate for Wrinkles & Stretchmarks :
Do you want your youth collagen back? Who doesn't, right?!?! It is never too late to take good care of your skin! I have a BIG birthday rolling around this year. Yes, I turn the big 4-0 this year (gasp!). While that number seems to signify the "end" of my relative "youth," it certainly does not mean that I need to look my age. ;) Now, more than ever, I am going to delve into the use of effective anti-aging products.
I believe in doing what I can to look as young and healthy as I feel! I believe that beauty and health start from the inside out. So, I do what I can to eat healthy, exercise, and take good care of my skin. I will admit, what I lack is sleep (I have a newborn! So, there is only so much I can do to improve my sleep situation). So, I really rely on good skincare to perk up my tired face. On the plus side, having young children sure makes me feel younger!
My Latest Discovery for Keeping My Skin Looking and Feeling Healthy:
StriVectin is a brand that I trust for effective skincare and results-based anti-aging products. I have had great results with them in the past and I am excited about a new product that I just started using from the brand: the StriVectin SD Advanced Intensive Concentrate for Wrinkles & Stretchmarks.
StriVectin SD Advanced Intensive Concentrate for Wrinkles & Stretchmarks :
Product Description, My Thoughts, and How I Use:
This is a powerful and concentrated anti-aging treatment. I use it as I would a serum. The product itself is a dense non-greasy cream. I apply StriVectin SD Advanced in both the mornings and the evenings after washing my face. In the morning, I follow it up with my everyday moisturizer/SPF. In the evenings, I follow it with a lightweight moisturizer as my skin has been on the dry-side lately. If you have oily skin, you probably would not need an additional moisturizer after this product.
I adore the texture, feel, and scent of the product! It has a minty feel that is just lovely on the skin! So refreshing!!! I literally look forward to applying this product after cleansing my skin.
To find out more about StriVectin's SD Advanced Intensive Concentrate for Wrinkles & Stretchmarks, and to find out about the *Giveaway* please click "read more" below.
Key and Active Ingredients: How Does StriVectin SD Advanced Work?
So, what are the actives? How does this product work?
The
SD Advanced Concentrate
contains StriVectin's Collagex-CE Wrinkle Repair Complex which targets Collagen III or "youth Collagen"
to help restore elasticity and dramatically reduce the appearance of lines and wrinkles
.
Did you know that there are actually 28 types of Collagen??? Who knew? Two of these types are in your skin: Collagen III (youth collagen) and Collagen I (found in scar tissue and older skin). When you are born your body has equal amounts of both of these collagens. However, as you age, the ratio shifts: you decrease to only 15% of Collagen III. So, your body lacks the lovely bouncy type of Collagen III and production of Collagen I cannot replicate that type of healthy and plump collagen-infused skin. So, the brilliant scientists at StriVectin realize that the key to keeping your skin looking young would be to rebalance the Collagen I and Collagen III levels. Makes sense! That is where StriVectin Advanced SD Concentrate comes in: it targets both Collagen I and Collagen III!
StriVectin SD Advanced
contains StriVectin's famous NIA-114 technology. What does NIA-114 do? According to StriVectin, NIA-114 does the following:
Energize cells to maximize skin health
Strengthen and rebuild the skin barrier
Inhibit the impact of environmental aggressors
Multiply the efficacy of active ingredients
In addition to diminishing lines and wrinkles and targeting youth collagen, this SD Advanced Concentrate also lightly hydrates your skin, improves skin's texture, and strengthens your skin's barrier function to keep it healthy. Plus, this concentrate fights stretch marks! Now, I don't have stretch marks. So, I can't evaluate that claim. However, I am very happy with this product as an anti-aging treatment!
My Results: First Impressions Review:
For this "First Impressions" review, StriVectin wanted me to evaluate and share my thoughts after 2 weeks of use. Typically, I test skin care products out for a longer period of time before reviewing. So, that is why I am calling this a "First Impressions" review.
I will admit that I was impressed with this product from my first use! I adore the texture of this product and the feel of this StriVectin SD Advanced Concentrate on my skin. I love that the product is non-greasy and I am completely obsessed with the minty feel of this product! Unlike many anti-aging products and treatments on the market, this product does not feel "heavy" on the skin. It feels completely fresh! Plus, I am happy to report that I have not experienced any breakouts while using this product.
After a few days, I noticed that my skin really was looking plumper! Plus, my pores looked less noticeable! That was a result that I was not expecting but was thrilled to see!!! As I continue to use this product, my skin has consistently looked plump, my pores have been less apparent, and my fine lines and wrinkles have smoothed out and become less noticeable. Plus, I feel that my skin's tone has improved as well as its texture. My skin just looks and feels so soft and smooth! I am thrilled with my results and look forward to continuing to use this product as part of my everyday skincare routine.
Overall, I am impressed with this product and am very pleased with my results!
Interested in purchasing? Here is a link:
StriVectin SD Advanced
! :)
Giveaway:
The Prize:
One Tube of
StriVectin's SD Advanced Intensive Concentrate for Wrinkles and Stretchmarks
for
Pammy Blogs Beauty
readers!
To Enter:
To enter to win StriVectin SD Advanced, please leave a
comment below
telling me "What interests you most about StriVectin SD Advanced Concentrate"? Please include your email address in the comments so that I can email you if you are the winner!
Contest Rules and Process:
Prize provided by StriVectin. Winners will be selected by BlogHer staff from the comments below. Pammy Blogs Beauty is not responsible for prize fulfillment. Prize is not redeemable for cash. Contest void where prohibited. Pammy Blogs Beauty will email the winner after BlogHer selects the winner from the comments below. Winner must respond within 48 hours or a new winner will be selected.
As always, thanks so much for reading! Good luck if you enter the contest!!!
XOXO!!!
Sweepstakes Rules:
No duplicate comments.
You may receive (2) total entries by selecting from the following entry methods:
1. Leave a comment in response to the sweepstakes prompt on this post
2. Tweet (public message) about this promotion; including exactly the following unique terms in your tweet message: "#StriVectin" and "#SweepstakesEntry"; and leave the URL to that tweet in a comment on this post
3. Blog about this promotion, including a disclosure that you are receiving a sweepstakes entry in exchange for writing the blog post, and leave the URL to that post in a comment on this post
4. For those with no Twitter or blog, read the official rules to learn about an alternate form of entry.
This giveaway is open to US Residents age 18 or older. Winners will be selected via random draw, and will be notified by e-mail. The notification email will come directly from BlogHer via the sweeps@blogher email address. You will have 72 hours to respond; otherwise a new winner will be selected.
The Official Rules are available here.
This sweepstakes runs from 3/10/2014-4/11/2014.
Be sure to visit the StriVectin brand page on BlogHer.com where you can read other bloggers' posts!