Hello my dolls!
Yes, it is that time of the month again (and, no, not *that* time, lol!). It is
Birchbox
time!!! As you regular readers and fellow Birchboxers know,
Birchbox.com
is a members only beauty-site that offers a great selection of products, product info and fabulous tips for use, and (best-of-all) a fabulous sample box subscription program. For $10 a month, you get a wonderful sample "Birchbox" full of 4-5 deluxe samples and extras. The items are beautifully wrapped and well chosen. It feels like getting a present every month. I love it!!! To learn more about Birchbox, see my
Birchbox Intro Post
.
So, what did I get this month? I know ya'll are dying to know! This is a
Box Opening Post/Haul Post
(not a review post), so I am just going to list the items for you and give you some info and first impressions!
The March Theme: "Upgrade"
: The idea is to upgrade your routine and take your everyday basics to the "next level".
What I got:
Blow, Thickening Mist: Volumizing Spray (full size retails for $21). I am all about volumizers, so I am eager to try this out!
Marvis, Classic Mint Toothpaste (full size retails for $10). I know...toothpaste, really? I must admit, I find it hard to get excited about a dentifrice. But, I do like the retro style packaging and will save this for my next trip. Great travel size. It smells great too.
Pangea Organics, Lip Balm (full size retails for $12, and a full size balm was sent in this box!!!). This is, IMHO, the best item in this box. I adore lipbalms and can't wait to test this baby out! The scent is VERY herbal: Lavender with Cardamom. Definitely a unique scent and flavor for a lipbalm.
Pomega 5 Daily Revitalizing Concentrate (full size retails for $48): A small sample jar contains 4 mini capsules of this treatment oil. I admit, I am quite curious about these. But, wish there were more included.
Birchbox Treat (I am realizing that Birchbox does this every month, yay!): Brow Brush: Not much to say, it is just a small/travel sized spoolie brush. It is already in my purse. I have the worlds most unruly brows, so this will be handy.
Extras: A card with a code for a free song download and a $5 album for "Birchbox's Crush: Oh Land", Foil packet sample for Panega Organics Facial Scrub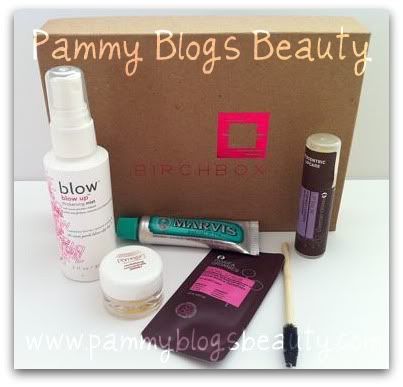 While I am excited about most of the items in this box, I really wish that Birchbox had included a makeup item! But, I do look forward to testing everything out. As usual, the box was wrapped beautifully and arrived right on schedule. I truly look forward to my Birchbox delivery every month!
I also wanted to mention how much I enjoy the website. Getting the box is just the beginning. You can log on to learn more about all your Birchbox items! They give great tips on how to use and get the most out of these products. Plus, after you test out your items, can earn points by reviewing your Birchbox sample items on the Birchbox site to get discounts on future orders! Nice!
If you are curious about my past Month's boxes, check out my other Box Opening Posts:
Jan
and
Feb
. My fellow Birchboxers, what did you get this month?