Hey dolls! It's time for my monthly Birchbox post! As ya'll know, I look forward to my Birchbox every single month. I mean, a beautifully packaged gift box full of deluxe beauty samples? Whats not to love!
Not familiar with Birchbox? Well, be sure to check out my
Birchbox Intro Post
as well as previous month's Birchbox posts:
January 2011 Birchbox
,
Feb 2011 Birchbox
,
March 2011 Birchbox
,
April 2011 Birchbox
,
May 2011 Birchbox
, and
June 2011
. In a nutshell, Birchbox
is a monthly sample subscription of a gift box filled with 4-5 deluxe sized samples plus occasionally a "treat" or an "extra". The subscription is about $10/month and it includes the monthly Birchbox, access to the fabulous member's only
Birchbox website
, free shipping on full sized products included in the current month's box, and opportunities to earn Birchbox points for reviewing the products on the Birchbox website (accumulated points go towards discounts on purchases). For me, Birchbox is not only totally worth it, but also totally *fun*!
So, lets go ahead and get to this month's box! For details about what I found inside, keep reading the full article after the page break!
Beauty Innovations: August 2011 Birchbox
Yes, I must admit, I find the theme of this month's box to be totally intriguing. In our modern day, we have seen many beauty breakthroughs. What better way to try out some new beauty "inventions" then through sampling! Birchbox has compiled a fun assortment of beauty products in this month's box that they consider to be "the next big thing". Now, if only they could find a way to fit a Clarisonic into this little tiny box, lol, now wouldn't that be great! ;)
At first glance, this Birchbox seemed a little bit "small" in comparison with other boxes. The samples themselves seem small and they included 4 instead of 5 samples in my box. But, as usual, if you actually price out the value of this box versus the value of the samples and value of previous boxes, you realize that it is still a fab deal! So, I am still pleased!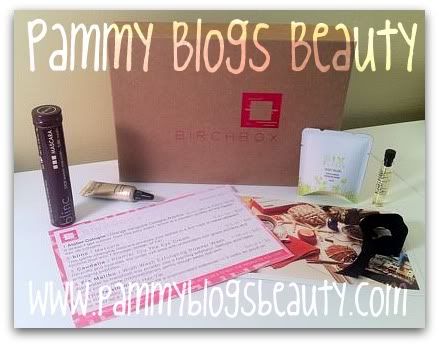 The Goodies:
Atelier Cologne | Orange Sanguine Cologne Absolue | $145 for full sized bottle: This is a very citrus-y and fresh scent. Birchbox is calling this a modern update on the classice eau de cologne. I am not sure what else is "innovative" about it. But, it sure smells good! I find that this time of year while it is still so hot out, I really want a fresh and easy scent. I am just not quite ready to bust out my Fall fragrances just yet (even though it is "back to school"). This sample is a very small glass sample vial. I wish this item counted as an "extra" since it is so small. It came wrapped in a waxed paper envelope with an adorable artsy postcard. I found the post card to be a nice addition!
blinc | Mascara (black) | $24 for full sized .21 oz (sample size .141 oz): How cool is this! This is one of those "tubes" mascara. Rather than just coating your lashes like a regular mascara, this one encases your lashes in a thin tube of water-resistant formula that won't smudge, smear, or run. I absolutley can't wait to try this out! This product sample *makes* this month's box for me! Also cool: the packaging! It comes in a "tube" (how appropriate) that has a screw top lid.
Caudalie | Premier Cru The Eye Cream | $95 for a full sized .5 oz (sample size .03 oz): Wow! I am so excited that Birchbox included this amazing eye cream in this month's box. I am huge Caudalie fan! Actually, I am in the process of testing out this very cream right now for an upcoming Caudalie review. So, I can already tell you, this is an amazing eye cream (one of my faves for sure!). So, while I don't particularly "need" this product as I already own it, I am thrilled to have a nice travel sized version. Plus, I agree that Caudalie is innovative with their use of antioxidant-rich grapes within their products. This cream de-puffs and hydrates the under eye area with antioxidant-rich grape extracts and anti-aging pepitdes.
Fix Malibu | Wish Wash Exfoliating Powder Wash | $40 for a full sized 1.06 oz (sample size 6g): Add water to transform this powder into a foaming exfoliator. Salicylic acid helps purify pores,while microexfoliators gently slough away dull skin. This product sounds amazing. But, alas, I cannot test it for a few months as I am pregnant and Salicylic is a no-no for skincare during pregnancy. But, I look forward to testing this out when I can! I am generally a fan of both manual exfolation and the effects of Salicylic acid...and this product has both!
Birchbox Extra | Twistband | Hair Tie: This soft elastic gives the hair tie a sophisticated makeover-it looks as good n your wrist as it does in your hair. This is a nice little extra! It is certainly useful! I have very long hair and am always pulling it back. This gives a new "twist" on the hair tie! It certainly looks better than the elastics you find in the drugstore.
I totally enjoyed the experience of opening and sharing this month's box with ya'll! I am not quite sure which is better, the actual opening of the box or sharing it with you! I am particularly excited about testing out the blinc mascara, the Twistband hair tie, and the Caudalie Eye Cream!
Fellow Birchboxers what was in your box this month? I would love to hear what you got!