Makeup War
! This time the
Makeup Wars
bloggers are comparing what is in their Travel Makeup Bag.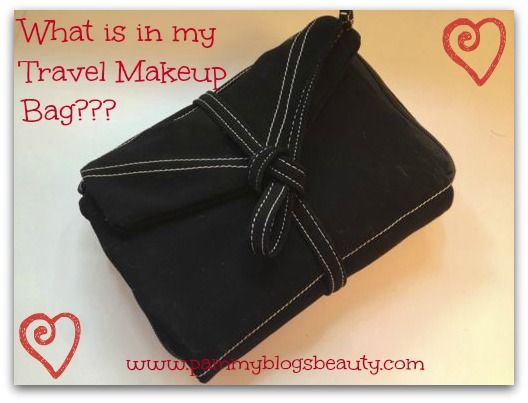 I really struggle when it comes to packing clothes for a trip. Actually, I am a terrible packer. I tend to overpack and it takes me forever to decide what to bring. With that said, I am actually pretty good when it comes to makeup packing! I have developed a bit of a system for makeup packing that seems to work every time! Plus, I have a handy new makeup bag that really streamlines the process.
Makeup Wars:
What are the Makeup Wars? The Makeup Wars bloggers are a small group of top beauty bloggers with a serious love for makeup. We mutually pick topics (e.g.,
Favorite Red Lipstick
,
Best Fall Look
,
Most Repurchased Items
) and blog-blast our posts at precisely the same time every other Monday. We include a graphic link at the top and bottom of all of our posts so that you, the reader, can scroll through all of our blogs reading different blogger's perspectives on the same general concept. Get a pen and paper ready! I always seem to make my makeup wishlist while reading through all of the Makeup Wars blogger's posts!
Find out what I pack in my Travel Makeup Bag!
The Trick: The Key is in the *Process*!
Before we dig into my Travel Makeup Bag, lets talk about my packing process!
Pack "all week": It takes no extra time: Just add items while you get ready!
A few days before any given trip, I start thinking about what I would like to pack makeup wise. I get out my travel makeup bag and set it on my vanity. When I get ready in the mornings, I start tucking items into my travel bag that I use almost every day. That way, nothing essential gets left out! Then as the week progresses, I shift from using makeup that is in my vanity, to getting ready with items already in my travel bag. It is just that simple!
In addition to adding items to the bag as I use them, I am also simultaneously making metal notes of what type of makeup needs I will have for the trip. The common thread: Items that are compact and packable! No bulky palettes or loose powders.
Give the Bag a Theme! Examples:
I keep the "theme" in mind when selecting products to bring. I am not just packing things because I love them. I ask myself, "would I wear this" or "does this work" for each occasion.
Beach or Summer Trip: We are talking minimal makeup and "easy" products that hold up well in the sun and heat.
Casual weekend getaway? Natural looking makeup that flatters: Go-to products that work every time.
Dressy or "Special Event" weekend: Special palettes or kits that give a complete look.
Car Trip or Air Travel:
I pack differently depending on if I am traveling in a car or going by plane. For purposes of this post, I am sharing a
car-trip travel bag
. The difference? For a plane, I separate out my "liquid" makeup products (lipgloss, etc) and put those in the security friendly ziplock with my other liquids. I carry on all of my makeup when I travel. It is just to breakable to be checked with my luggage (and too precious! You know me, I heart my makeup!). I also tend to "pad" it a bit more to protect the items (packing palettes into a sock within my makeup bag, things like that).
The *KEY*:
My goal is to have the makeup bag completely packed and finished at least a day or two before we leave for the trip. The key is that those 1-2 days before,
I get ready using *only* the items in my travel makeup bag
. This really works! I never forget anything anymore. If I forgot the item, I just grab it and add it to the bag. Also, I see what I might not use and edit my bag by removing an item or two.
What is in my Travel Makeup Bag? Casual Weekend Away
Now that you know my process, lets take a peek inside my travel makeup bag! I must note that while my makeup packing process works for me and feels streamlined, I am no minimalist! I do love having a bit of a variety of makeup items while traveling. So, I strive to achieve a balance between packing light and sensibly yet also having enough options to have fun with what I packed.
The Bag Itself: The Hold Me Bag Baby
I have a new travel makeup bag and I absolutely adore it!!! It is the
Hold Me Bag Baby
! A while back, I reviewed the
full size Hold Me Bag
. While it is really great, it is really too big for a casual weekend trip. Enter the new Hold Me Bag Baby Bag: All of the features of the larger bag with a smaller size!
This bag rocks! It is an extremely well made soft faux suede bag. It closes with an adjustable tie and opens to reveal a rectangular zipper pouch and a brush storage area. The zipper opens to a shallow storage area and a work mat (protects items during travel and gives you a nice little workspace to set your items out on a counter). The zipper pocket is deceptive! At first it looks small; but, as you can see from the photos, the shape allows you to pack in plenty of items! There is also a little size pocket that I slip my travel makeup mirror into. The interior of the bag is lined with coated fabric. To clean, you just wipe with a damp cloth.
I just love that I can keep all of my makeup and travel brushes in one bag! This bag keeps everything so organized!!! I just love that brush storage is part of this bag. The brushes stay so organized and protected! I love it that I do not have to pack an additional brush roll! This really helps me to save space. :)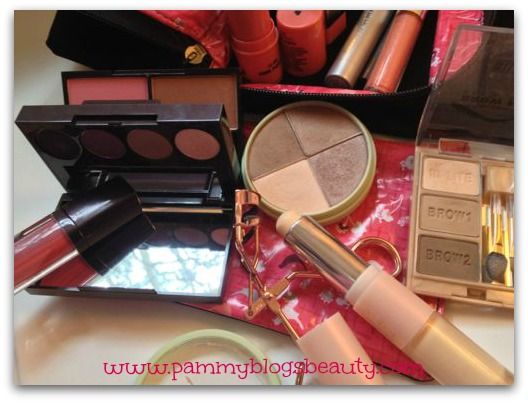 Inside the Bag: What did I pack?
Makeup:
Make Up For Ever Pro Finish Powder Foundation: OMG! I am in love with this new powder foundation from Make Up For Ever!!! It gives great coverage and can be used wet or dry. Personally, I love wearing it dry. Full review is coming very soon...hint: New HG Powder Foundation!!! I am the shade #113. Plus, it is sleek and compact and super easy to pack!
Paula's Choice Soft Cream Concealer in Soft Ivory: This is what I am currently using and testing out for my under eye area. This product looks and performs much like MAC's Studio Finish. I like it! Plus, soft ivory is an excellent shade for my super fair skin. The price is very affordable, too. My under eye circles are extremely dark. So, I really need to build this product up to get enough coverage. I think this concealer would work best for those who's under eye circles are less dark than mine.
PoP Beauty's Concealer Duo: I love packing this concealer duo for trips because it is a concealer and highlighter in one! This is the concealer that I like to use on other areas of my face (not the under eye area). The concealer has a bit of a yellow tone which works great to counteract redness on my chin and around my nose. The highlighter I use (sparingly) on my cheekbones and in the inner corners of the eye to brighten. I actually gave this product a full review awhile back: Check it out here.
Milani's Brow Fix Brow Kit in Light: I know, I know, I can't stop talking about this amazing brow kit!!! I am in love with it. I use it almost every day. I love that I get not only my perfect brow powder in this kit, but also my perfect brow highlight shade as well! Normally I use my Billion Dollar Brows brow brush at home. However, on trips, I suffice with the little mini brow brush in this kit. Check out my full review: Milani's Brow Kit. I seriously think that every girl needs this brow kit in their collection!!! Not only is it great for travel, it is an every day essential!!!
Laura Mercier's Colour-To-Go Palette in Cool Neutrals: This palette has it all for a beautiful and colorful makeup look!!! I adore wearing purple shades and the ones in this palette are so neutral and wearable. I can't get over how sleek and compact this palette is. Seriously, it is mini!!! Yet, it is also complete! I am totally in love with it!!! It has absolutely everything I need for a complete look: Eyeshadow, Cake Eyeliner, Blush, Bronzer, and Lip Gloss. Check out my full review here: Laura Mercier Colour To Go Palette. This palette is so packable!
Pixi Shade Quartette in Shades of Nude: While I love the purple theme of the Laura Mercier Colour-to-Go Palette, I like having a few more neutral shadow options on hand. This Shade Quartette by Pixi is just perfect! The light skintone shade is a close dupe to my beloved MAC Vanilla and the Taupe and Brown shadows in this kit are just lovely, too! This is a quad that I reach for very frequently and is really ideal for travel. Such easy to wear shades! Here is my full review: My Latest Everyday Eye Combination.
Neutrogena's Healthy Volume Mascara: Have you tried this mascara? I love it! This mascara builds nice volume while the formula conditions your lashes! It doesn't smudge nor flake on me (a feat, I tell ya! Almost everything seems to smudge on me...but, not this!). Plus, it is easy to remove. Love it!!!
NYX Stick Blush in Pink Poppy: Now ya'll knew that I couldn't just pack one blush (the one in the Laura Mercier palette)!!! So, I tossed in this gorgeous cream blush stick by NYX. Actually, it is great to travel with both a cream and powder blush. You can either layer them together or wear them on their own. Plus, with my skin being tempermential this time of year, it is nice to have a cream option if I am feeling paricularly dry. This shade is just lovely: a perfect light peachy pink. This is exactly the type of shade that I love to wear every day! So pretty!!! Actually, as I type this I am thining "I need to scope out the rest of this line of blush sticks! Ulta run today" lol!!!
MAC Pearlglide Intense Eye liner in Lord It Up: Honestly, I don't think that I ever travel without a brown eyeliner. This shade in particular is a bronze pearl shade. If I am ever in a hurry, I can always just swipe some of the neutral Pixi vanilla shadow across my lids and then sweep on this eyeliner and be done! This formula is so creamy and long wearing. Love it! Tip: I always sharpen my pencils before a trip and leave the sharpener at home (if just leaving for a weekend).
L'Oreal Colourriche in Pink Cashmere: Ooooh! I <3 this new pink lippie from L'Oreal! It is a gorgeous and pretty pop of pink. While I love it now, I have a feeling this shade will be my go-to come Springtime!!! Seriously, I am obcessed with this lippie!
Dior Addict Lipstick in #680 Millie: This is one of those go-to everyday shades for me. It is just pretty and natural. My perfect MLBB (My Lips But Better) shade. Adore it! Plus, I just love having multiple options for lip color when traveling. Lippies do not take up much space. :)
Brushes and Tools:
Eye Lash Curler by Tweezerman: An eye lash curler is absolutely essential!!! This award winning one by tweezerman is amazing! It is just the right shape for my eye. I never travel without an eyelash curler!!!
Sigma F30 Large Powder Travel Brush: All of my Sigma travel brushes came in a Sigma travel brush kit with case. On longer trips, I bring the whole brush roll and brush set. However, for a short weekend getaway, a few brushes in my Hold Me Baby Bag are all I need! I love this brush for powder. Note: While these brushes are "travel brushes", I use these every day. Personally, I prefer shorter handles. I love Sigma brushes and use them daily. I find no need to purchase high end brushes when Sigma's professional quality brushes do it all!
Sigma E55 Eye Shading: Love the softness of this brush! This is another daily use makeup brush for me. It is just the right size for the lid.
Concealer Brush: I can't remember where I got this one? The name/lettering has worn off. Love it!
MAC's 266 Small Angle Brush: Nothing beats this brush for applying shadow like a liner. I tend to use shadows for liner very frequently. It makes for a very soft look.
Smashbox Crease Brush: I got this brush as part of a GWP from Ulta a few years back. It is now my fav crease brush! It is fluffy enough for good blending yet pointed enough to really get into the crease. Plus, it is soft!
My Toiletries Bag:
I have an entirely different bag for my toiletries. My system for toiletries is extremely streamlined. Actually, I have turned toiletry packing into a science! This topic actually deserves its very own post. Please let me know if you would like to hear more! I would be happy to share what is in my toiletry bag. Actually, (hint) it stays packed at all times (many thanks to my plethora of beauty sample subscriptions like
Birchbox
) and my method of purchasing and replacing items like travel deodorant and travel toothpaste before I pack the bag away for the next trip.
Did you miss our previous Makeup Wars? Be sure to check those out here:
Battle of the Taupes
,
The $20.00 Face Challenge
,
Battle of the Favorite Summer Lippie
, the
Most Expensive Face Challenge
, the
Best Brush
,
Favorite Fall Polish
,
Favorite Red Lipstick
,
Best Fall Look
,
Halloween Manicure
,
Favorite BB Creams
,
Favorite Mascara
,
Favorite Holiday Metallics
, and
Holiday 2012 Beauty Wishlist
,
New Year's Beauty Resolutions
,
Most Repurchased Products
and
Get The Look: Valentine's Day
.
Don't forget to visit my fellow Makeup Wars blogger's blogs to read this week's Makeup Wars post! Links are included in the graphic below. Have fun reading!!!
Items I included are a complete mix of things
that I got as samples and items I purchased.
note: Sigma Affiliate link in post