It is time for a Makeup War! Yes, the Makeup Wars bloggers are at it again with another makeup challenge. This time we are searching for the best products out there for a great "Fall Look"!
What is a Makeup War???
The Makeup Wars group consists of a verbose (and fabulous, if I do say so myself...) group of beauty-obsessed bloggers who like a good challenge! Every/other week we do a blog blast about the same topic, product, or category. We publish our posts at exactly the same time linking each other through a graphic at the top and bottom of our posts (the "last" and "Next" links up top and our picture links at the bottom). This allows our readers to scroll through all of our blogs for each blast topic post. The cool part? These Makeup Wars blog blasts are a big reveal not only to our readers, but also to our group collectively. We never see each other's posts ahead of time. So, while we know the topics we don't know the specifics. I am always just so excited to scroll through our links to read everyone's posts! So fun!!!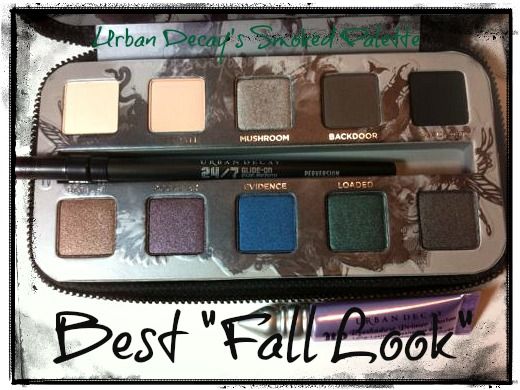 Best Fall Look:
The change of season is always so exciting!!! The arrival of Fall (my fav Season!) and October (my fav Month!) bring about shorter days, cooler weather, and fabulous Fall clothing and makeup!
What changes for me makeup-wise with makeup for Fall? Well, generally I go bolder all around with color. Peach and coral lips give way to plums or nudes (if I do a bold eye). Also, I am much more likely to go with a bold smokey eye! Smokey Eyes just scream Fall/Winter to me. So, for this Makeup War, I am going to feature the new Urban Decay Smoked Palette.
Get your "Best Fall Look" with this Gorgeous Smoked Palette from Urban Decay!
While this palette is a recent purchase for me, I can already tell that it is destined to be a long-term favorite. Not only does it have beautiful classic smokey colors like black and grey and blending/highlight shades like off white and taupe, but also vivid jewel-tone colors like green, blue, and purple for an updated twist on the classic smoke. Yes, this palette has absolutely every shade you might need all in one place for countless smokey looks!
No, I am not a "smokey eyes for everyday" girl. Most days, I go for something more natural and subtle. However, when I want to amp up the drama, smokey eyes are the best! Sure, I have shadows in my collection already that I can create smokey looks with; but, having my smokey shadows all in one great palette really helps me to pull my smokey eye together. Also, as I mentioned, this palette is not just for smokey looks! You can easily create a more natural look with this palette as well.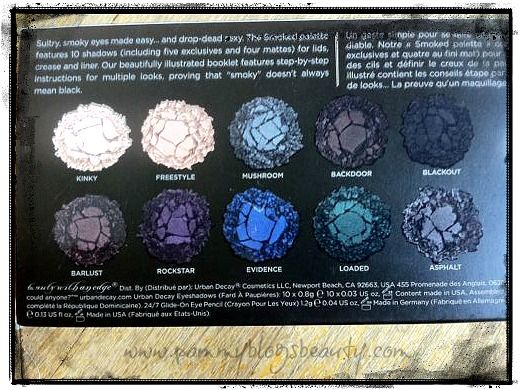 The Urban Decay Smoked Palette:
What you get:
10 generously sized Eye Shadows in a range of colors and textures ranging from matte neutrals to shimmery jewel tones.
Full Sized Perversion Eye Liner Pencil.
Deluxe sample sized Primer Potion.
Illustrated step-by-step "how to" book: As far as how-to books go, this one is a great one and I love using the tips!
The palette retails for $49.00 and is available at Ulta, Sephora, and online at Urban Decay.
The Palette Itself: Packaging
I love, love, love the packaging of this palette! As many of us know, Urban Decay's palettes can range from needlessly bulky (hello to my "Book of Shadows" collection: love you all but can't take you anywhere!) to completely streamlined and travel friendly (yay! for Naked and Naked 2!). Thankfully, this UD Smoked palette is the latter: uber travel friendly! I love how the palette has a zipper closure. It is practical and it gives off a tough vibe. With that said, the zipper is not the easist thing in the world to close. For some reason, it is a little difficult to work around the bottom right corner. It never snags, it just needs to be eased over that corner. Back to the travel-friendliness: The palette is slim and quite portible. The outer case has a somewhat soft feel that might offer protection in case you drop it(no, I will not test this out by dropping it! lol!).
The Shadows: Texture, Pigmentation, and Wear
As I mentioned, I love the range of shades in this palette! Not only do you get your bold and dark colors, but also some really lovely light colors too! You can easily create a daytime look with this kit. Then, you can take your look from day-to-night with the addition of the dark shades or bold color.
Like all Urban Decay shadows, the texture and pigmentation is just amazing. The shadows are richly pigmented and buttery. They glide on and blend beautifully and wear effortlessly all day! When you layer them over the primer potion the shadows are going to last until you take them off.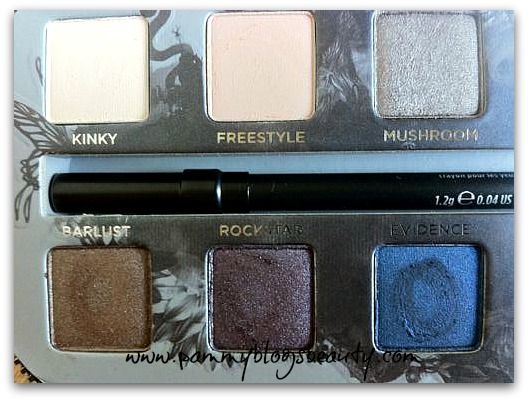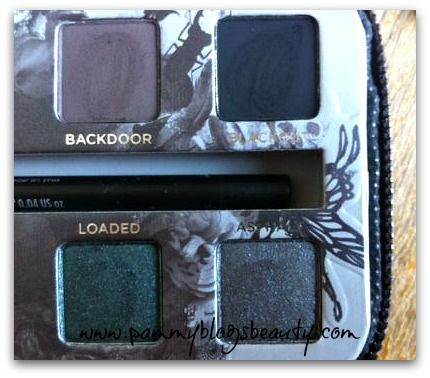 The Shades:
Kinky: A light matte vanilla-like shade.
Freestyle: This is darker and a bit warmer than Kinky. It is more of an almond matte color.
Mushroom: This is a very rich silvery medium taupe with a beautiful and shimmery satin finish. So excited about the inclusion of Mushroom! It is one of my very fave UD Shadows for sure! Actually, I love it so much that I featured it in a previous Makeup Wars Challenge: Battle of the Taupes! It is an excellent choice for a smoked palette. I find this shade to be so versatile for both daytime and evening looks. Gorgeous color!
Backdoor: A very deep and dark matte brown. This color is so rich! I honestly didn't have a dark brown in my collection already that is this deep. So, I am thrilled to have it in this palette.
Blackout: A super rich matte black. This is seriously the blackest black that I own. The pigmentation is stellar.
Barlust: This is a gorgeously rich and shimmery satin deep brown. So beautiful! The shimmer is almost silvery.
Rockstar: This is a medium shimmery satin purple. The shimmer is almost silvery on this one too with a hint of a blue-toned flash. Another fave of mine! This shade is also in my UD Hearts NYC BOS palette (and it is my most used shade in that palette!). This color wears just beautifully! It gives you a pop of color that is very wearable. I find this shade to be so flattering! If you have never worn purple shadows before, or if you fear wearing color, you should try this shade! It is so fun to wear!!!
Evidence: A dark blue with shimmer. What a beautiful shade to add a pop of color to your smokey look! I like wearing this as a liner too.
Loaded: This is a super deep and rich shimmery emerald green shade. This shade is reminicent of at least 3 bridesmaid dresses that I wore in the mid 90s. Do any of ya'll remember how common this shade was back then? <---showing my age here! The pigmentation of this one is really amazing. This is yet another shade in this palette that I absolutely do not have anywhere else in my makeup collection. I am really just starting to get into wearing green shadows.
Asphault: A beautifully shimmery gunmetal grey. This shade just screams "smoked" to me! It is my favorite shade to create a smokey eye with! An absolute essential in this palette!
Eyeliner: Perversion: Wow, I am so impressed with how black this liner is! Very deep and dark black! Often, I fear going with a dark pencil liner because of smudging. Well, not to worry with this bad-boy! The wear is incredible. Whenever I need to repurchase a black pencil liner, it will be another Perversion liner by Urban Decay for me! Also, I must mention that I love it when Urban Decay includes an eyeliner in a palette rather than a makeup brush. I just never use those brushes (but always use the liners!).
My Go-To Smokey Eye: A Step-by-Step Look from the LookBook Manual

I am certainly no expert at creating a smokey eye. Actually, I usually need to work slowly and carefully to create a smoked look. Since there is a lot of blending and the look is dramatic, it is not an everyday look for me. I reserve my bold smokey looks for nights out! Plus, I need to make sure that I have enough time to work on my eyes without rushing (yes, this is a feat with a 9 month old in the house!). So, with all that said, it thrills me to no end to have an amazing step-by-step Smokey Eye Look Book manual with this palette.




My favorite look in this booklet is the Red Carpet look. So, that is the official "Best Fall Look" that I am showing you today: The "Red Carpet" Look with the Urban Decay Smoked Palette!


Here is the illustration and "how to" from the book:

I won't go into a how-to on how I did this look as it is all detailed in Urban Decay's LookBook.

Here it is on me!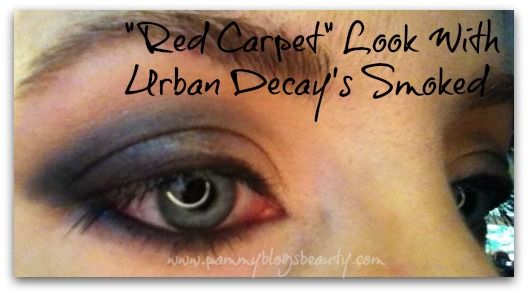 The more that I use this palette, the more I love it! Having all of these shades together in one palette makes me much more likely to wear a smokey eye. I have been getting more creative than usual with my smokey looks. If you are looking for a smokey eye palette, I really believe that this is the best one out there! Plus, if you are "new" at Smokey Eyes, the step-by-step guide has all the advice you need to create a wide variety of beautiful smokey looks! I flip to a new page each time I try to create a smokey look!
What do your reach for when creating your "Best Fall Look"? Are you a fan of Smokey Eyes? Or do you prefer to go more subtle?
Be sure to check out all the Makeup Wars Blogger's links below to see what they came up with for their Best Fall Look!