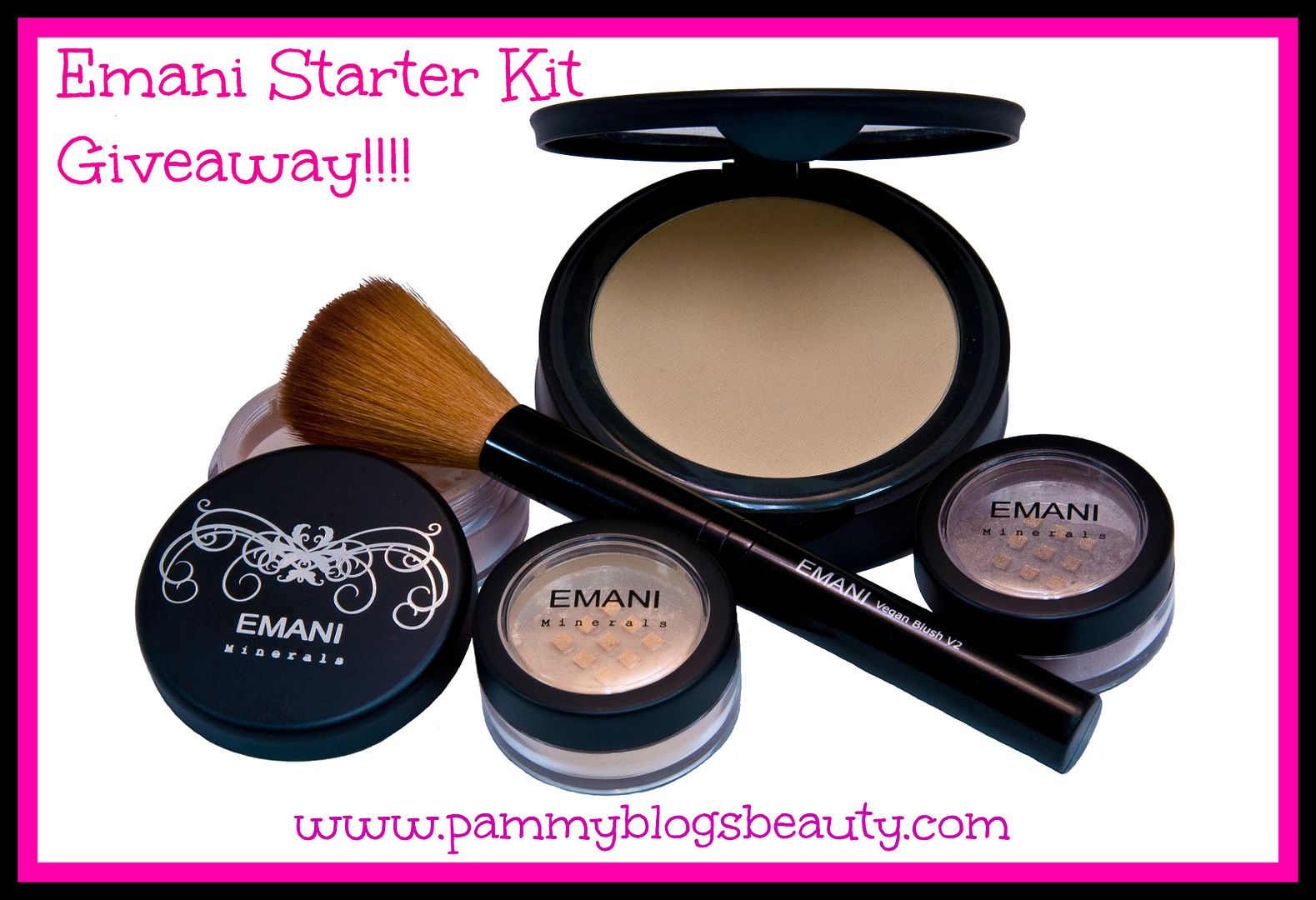 I am so excited! It is Giveaway time!!! Yes, that is right! I have another great Giveaway for you wonderful readers from Emani Cosmetics!!!
This post today is two-fold. In addition to the Giveaway, I also have product reviews for Emani's amazing mineral powder and primer!!!
If you missed my previous Emani review, please feel free to check it out: Emani Mineral Makeup.
Emani Cosmetics:
Emani merges natural cosmetics with professional quality. The result is a line of beautiful and natural products that perform very well. Emani believes that one doesn't have
to sacrifice animals or our environment in the name of beauty
! If you haven't had a chance to scope out this line yet, I highly recommend that you do!
Keep reading for my foundation and primer reviews as well as the giveaway details and entry form!!!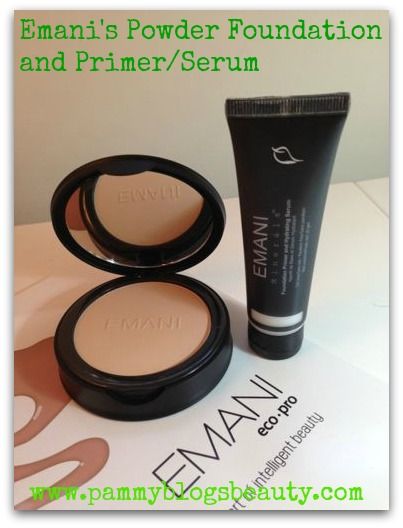 For this review, I tested out Emani's Flawless Matte Foundation and the Emani Primer Serum. I have got to tell you, I am so impressed! When it comes to my everyday face, I am a big fan of powder foundation. It is just so quick and easy. Powder foundation is my go-to as far as foundations.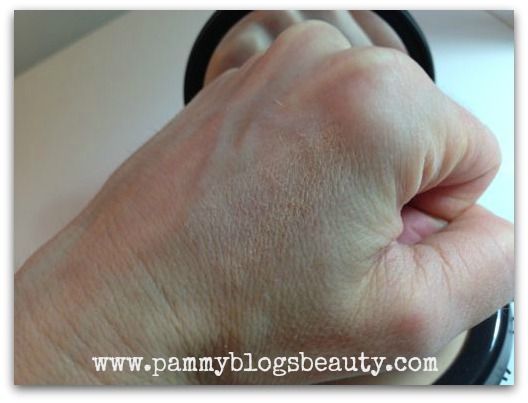 Emani Flawless Matte Foundation:
This mineral foundation comes in pressed form in an adorable and sleek black compact with a mirror. I really like that this mineral powder comes in pressed form. It is less messy and you can easily toss this compact into your purse for mid-day touch-ups.
I wear shade 289 Linen which is a pretty decent match to my skin tone. It is not the lightest powder in my collection; but, it does work for my fair skin tone. My skin type is combination and since it is winter, I am a bit on the dry side. Therefore, I need a good moisturizer and a primer before wearing any powder foundation. I highly recommend using both a moisturizer and a primer to prep your skin if you skin is dry or normal-dry/combo. In the past, mineral foundations have made my skin feel "itchy". Luckily, I do not have this problem with Emani's Mineral Foundation.
This matte foundation is so smooth! It gives medium and buildable coverage with a few swipes of a powder brush! I love the coverage, finish, and wear! The powder is very soft and "powdery". It only takes the slightest tap of the brush to release plenty of powder. I find that I actually need to tap off a little excess each time. The coverage really is fabulous! If you are looking for a new powder foundation, this one is a great option!!!
The Skinny:
Retails for $32
Comes in 13 shades
Emani Primer Serum:
This is a foundation primer and hydrating serum in one!!! I love multi-tasking products! This serum truly is hydrating! It is a thin, milky, and silky feeling serum. It is completely non greasy. My skin seems to just drink this up when I apply it. It instantly absorbs! The packaging states that this serum inhibits the deterioration of collagen and it fills in fine lines. My skin looks and feels smoother and softer after applying this serum. I totally love it!!! It does not feel heavy or "pore clogging" like many of my other primers do.
Key Ingredients:
• Ginkgo Biloba Extract, promotes microcirculation
• Chamomile & Witch Hazel extracts for calming of the skin
• Aloe Barbadensis Leaf Juice for added moisture and hydration
How I Use:
I use about a pea sized amount and I smooth it all over my face. I apply just before I apply my concealer. Then, I apply my powder foundation on top.
The Skinny:
*Note: The primer/serum is not included in the Giveaway. I just included it's review as I use it with the powder foundation (and I love it!). :)
The Giveaway Details:
Now that you know a little bit more about the brand, here are the details for my Emani Giveaway!!!
Giveaway Prize:
1 Emani Starter Kit
Starter Kit Contains:
Matte Foundation
Crushed Blush
Two Color Dusts
Vegan Blush Brush
Note: You will be able to select your foundation shade.
The Rules:
You must be 18 years old to enter (or have your parents permission).
Prize is shipped directly to the winners by Emani. Pammy Blogs Beauty is not responsible for items lost or damaged in mail/transit. Prize fulfillment is through Emani. Prize is not redeemable for cash.
To enter the contest, you must fill out Rafflecopter form below. The winner will be chosen randomly through Rafflecopter. In the event of technical error, Pammy Blogs Beauty reserves the right to pick the winner. The entries will be verified as needed and individuals with multiple or falsified entries will be disqualified.
Only one entry per person. With that said, you may earn extra entries by tweeting, liking on facebook, etc on the Rafflecopter form (see details below on how to earn extra entries).
Contest is void where prohibited by law.
Contest runs from Feb 19th 2013-March 15th 2013. Winners have 48 hours to respond to winning email from Pammy Blogs Beauty or a new winner/winners will be selected. Winner has 14 days total to claim prize.
To Enter the Contest (required rules):
Please see the rules listed above.
1. LIKE
Emanifans
on Facebook
2. Follow
Emanitweets
on Twitter
3. You must be a follower/Subscriber of this blog in at least one way to enter. You have multiple ways to follow this blog: e-mail subscription, Google Friend Connect,
facebook, twitter, Pinterest, Google+, BlogLovin, Hello Cotton, and Instagram.
The more ways in which you follow this blog, the more chances that you have to win!
4. Fill out Rafflecopter form below.
5. Answer question in comment form below: "What item are you most excited about from the Emani Starter Kit?"
6. You must like
Pammy Blogs Beauty Facebook
page.
7. You must follow Pammy Blogs Beauty on
Instagram
: pammy_blogs_beauty
8. You must subscribe to Pammy Blogs Beauty via email subscription.
For bonus (optional) entries:
You can tweet about this giveaway (one time per day max please!). Please include a link back to this giveaway and @pammyblogbeauty @

emanitweets
Do a Blog Post about this giveaway (must include a link back to this giveaway and giveaway photo/art)
Please let me know if you have any questions!!! As always, thanks so much for reading!!! Good luck if you enter the contest!!!
XOXO!!!
of the foundation and primer
Emani is responsible for prize
fulfillment
a Rafflecopter giveaway