The
Battle of the Taupes
is the first of (hopefully) many
Makeup Wars
amongst myself and some of my favorite bloggers! Yes, this is a new and unique post roundup link series hosted here on Pammy Blogs Beauty and my fellow blogger's pages.
*be sure to click on the "last shadow" and "next shadow" graphic!
Here is the scoop:
After some general discussion amongst bloggers on the love of and comparison across taupe shadows, the
Makeup Wars
group was born. We are a group of Makeup Bloggers (and Star Wars lovers) led by our fearless commander
Christine from 15 Minute Beauty Fanatic
.
We embark upon our first battle:
The Battle of the Taupes
. All blogs participating are reviewing and swatching their favorite taupe shadows. Taupe is a unique and much-loved shade by bloggers. Is it brown? Is it grey? Is it grey-brown? I know my eyes started to almost go fuzzy while trying to determine what shadows were actually true "taupes"!
I will showcase my very favorite taupe shadow in this post (a well as a comparison of said shadow to other taupes in my makeup collection). Also included in this post: Links to fellow Makeup Wars blogger's Battle of the Taupes posts! So, please visit the links in this post (see header graphic and links below) to see what taupes they are loving!!! That is the fun of this: Discovering tried-and-true taupes loved by various bloggers! :)
Our group is unique!
There is something cool and different about the
Makeup Wars
group and concept. We are a group of bloggers from all walks of life, different colors of skin and hair, from across the country, and in different stages of life. We are bound by our love of makeup and our desire for blogging. I think it is a unique concept for us all to either review the same product for Makeup Wars or the same type of product (e.g., taupe shadow). Have you ever liked a product but wondered how it would work with a different hair type or color of skin? Have you ever read a favorite bloggers review but then thought, "But would this color work on my skin tone?" This group will have those answers for you!!! Variety is our strength! Collectively, we have a ton of great ideas and our discussions only increase our enthusiasm for the products we are reviewing! :)
To see my very favorite taupe along with links to fellow Makeup Wars Blogger's taupe posts, please keep reading after the jump!
Taupe is one of my very favorite shadow colors to wear. It is so flattering to blue eyes! My go-to shade for my crease is almost always a taupe.
My Favorite Taupe: MAC Satin Taupe
My hands-down all-time favorite Taupe shadow ever is MAC's Satin Taupe. Not only is it my favorite taupe, but also one of my favorite shadows regardless of color!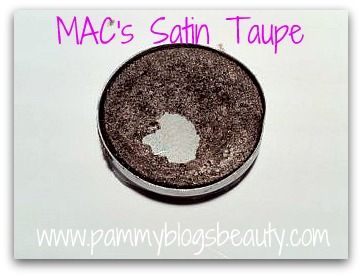 MAC's Satin Taupe: My # 1 Taupe!!!
As I just mentioned, this is one of my favorite shadows of all time! As you can see from my picture of it, I have hit pan! This doesn't happen often to me with all the shadows that I have! But yes, I will use this one up and purchase it again! It is just the most beautiful shade of taupe. A perfect balance of brown and grey with almost a hint of purple in there. The depth of color is just perfect for defining the crease and bringing out the blue in my eyes. Plus, I love the satin sheen to this product. It is super duper pigmented and long wearing. What a beautiful shadow!!! This is the taupe that I compare all other taupes to. My taupe barometer. If I could only use one taupe for the rest of my life, it would be this shadow!!! Honestly, I rarely stray from this one. But, as a beauty blogger and makeup enthusiast, I do end up trying others!
While Satin Taupe is truly the only taupe I need and "can't live without", I am going to include some other taupes from my collection (just for the sake of comparison!). None of these hold a candle to MAC's Satin Taupe, but they are good in their own right.
Maybelline Expert Wear Eyeshadow in Mocha Motion:
Ya'll know that I had to throw some drugstore shadows into the mix! I am talking about the upper right hand shadow in this quad. This is Maybelline's old packaging. I believe they do still carry this color but the pan sizes are different in the new packaging. Yes, it looks a bit more "brown" in this photo. But, I promise you, its a taupe! It has just enough grey in it. There is some very slight shimmer in this shadow; but, for the most part, it wears matte. The pigmentation is about medium. While this is certainly not my favorite shadow or quad, I included it because I do reach for this often when I want a "quick eye". Also, it always seems that I get compliments on my shadow/eyes when I wear this. It really brings out the color of my eyes.
Wet n' Wild's Silent Treatment Trio:
If I had to choose a favorite drugstore taupe, the "eyelid" shadow (bottom shadow) of the "Silent Treatment" eyeshadow trio would have to be it! Apparently it is a dupe for MAC'S Style Snob (I do not own style snob. So, I can't compare it for you). This shadow is soft, buttery, and highly pigmented. It is just about the perfect lid color (and it looks great in the crease too!).
Wet n' Wild shadows are such great quality. This trio is one of my faves. Highly recommend!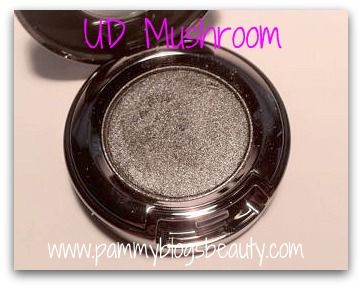 Urban Decay's Mushroom:
This shadow is the most "grey" of the group. But, I do believe it still qualifies as a taupe. Also, it is the darkest taupe that I own. A "gunmetal" taupe if you will. During my "swatching frenzy" while prepping for this post, I dropped this shadow and it shattered! :( What a sad thing! I was able to fix it (sorta, I wet it with rubbing alcohol and tried pressing it back together. It seems to be a temporary fix). I am also sad because this is my newest shadow in my entire collection! I just got the Urban Decay "Build Your Own Palette" 6 pan plus a few shadows for a future post (and, of course, my own use). Hey, at least I snapped this photo right before I dropped it!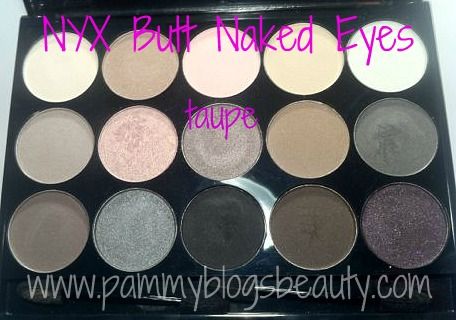 NYX's Butt "Naked" Eyes Palette:
I am talking about the shadow in the dead middle. What a beautiful medium toned taupe!!! For me, this entire palette is worth it for this gorgeous taupe shade. The palette on a whole is good, but certainly not the best palette in my collection. The pigmentation and quality vary (see my full review here:
NYX Butt Naked Eyes
). With that said, the taupe is the best shadow in this palette in texture and color payoff.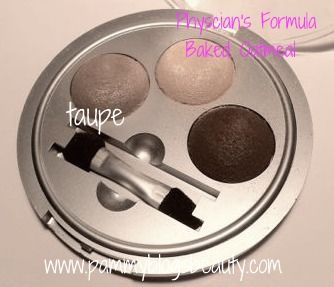 Physician's Formula Baked Oatmeal:
Last, but not least, we have a baked shadow from Physician's Formula. It is the lightest taupe in the group and it could be argued that it is more of a greige. Either way, this is a gorgeous shadow that is so easy to wear!
Here is my comparison swatch!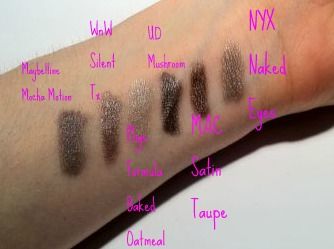 As you can see, I have quite a variety of Taupes here, both drugstore and high-end. While MAC's Satin Taupe is my clear favorite, there are other good and great options in my collection (even a MAC dupe WnW shade!).
Too see what my lovely fellow bloggers love as far as Taupe, be sure to check the Makeup Wars links in this post! I know that I am curious to read the roundup too! I can't wait to see what my fellow bloggers recommend. I know that I will be making a shopping list from that post!
Be sure to check out Fellow Makeup Wars Blogger's "Favorite Taupes" Posts: See link list at the bottom of this post! :)
Thanks so much for reading! Join me in my next Makeup Wars post in a couple weeks! The Makeup Wars group has some great posts planned for the near future!
This was so much fun! I want to hear what taupes ya'll like!!!
Thanks for reading!
Phyrra
has more taupes in her makeup collection than she expected, but her weapon of choice is
Fyrinnae Damn Paladins
.
Beauty and Fashion Tech
compares
MAC Satin Taupe and NARS Lhasa
Beautiful Makeup Search
has a drawer full of taupe eye shadows but uses
Urban Decay's Midnight Rodeo
more than any other, so she had to declare it her fave.
The Pink Sith
has found a taupe from
FACE atelier called Metallic Taupe
to tempt you. See where it falls on the taupe scale of awsomeness.
Nancy from Beauty 411 shares her favorite taupe shadow
here
.
Marcia from
Beauty Info Zone
repeats an old favorite for her
Taupe Makeup Wars
choice. See which it is.
The lovely Cindy from Prime Beauty shares her favorite taupe
here
.
15 Minute Beauty Fanatic
fell in love with
Wet'n'Wild Nutty Eye Shadow
. Somehow it makes her look amazing for just $2.
Raging Rouge
selects her favorite taupe shadow
MAC Satin Taupe
, without a second thought.
Retrodiva
realizes that she doesn't have any taupe shadows at all!
Find out which one
she chose to review for Makeup Wars.
Brooke from
BlushingNoir
shows you how to use
Tarte SLATE Amazonian Clay Waterproof Cream Eyeshadow
to make all taupes play well together.
Jessika tells us her dirty secret - the polish insomniac is not just obsessed with polish! Check out her favorite
uber affordable taupe shadow
from Wet n Wild!