Now this is my favorite kind of makeup war: A post dedicated to all of the makeup and beauty items that I am lusting for!
Nothing beats the Holiday season for amazing beauty releases. Just about every brand has special value sets, limited edition products, and amazing palettes! Plus, the sales! This time of year is a beauty lover's dream for shopping!!!
I usually treat myself to one nice palette or set around Christmas time. I really do my research first. I read blog reviews, watch YouTube video reviews, silently lust over the Ulta and Sephora catalogs that come in the mail, and scope the products out in the stores. I am always determined to get something really special, a kit or palette that stands out in the sea of Holiday releases. Often I mill around about this decision for quite some time.
I am so excited that the Makeup Wars group decided upon Beauty Wishlists for this Makeup War! Let me tell you, this group of bloggers has stellar taste in makeup (if I do say so myself, lol!). We never know what the other bloggers are going to write about ahead of time. So, I am just as excited as you are to click all the links at the bottom of this post to find out what is on the other Makeup Wars blogger's Wishlists!
What are the Makeup Wars?
The Makeup Wars group blog blasts about the same topic about every other week. We link to each others' posts through the themed graphic at the top of the post (see the last mascara, next mascara links) and the blog logo/photo links at the bottom of this post. We encourage you readers to click the links and scroll through all of our blogs to see our favorite mascaras! Our posts all go live at the same time. So, finding out what other Makeup Wars bloggers picked is a surprise to me too! I am always so eager to click through to find out what everyone picked!
Did you miss our last few
Makeup Wars
? Be sure to check out those posts here:
Battle of the Taupes
,
The $20.00 Face Challenge
,
Battle of the Favorite Summer Lippie
, the
Most Expensive Face Challenge
, the
Best Brush
,
Favorite Fall Polish
,
Favorite Red Lipstick
,
Best Fall Look
,
Halloween Manicure
,
Favorite BB Creams
,
Favorite Mascara
and
Favorite Holiday Metallics
.
To find out what is on my
Beauty Wishlist
this year, please keep reading!
As much as I want every item on this list, the reality is that I will likely only purchase one of these items. My plan? I will purchase the item as my "Christmas Gift for myself" and review said item in January after the Holidays (and after I have had a good chance to play around with it).
Drumroll please....here it is...my
Holiday 2012 Beauty Wishlist
! Oh, and you will notice that I made this graphic on beautysets. OMG! Beautysets is my new fave!!! I am still new to the site and trying to figure it all out. However, it is fun, fun, fun! Please follow me on
beautysets
if you are on the site too! ;)
The Items:
1. Tarte's "Carried Away with Tarte" Collector's Set:
($54)
OMG, have you seen this set??? I am literally amazed at not only how beautiful it is, but also what a great value it is! You get 24 FULL sized shadows, 8 Mini lipglosses, a mini blush, a mini powder, a blush brush (which is very soft!), and a mini mascara! This really is an amazing deal. Plus, the pretty gold damask case is perfect for travel. I am seriously tempted by this set. If I get it, I am planning on taking it as my only makeup during Holiday traveling. You guys know me, I seem to be on the perennial search for the all-in-one set for ease of packing for travel.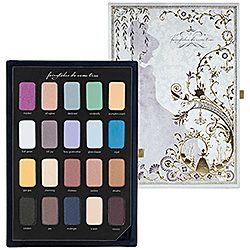 2. Disney Cinderella Collection by Sephora Storylook Palette
: ($55)
First of all, I love Disney. Yes, I am an adult. However, when it comes to things like Disney and Hello Kitty (and Harry Potter, Star Wars, LOTR...okay, sorry, I digress...you get the jist here), I turn into a pre-teen. So, you can certainly imagine how I totally want this palette! Cinderelly is one of my fav Disney princesses and this palette looks amazing! It is definitely a collector's piece. I really like the color selection of shadows included with this set. I am not sure of the quality though. I have read somewhat mixed reviews. Plus, the price of this palette is quite high.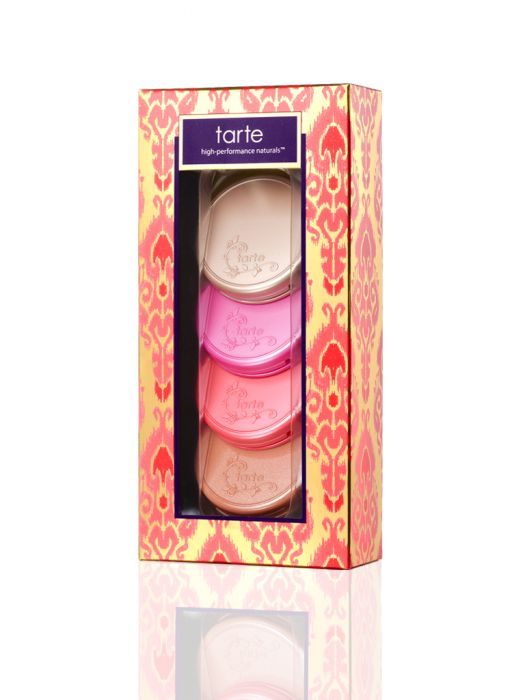 photo credit: tarte
3. Tarte's Fantastic Foursome Amazonian Clay 12 Hour Blush Enthusiast Set:
($35)
Before I got into makeup, I wasn't much of a blush wearer. I know, I know, it is just crazy talk! Well, once the "Makeup Bug" bit me, I became a blush lover. Actually, I dare to say, it is now my favorite makeup item (by a landslide). Nothing tempts me more than blush! Not only does it perk up your complexion and make me look brighter and healthier, it also detracts from my dreaded dark under eye circles! Okay, again I get off topic, lol! I love blush, and this blush set from Tarte just "speaks to me"! I only have one Tarte Amazonian Clay blush. I love it and would love to try more. This little set of mini Tarte blushes is a great way to expand my Tarte collection! What a great value too!
Make Up For Ever Be Your Own Makeup Artist Station:
($950)
This set is Amazeballs. Seriously!!! The price is insane at almost $1,000! I mean, who can spend that much? And, if you can spend that much, can you adopt me? LOL! Since I am not a traveling makeup artist, there is pretty much no way that I can justify the expense of this kit. However, this kit is so cool. It is pretty much a makeup train case that opens up, stands on legs, and becomes a lighted vanity table. Plus, it comes packed with Make Up For Ever Makeup! Pretty much the coolest thing ever. Total lust here ya'll!
Sephora Favorites "In the Glow" Set
: ($45)
Ever since watching Emily at Beauty Broadcast's Holiday Gift set video, I have been lusting after this kit! Sephora is known for these great special value, mixed brand, mini product kits. They have a ton to choose from and this one is my favorite.
Urban Decay Naked Skin Foundation
:
Okay, so this is not a Holiday Gift set. However, I am still totally lusting after this foundation and have not purchased it yet. Ever since reading Phyrra's amazing review, I knew that I had to have it! Her skin is just as fair (if not fairer) as mine, so I always take note of her foundation reviews.
Did you figure out my "fantasy" item? LOL, yes, it is the Make Up For Ever Makeup Artist's station! I have lusted after it ever since seeing it on Pinterest. Then, when I attended Make Up For Ever's Makeup Bag Remix event in Atlanta, I sat and got my makeup done at a one of these totally awesome Makeup Artist Stations! Let me tell you, these are just as cool in person!!! Unfortunately, $ is totally out of my price range. Darn! Oh well. Still, this is just the coolest thing and I had to include it in my list!!!
So, what do you think??? What should I purchase? I will tell you what item I am totally leaning towards: the Tarte "Carried Away with Tarte" Collector's set! It just seems to be the most "special" item of the group. The packaging is gorgeous and you get a TON of product. Plus, with the exception of the blushes and lip/cheek stains, I have not tried a whole lot from this brand. So, this kit would be a great introduction. I will be sure to update and edit to let you readers know what item I picked out! Also, be sure to follow me on
Instagram
,
Facebook
, and
Twitter
as I often post about my purchases there first! Plus, my New Year's resolution is to get on Social Media more. So, follow me there and keep me motivated!!!
What is on your
Holiday Beauty Wishlist
this year? I would love to know!!! Plus, I might need to edit and add to my list! ;)
Thanks so much for reading! Be sure to check out the other lovely Makeup Wars blogger's Beauty Wishlists too!
XOXO!