The
Makeup Wars
continue! The
Makeup Wars
group is a lively and vocal group of makeup-obsessed beauty bloggers that love a good challenge. A couple weeks ago, we duked it out with Makeup Wars: Battle of the Taupes. Now, we bring you a new Makeup War:
The $20.00 Face Challenge.
*click on "
Last Challenge
" and "
Next Challenge
" in the graphic above to check out my fellow Makeup Wars Blogger's $20 Makeup Wars posts!!!
After seeing various You Tubers do the $20 makeup challenge. We decided it would be fun to tackle this challenge in a blog-format. Most of us will admit to having an expensive makeup habit. Will we be able to trim it down to do a $20 face? Is a $20 face even possible?
I have always prided myself with being a great bargain shopper. There is just something about a great discount that gets me. You know? I almost like my items better that I got for some crazy steal. With that said, I love my high-end beauty treats as well. Some items I almost exclusively buy in high-end form (especially face products like foundations, powder, and concealer).
How will I squeeze everything I need into $20? Well, you just can't. Even with sales and being creative, it is almost impossible to create a $20 face with even mid-range drugstore products. This was actually quite a lesson to learn about the cost and value of current drugstore products. I mean, even Cover Girl products aren't that cheap anymore. For this challenge, I had to go cheapest of the cheap. We are talking NYC, Wet n' Wild, elf, and essence.
Now, it also must be said. Cheap makeup doesn't necessarily mean bad quality. Over the years, I have found some truly fantastic makeup from very inexpensive makeup lines. Case in point: NYC Blushable Creme Sticks are amongst my favorite cream blushes ever...and they are dirt cheap!
For this challenge, our rules were a bit flexible. Some Makeup Wars Bloggers were doing it all for $20: makeup and tools. Some are doing makeup only (and just using their own tools). Some are shopping their stash and some are buying everything. Many are using coupons and store discounts.
Here is how I decided to approach this challenge (So, my "rules" if you will): I decided that $20.00 total would cover everything: makeup AND tools. Let me tell you. This was super hard and it required careful planning and multiple trips to various stores. I also used 2 items from my current stash as I thought it would be fun to include "tried and true" cheapie favorites!
My ultimate goal: I will admit, I am hoping to find some new and uber-cheap makeup faves!
How did I do with this challenge? Keep reading to find out the details! Also, be sure to click the graphic at the top of the post to see how other Makeup Wars girls did with this challenge (and links will be listed at the end of this post).
My $20.00 Face:
Let me just get right to it!!!
I was able to create a *full* makeup look with just under $20.00!!! Yay me! Seriously ya'll this was a challenge. But, I was able to pull it off by using some extremely inexpensive makeup lines and a couple sales. I shopped in 3 stores: CVS, Ulta, and Target to find my items.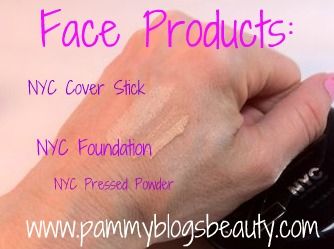 NYC Smooth Skin Liquid Makeup in #677 Nude: $2.74 (Score!!! Can you believe how cheap this is???). I had a few issues with this foundation. First of all, it is very thick. That in itself is not a problem. However, without a pump in the product, it was impossible to get out! I had to end up dipping a q-tip in the jar to get to the product. Strange! Not sure if I had a "bad bottle" or what. They really need to re-think that design. The foundation itself was just a tad too dark and yellow for my skin tone. But, overall, it worked okay. The coverage seems about light- medium. If you are looking to cover your skin, you won't get full-coverage with this foundation. I found that this foundation spread nicely with the sponge wedge that I used.
NYC Cover Stick in Light: $1.72 (Um, yah, can we say "dirt cheap"!!!) I actually remember that I have purchased this before in my distant past. This cover stick actually works quite well to cover redness around my nose area. However, it is pretty terrible under the eyes. It is way to dry and I found that it creased and emphasized fine lines after it "settles in". The coverage is about a "medium". So, it didn't totally cover my dark circles. I had to build it up quite a bit to get the coverage to work. If ya'll follow my Cover-It: Concealer Review series you know that I am absolutely plagued with dark under eye circles. So, if your circles aren't as dark (and you apply it thinner), you might be able to get it to work under your eyes. I wish this concealer was slightly more creamy. Also, man did I miss my concealer brush!!! It is so hard to get good coverage under your eyes with your fingers and stick application.
NYC Smooth Skin Pressed Face Powder in # 701A Translucent: $2.89 LOL, no, I know what ya'll are thinking already. I swear I didn't just shop NYC for this challenge! They just had the cheapest face products. This powder works pretty well! No complaints really! I brushed this on with the elf Powder brush through the t-zone area. Actually, I think it "toned down" the not-so-great foundation match to make everything look a bit more natural. Not bad!
e.l.f. Powder Brush: $1.00 While I actually have many of e.l.f.'s Studio Line ($3.00 line) brushes in my collection, I didn't own any of the $1.00 brushes. So, I picked up a couple for this challenge. I really do not care for this brush at all. Actually, I'm going to go ahead and say it: This brush is horrendous!!! It felt like sandpaper on my face! But, I guess it was better than nothing. The hairs are not packed very densely and are too "floppy". Yuck! If you are looking for uber-cheap makeup tools, go ahead and "splurge" for the $3.00 elf line over these $1.00 brushes!
e.l.f. Eyeshadow Brush: $1.00 This eyeshadow brush is actually not bad! In fact, I really like the shape and size of it! :) Also, the density of hairs is just right! It is the perfect size for applying shadow to the lid or the brow bone. Used on its side, it can do a somewhat decent job placing color into the crease. I will continue to use this beyond the challenge! I can always use another eyeshadow brush in my collection. All that said, it is massively shedding hairs and I haven't even washed it yet. So, you get what you pay for! For $1, this brush is decent. It beats the heck out of the horrible powder brush!
Makeup Sponge: $.09: At first I was just going to use my fingers for foundation application, but when I realized that I had a few cents to spare with my $20, I knew that I had to add a sponge. That isn't cheating, right? Sponges are so versatile. I used this for foundation application and blending and blending concealer. I just wet it a bit and rung it out. Then I used it to apply and blend foundation and to blend out concealer and blush. Makeup wedges are great! I have neglected them for years! Thank you $20.00 challenge for working these back into my makeup rotation. Honestly, without a concealer brush, I am not sure if I could have gotten my concealer to look (somewhat) right without this little wedge.
Wet n' Wild Eyeshadow Trio in Walking on Eggshells #380B $2.99: This item is from my makeup collection. I listed it as $2.99; but, I am sure that I actually got it on a BOGO 1/2 off deal (as that is how I usually shop for WnW). If you are not familiar with Wet n Wild shadows, they are amazing!!! I don't mean amazing for $2.99 or amazing for a drugstore product. I mean that they are amongst the best shadows out there: low or high end! They are buttery and soft, pigmented and smooth. They come in a full array of beautiful shades and palette combos. This trio in particular is my favorite and I wear it constantly! Just beautiful!!! I did not feel that I had to "skimp" on shadows at all for this challenge. There is no question that you can find high quality and beautiful eye shadows in the drugstore. The packaging? Meh. But, the shadows are amazing! I really, really, really missed my crease brush and blending brush during this application! The elf brush worked okay. But, I normally work a lot of shadow into the crease and do a lot of blending. I just couldn't accomplish my "level of blending" with the tool that I had.
essence Kajal Pencil in 08 Teddy $.99 This is another item from my makeup collection. I have loved essence cosmetics ever since a MUA friend of mine (who used to live in Germany) used to send me products from this brand. When essence arrived at Ulta a few years ago, I was thrilled! Now, the brand is a bit hit-or-miss with quality. But, considering that you only spend $1-$4 per product, you can take the gamble and experiment with this brand! Anyways, Teddy is just the perfect Coppery brown. It glides on smoothly and wears well. Love it!
essence All Eyes On Me Multi-Effect Mascara in 01 Soft Black: $1.99 Like many other items in this challenge, I only purchased this for its cheap price. Before ya'll run out to try this one, I must report: Smudge City! I had to fight smudges all day when wearing this. So, this product is clearly not something that I would repurchase. My other major issue is that this product does not come sealed. With all the issues with mascaras needing to be replaced frequently for bacteria. I just have a sanitary issue with it not being displayed sealed. Who knows how many people opened this up just to look at the brush? Ewh! After finding this mascara, I spotted clearance mascaras (Revlon and Almay) at Walgreen's for just over $2.00 that could have worked for the challenge. Oh well! Lesson learned: you can score clearance mascara from drugstore brands for under $3.00. Also, it was so hard to truly judge this because of not using my usual eyelash curler!
Milani Minerals Blush in #201 Luminous $1.50: I am so excited that I get to include this item in my challenge!!! I actually picked this up awhile ago on a 75% off CVS clearance sale. It fell to the back of my blush drawer and I didn't test it out until now (shame on me!). This blush normally retails for about $6.00 which puts its 75% off price around $1.50 (I didn't still have my receipt; but, I am guessing this is a good estimate). Not only do I love this blush for this challenge, I freaking love this blush period!!! High or low end, no matter! This blush totally rocks my socks. It is a gorgeous and glowy peachy pink. It honestly is the ideal blush shade for my super fair and cool toned skin. Love, love, love. I was kinda "meh" about my whole challenge makeup face until I popped this on my cheeks. Then I was like, ahh! That is more like it! :) I think for my $20 challenge makeup look to come together, I really needed a stand-out phenomenal product like this one (the WnW shadows fall into that category too!).This product is destined to be an all-time favorite blush! :) Yay!!!
Wet n' Wild Lipstick in 511b $.99: This is a bold and bright pink lipstick. Whew, this is bright! Now, I do like bright lipsticks...sometimes. I just have to be in the mood for them. Maybe I am just not in the mood for bright today? The cool tone of this pink is actually very nice with my skin tone. I am thinking I need a lip liner or something to tone it down a bit though. I am not quite sure on this lippie just yet. I will play with it by combining it with various liners and glosses in my collection to see if I can get it to work a bit better for me. Maybe a baby pink gloss on top? The texture is nice and moisturizing and it has a bit of a glossy finish. For $.99, this is a good way to branch out and try colors that are outside your comfort zone.
e.l.f. Super Glossy Lipshine $1.00: I actually won this through a blog giveaway awhile back. I am not seeing a shade name on it? It is a shimmery and sheer shiny pink gloss. It really goes on practically clear over the super-duper-bright WnW lipstick. The scent is somewhat fruity. This gloss is okay. Nothing great; but, not bad. It is shiny and a bit moisturizing. I don't particularly care for the scent though.
Tally:
Foundation: 2.74
Concealer: 1.72
Powder: 2.89
Powder Brush: 1.00
Shadow Brush: 1.00
Makeup Sponge: .09 ($2.99 for 32 sponges)
Eyeshadow: 2.99
Eyeliner: .99
Mascara: 1.99
Blush: 1.50
Lipgloss: 1.00
Lipstick: .99
TOTAL: $18.90
WOW! I did it!!! :) Going back, I could have added my e.l.f. eye primer that was $1.00 or another $1.00 e.l.f. tool. I had been planning on using that e.l.f. eyelash curler (but it didn't fit my eyes).
A few things I learned from this challenge:
Drugstore makeup isn't as inexpensive as I thought! I had to scour the shelves to find a foundation in the $3-4 range. It was HARD and I almost gave up on finding a cheap foundation! As much as I love discounts, I think I am going to (for the most part) stick to my high end foundations in the future. It is just too hard to find good matches and a good value/product at the drugstore.
Walmart!!! Girls, why-oh-why didn't I venture to Walmart to shop for this challenge? Well, I can tell you why. I really don't love shopping there. The Walmart near our house is just not in a good area. My area is urban and the underground parking garage at Walmart is just dark and scary. I will recount a really scary experience from said parking lot: Very creepy looking guy followed me from my car into the store yelling obscenities at me because I wouldn't give him money. Hello! Who carries cash now-a-days anyways. I ditched my attempt at shopping and had security walk me back to my car. I thought he was going to attack me! So, yah, I never go there anymore and I *miss* having somewhere to grab Hard Candy makeup and Pure Ice Polishes. Whah! Okay, tangent, I could cross town to go to another Walmart. But, I just didn't think of it. From our message board I know that some other Makeup Wars girls found some *great* deals at Walmart.
Tools: Nothing beats a good makeup tool! But, I am still a firm believer that you can get good tools for a value price. It will require some searching. But, there are great inexpensive tools out there. That said, they are not in the cheapest-of the cheap range. So, I did not find or use any good tools in this challenge. I just needed to spend "this" much more to get a good tool from elf (the studio range not the $1 range) or essence of beauty (available at CVS: great inexpensive toos!). One of the best ways to get a cheaper shadow or blush to work for you is to use the proper tool. I really felt at a handicap in this challenge because I was not using my usual and beloved makeup brushes.
Not that I didn't already know this but: Wet n Wild Shadows ROCK!!! Honestly, I could give up my expensive makeup and exclusively use Wet n Wild shadows and be totally happy. They are just amazing!
I think I might be more of a high-end lippie girl. Now, I do have some drugstore lippies that I love; but, none of these were cheap enough to fit within my challenge budget! Revlon makes rockin lip glosses and lipsticks. But, besides Revlon and my fav Neutrogena Tinted Lip Balms, there are very few drugstore lippies that I like. For me, it is all about flavor.
What is the common thread? How are these makeup items so "cheap"??? One word: packaging. For the most part, very inexpensive makeup means very inexpensive packaging. Ya'll know I am a sucker for great packaging. So, this does impact my overall experience with a product. It is one thing for the design not to be the most sleek nor modern. But, some of this packaging really looks like it is about to fall apart and the items are brand-new!
My surprise finds:
I really actually liked the NYC Cover Stick and the NYC powder! The packaging is so cheap and will likely fall apart quickly. *But* the products themselves are pretty good for the price.
The essence liner was from my makeup collection. It is honestly one of my favorite pencil liners and such a lovely shade of brown!
Milani makes amazing blush!!!! Now, I did know this already. Also, Milani, while priced affordably, is not the cheapest of the cheap at the drugstore. But, somehow, I managed to score their famous Luminous blush on 75% off clearance! So, the other lesson here: Keep your eyes out for great drugstore sales! My goal was to find a new makeup fave and I think I did with this blush!!!
What I didn't use:
I originally purchased a $1.00 e.l.f. eyelash curler. But, I didn't end up using it. It was *terrible*!!! I don't know if it was the shape of my eyes (I have very big and round eyes) or what. But, I absolutely could not even get it to fit to my eyes. Therefore, it could not grab any lashes to curl. So, I ended up with a "spare dollar". So, I went back and bought a $.99 Wet n' Wild lipstick (Originally, I was just going to use gloss).
15 Minute Beauty Fanatic
Beautiful Makeup Search
Beauty411
Beauty and Fashion Tech
Beauty Info Zone
The Pink Sith Bog
Pammy Blogs Beauty
Phyrra
Prime Beauty
Older Girl Beauty
Retrodiva's Beauty
BlushingNoir