Where has this brow kit been all my life! Yes, my readers, I have found a new HG (Holy Grail) eye brow shaping kit with
Milani's Brow Fix Brow Shaping Kit in Light
. (Thanks Brianna, from
Makeup Minutes
for mentioning that you liked this!)
Honestly, I haven't tried "that many" brow kits in my lifetime. But, the ones I have tried in the past pale in comparison and I feel the need to search no further.
Usually, I tame my unruly brows with a combo of plucking (ugh! I am allergic to wax), trimming, Maybelline's Brow Stylist pencil (which I totally love and need to review), and clear mascara. While that routine is good, the addition of the Milani Brow Fix kit to the routine takes it to the next level!
For more details, description, swatches, photos, and close-dupe alert (for an Urban Decay Naked palette shadow!!!), keep reading after the jump!
I picked up my Milani Brow Fix kit in Light at my local Walgreen's for about $6. I have also seen these at CVS and Publix. There are 3 shades available for this kit.
Milani Brow Fix Kit overview:
The Kit contains:
Powders/Shadows:
1 brow bone highlight shadow
2 brow shadows a light brown and a medium brown
Tools
(I love thse little tools!):
Mini Tweezers
Mini Angled Brow Brush
Mini Sponge Tip Applicator
The kit is housed in a
plastic compact
with a
small mirror
under the tools. The tool "holder" flips up to make it very convenient to access the tools. The compact opens with a push button. On the back are some great tips, diagrams, and instructions for brow care. Honestly, my only "complaint" about this entire kit is that it somewhat difficult to open the compact (and the compact itself could be a bit more sturdy) and the packaging is a bit bulky.
The Skinny:
The Shadows: WOW! I *Heart* these shadows!!!
The Highlight Shadow: "Hi-Lite"
This is an *ideal* brow highlight shade. It is a beautiful buttery champagne shade. It is highly pigmented and has a very nice shimmer/sheen without being too over-the-top. The quality, wear, and pigmentation are just amazing! Love it! Not only is it a great highlighter color, but I also love this shade on the inner corners of my eyes as well for brightening.
Close-Dupe Alert!
Yes, thats right, the "Hi-Lite" shadow/brow powder is a close dupe for Virgin from the Urban Decay Naked palette!!! Virgin has been one of my most used shadows of the Urban Decay Naked Palette, so I am thrilled to find a VERY close dupe here in the Milani Brow Fix Kit!!! No, they are not totally identical, but they are close! In the pan and on the skin, the Milani Hi-Lite is slightly more golden (and the Virgin has a more white-ish cast). But, on the eyes they wear so similarly on my skin! They both have a beautiful satin finish. Whoo-hoo for finding near-dupes!!!
Honestly, since I have gotten this kit, this highlight has become my go-to brow highlight shade! Seriously, no need to reach for anything else! While I don't normally use sponge tip applicators, I am using the one from this kit for brow highlight application as it is just so quick and easy to do so (with the applicator so conveniently stored right in the kit).
Finding a new HG highlight shade as well as an Urban Decay Virgin close dupe was such an unexpected and pleasent suprise!!!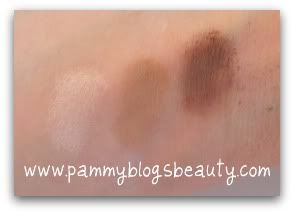 The Brow Shadows:
These are such nice shadows! There is a light matte brown "brow 1" color and a darker matte brown "brow 2" color. I apply these shadows to my brows with the little brush provided. While I have other nice angled shadow brushes. I find that this little tiny angled brush that comes in the kit works just great! It is super-tiny, but that allows you to get super close to the mirror (which I tend to do anyway with brow work).
To apply i just tap the brush lightly into the shadow pans and then tap the brush into the sparse areas of my brows. While I am blonde, my brows are on the darker side. I use a combo of both brow shadows. To get my "perfect" color, I dab the brow brush into the "brow 1" lighter color 2 times and then a soft dab into the darker "brow 2" color one time. That combo works perfectly!!!The shadow applies beautifully and has a soft and subtle effect.
I am really loving the soft and defined look that you can create with this handy little Brow Fix brow shaping kit! I now far prefer using this powder kit to fill brows rather than using a pencil.
The shadows are high quality and deeply pigmented. The little tools are handy and useful! I don't know how much I will realistically use the mini tweezers, but I am using both the brow brush and the sponge applicator. The best part, I have a not only a new HG brow shadow set, but also a new HG highlighter color! What a beautiful highlight shade!!! I totally recommend this set and will repurchase it for sure. I might even purchase a second set to keep in my purse for touch ups!
I hope you enjoyed reading! If you did, stay tuned as I am planning a general "Brow Care" post (coming soon!).
Stay beautiful!