I just love doing these
Holiday Makeup Shopping Reviews
! I know that I have said it a million times but the Holidays are absolutely the best time for makeup shopping when it comes to getting a lot of "bang for your buck"! These Holiday kits are not only beautiful, but also are such great deals for your money! Even if you don't need to buy makeup for your friends or family, you might just find something that you "need" for yourself! ;)
Palettes and Kits are amongst my favorite ever makeup items. I just adore the idea of having everything you need for your face in one place. If it is travel friendly too, then I am totally in love! Such is the case with this adorable little Color-To-Go palette from Laura Mercier. Travel friendly? Check. Everything you need for a complete and coordinated look? Check. Removable lipgloss? Check. Yes, I am pretty much in love with this little thing.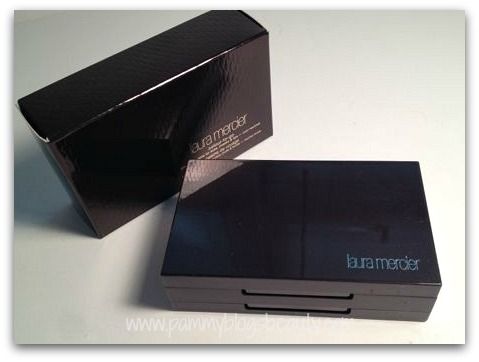 For photos, swatches, and more details, keep reading!
New for Holiday 2012 from Laura Mercier: The Color-To-Go Palette
This limited edition new Color-To-Go kit hit the stores November 1st along with the rest of Laura Mercier's Holiday 2012 Collection. The Color-To-Go kit is available in two shades Warm Neutrals and Cool Neutrals. Since I lean more towards cooler toned, I tried out the
Cool Neutrals
one!
What else is available from
Laura Mercier for the Holidays
? Plenty! Here is the breakdown of items and prices:
A Glamour Wardrobe Palette ($98)
Wet/Dry Eyeshadow Trios ($48)
Lip Glace Collection ($48)
Mini Kohl Eye Pencil Collection ($48)
Deluxe Travel Brush Collection ($95)
La Petite Patisserie Quartette of body products ($50)
Bath and Body Duo ($45)
Bath and Body Trio ($65)
Souffle Body Creme Sampler ($60)
La Petite Patisserie Hand Creme Quartet ($28)
Signature Candle ($42)
Signature Brush Collection ($375)
Signature Votive Candles.
The Color-To-Go Sets:
Laura's latest for on-the-go glamour is a double decker palette of classic colour essentials for eyes, cheeks & lips.
$48
I am just in love with this little kit! It is literally small enough to fit in the palm of your hand. Yet, it is completely packed with everything that you might need.
Packaging and Layout:
The packaging is really smart. It is two levels to maximize space. You open the top to reveal a full size mirror underneath the lid and the products below. The top layer has 4 beautiful shadows and a removable small lipgloss. The lipgloss is about 1/3-1/2 the size of a normal lipgloss. Let me just give Laura Mercier a standing ovation here for including a gloss that is removable!!! Yay!!! My biggest complaint with palettes in general is that often they do not include removable glosses. So, this palette won me over immediately with this little removable gloss! To get to the bottom layer of the palette, you simply flip up the top layer. The blush and bronzer are underneath. Cool feature: the lipgloss is housed in a "cut out". So, when you flip up the top, the gloss stays on the bottom. Cool!
The Shades:
Eye Shadows: Diamond Pink (Luster Eye Color: Love the texture of this one! So buttery!, Plum Smoke (matte): the shade is a matte lavender with a slight iridescence, Provence Purple (Sateen): medium purple with blue duochrome, Violet Asphalt (Tightline Cake Eyeliner): gorgeous dark purple with a shimmery flash of blue/pink/purple
Lip Gloss: Raspberry Lip Glace: Sheer rosey pink gloss with vanilla-mocha type scent. It feels super moisturizing and is mega glossy.
Bronzer: Golden Bronze: This is a gold toned bronzer with a soft luminous finish.
Blush: Second Skin Cheek Color in Heather Pink: This is a matte bright baby pink long wearing blush.
What a fabulous little kit!!! Somehow Laura Mercier managed to pack a ton of really great makeup into an incredibly tiny kit. Every single shade and product in this palette will get a ton of use! When I am not wearing neutral shadows, I tend to grab for purples. So, this kit is just perfect for me! :)
If you are looking for a truly portable
Holiday 2012 Palette
, I highly recommend this
Colour To-Go Kit
from
Laura Mercier
.