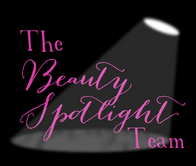 polish insomniac
reviews the
China Glaze Glitz Bitz 'N Pieces
collection... Will it be love or hate?
Pammy from
Pammy Blogs Beauty
puts
Le Metier de Beaute's Ultra Hydration Eye Masks
to the ultimate test as she tries them while in the midst of a bad cold. If these amazing eye masks can soothe Pammy's eyes in this condition, imagine what they could do for you!
If you are after the perfect peachy nude blush, then
Visionary Beauty
thinks the
Rouge Bunny Rouge blush wand in Titian
might be your answer.
Prime Beauty
sifted through all the new Spring Makeup Collections to bring you the
Four Prettiest Spring Blushes.
You're welcome.
Forever on the quest for the perfect pink pout, Helen from
Lola's Secret Beauty Blog
is speechless in the face of the gorgeous combination of
Rouge D'Armani No. 501 & Gloss D'Armani Pink No. 507
! It is the quintessential pink partnership!
Are you a comic book junkie? Marcia from
Beauty Info Zone
was so it's no surprise she fell for the
Beauty Powders from MAC's Archie's Girls collection
.
Modesty Brown
compares the pretty
Rouge Bunny Rouge Gracilis blusher
to some other similar pinks in her collection.
Lisamarie from
Beauty Crazed
takes a bite out of the new
Bite Beauty Matte Pastille Lipstick collection
- well actually, she doesn't bite them, just swatches them, less chance of lipstick on your teeth that way - so come admire the pretty colours!
London Makeup Girl
tries an Advanced Ombre manicure from The New Black
.
15 Minute Beauty
has some amazing tips for
Flawless Bridal Makeup
from makeup artist Kim Porter.
Perilously Pale
shares a
favourite new look
showcasing some of the products from Chanel's Spring 2013 collection.