What are you doing this Valentine's Day? Me? I am looking forward to a co
zy night in with my Hub!!! W
ine,
a fabulous dinner (prepared by him! He is acutally quite the
chef!!!),
a decadent desert, candles for atmosphere, and some good music.
You get the idea! ;)
This Makeup War is all about our Valentines looks! Each Makeup Wars blogger is sharing her look and/or her products for beautiful Valentine's Day makeup. For me, my look is almost always all about the eyes. So, today I will share with you my go-to look and products for a soft neutral eye. Since we are staying in this valentines day, I am going for a natural look! I want to look like "me" only "better"! ;)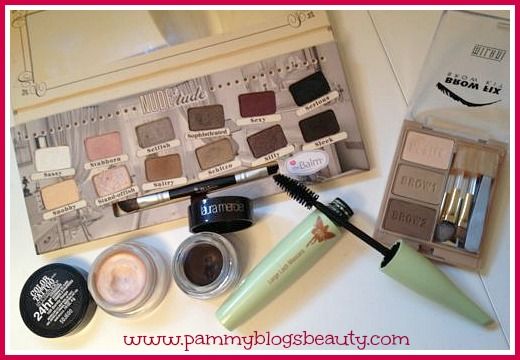 What are the Makeup Wars?
The Makeup Wars Bloggers are a group of top beauty bloggers that pick a topic every 2 weeks to mutually blog about. We blast our posts at exactly the same time. As a reader, you can hop from each blog by clicking the graphic links. I know that I always look forward to publishing as I really can't wait to see what my blog friends are loving! Be sure to check out what my fellow bloggers are doing for their Valentine's Day Makeup Looks!!! :)
Did you miss our last few
Makeup Wars
? Be sure to check out those posts here:
Battle of the Taupes
,
The $20.00 Face Challenge
,
Battle of the Favorite Summer Lippie
, the
Most Expensive Face Challenge
, the
Best Brush
,
Favorite Fall Polish
,
Favorite Red Lipstick
,
Best Fall Look
,
Halloween Manicure
,
Favorite BB Creams
,
Favorite Mascara
,
Favorite Holiday Metallics
, and
Holiday 2012 Beauty Wishlist
,
New Year's Beauty Resolutions
, and
Most Repurchased Products
.
To see my eye look and more about the products that I used, please keep reading! Also, don't forget to click on the logo graphic to visit the other' Makeup Wars bloggers to see what they choose for their V-day Makeup!!!!
Get the Look for Valentine's Day: Neutral Eyes
1. Laura Mercier Creme Liner in Espresso: OMG! I am absolutely in love with this creme liner. For lack of a better of a better description, this liner is just so...creamy! It glides on like butta!!! Plus, it is incredibly rich and pigmented. Just a simple sweep of a brush gives you thick bold color that is easy to manipulate. Once it sets, it absolutely does not budge until you take it off. You can create a natural line or wing it out. It is up to you! While I often wing my liner, I am opting to go with a regular ol' natural line this V-day. The Skinny: These are a new release for Feb 2013! My new fav liner!!!
2. Maybelline Color Tatoo in Barely Beige: This amazing creme eye shadow has become my go-to for almost every single day! I either apply on its own for a quick and easy long-wearing wash of color *or* I use it as a shimmery eye shadow base. For this look, I just swiped it over my lid. If you have not tried the Color Tatoo Creme shadows from Maybelline, you must get yourself to the drugstore pronto!!! These are amazing and are so inexpensive! Truly they are high-end quality at a drugstore price. :)
3. Pixi's Large Lash Mascara: I have a bit of a love/hate relationship with this mascara. When I first tried it, I liked the results but found that the formula smudged a bit on me (I have very watery eyes from allergies and sensitivities. So, many mascaras smudge on me). However, after the formula seemed to dry out a bit, I started to like it much better! I find it to be a good basic everyday mascara that gives volume and is easy to apply (no clumping).
4.
Milani's Brow Fix Kit in Light:
OMG! I am in love with this thing. No matter what other brow powders that I try, I always come back to this amazing kit. Actually, this bad boy might even be my all-time #1 favorite drugstore product ever!!! This kit has everything that I need to do my brows. Check out my full review here:
Milani's Brow Fix Kit
. This kit contains a highlight shade, a light cool-toned taupe brow shade, and a brown brown shade. The highlight shade is absolutely stunning!!! It is the *perfect* brow highlight and also a beautiful lid color as a shadow. I use a mixture of both the light taupe and brown shades for my brows. Basically I tap my brow brush 2x in the taupe and then 1x in the brown and apply that mixture. While my hair is blond, I have always had very dark brows. Typially, I use my Billion Dollar Brows brow brush. However, in a pinch the mini brow brush in this kit works just fine. Also, the little tweezer in the kit works amazingly well, too! I use this kit absolutely every single day and almost always travel with it, too. Sure, I have other brow powders that I love, but this kit by Milani is my #1!!! The best part? It is only a few dollars at the drugstore! :) Don't you just love a low-cost find like this? A true gem!
5.
The Nude'tude Palette by The Balm:
OMG! I have been meaning to do a full review on this amazing palette for ages now! The Balm has seriously become my favorite go-to brand for palettes. Have you ever tried their palettes, shadows, or blushes? They are amazeballs! The Nude'tude palette is The Balms cheeky response to the whole nude shadow palette "trend". Too funny! The shadows in the palette are strategically laid to cover-up the ladies girly-parts! :) Cheekiness aside, the shadows themselves are fabulous! The texture is so buttery and the pigment is so rich! These blend and apply like a total dream. To top that off, the shade selection is hands-down one of the best in my collection! You have light to dark and everything in-between in the neutrals range. Plus, the palette includes both a black and a white shadow which I consider to be total essentials for any great palette! The only downside to the palette is that the shadow pans are quite small. I love this palette and highly recommend it! Check out
hautelook
as they seem to feature great deals on The Balm frequently!
What are you doing for Valentine's Day? Are you having a "Cozy Night In" like me or will you be going out on a special date?
Be sure to check out my fellow Makeup War's Bloggers Valentine's Day Look posts by clicking the links below!
XOXO!!!
Happy Valentine's Day (in advance!)
Some of these items I bought myself
and some I got as samples. I would
repurchase every single item listed!