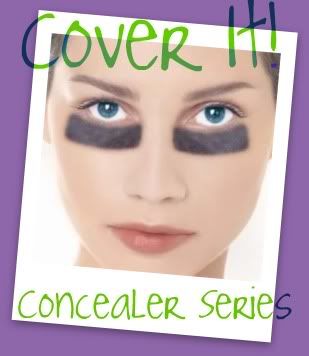 It is time for another installment in my ongoing
Cover-It Concealer Review Series
. Yes, I am a tad concealer-obsessed. But, such is the case for any girl with super dark circles! I am on a life-long mission for the "perfect" concealer!
Now this is a fun and unique way to package a concealer! This
No-Show Concealer by Pop Beauty
is packaged as a dual ended concealer and highlighter. As a huge fan of both concealers and highlighters. So, I was excited to test this puppy out!
Why am I looking for a good concealer?
Well, primarily because I am plagued with very dark under-eye circles. In addition to needing a pretty heavy-duty concealer for my dark circles, I also need a good light-medium coverage concealer for redness around my nose area and on my chin.
Basically all of the causes/reasons for
Dark Under Eye Circles
apply to me. I have allergies; therefore, I am plagued with redness and slight puffiness in the eye area. My allergies are not just seasonal, but year-round. So, I struggle with this throughout the year. Also, my dark under eye circles just seem to be hereditary. So, in addition to the redness and puffiness, I have those dark purplish dark circles. Plus I never seem to get enough sleep!
What would I do without concealer!!! I am always excited to try out something new.
Are you curious as to how I liked Pop Beauty's No-Show Concealer Duo? If so, please keep reading after the jump!
POP Beauty No-Show Concealer:
This dual ended product houses a stick style concealer as well as a liquid skin-toned "highlighter". I tested this in the shade "One". The tube itself is nicely portable considering it is a 2-in-1 product. This product would easily fit in your purse or travel bag. Retails for about $24.00.
The Concealer:
The concealer end of the product houses a stick-style retractable concealer. This can be used for an under-eye concealer (see application tips in the "consistency" area below) or as a face concealer. For under eye application, I recommend using a concealer brush. For face application, I apply with the stick and then blend out with clean fingers.
Coverage: Overall, I am quite pleased with the coverage I get from this concealer. Honestly, it covered even better than I expected! I would describe the coverage as medium. I was able to "build up" and layer the product to medium-heavy coverage on my very dark inner corner eye circles.
Consistancy: The consistency is somewhat dry. I do wish that it had a slightly more moisturizing feel. You must moisturize your eye area very well before application (tip: allow moisturizer to "sink in" a few minutes before applying concealer). Also, use of an under eye primer (like MAC's Vibrancy Eye Primer or Perfekt's Eye Perfection) after eye cream is recommended if have any fine lines or dryness or if you just want a super-smooth finish. I find that when my eye area is moisturized and primed well, that this product works very well!
Shade: At first glance, I thought that this concealer would be way too dark and too yellow for my skin tone (I typically wear either MAC's Studio Fix in NW15 or NARS Sheer glow in Siberia). But, when applied to the under eye area, it blends in great and works well! I do wish that had more shade selection though.
Wear: This product wears all day with no need for touch ups. Note: My skin is normal-dry. Generally I do not have trouble with products fading or sliding off.
The Highlighter: "No-Show Concealer Liquid"
What about the other end? According to the packaging, the highlighter end is actually a "No-Show Concealer Liquid". They describe it as an illuminating skin tone liquid.
At first glance, it is so shimmery (almost metallic) that I couldn't imagine using this as a straight-up concealer. But, when layered sparingly with the stick side of the No-Show Concealer, it really works well! It is also lovely as a highlighter! The shade is a beautiful champagne-gold buttery tone.
Packaging it as a dual ended product with a stick concealer is brilliant! I often find myself wanting to highlight the inner corners of my eyes after concealer application. So, it is so convenient to have the highlighter right on the other end of the concealer. POP Beauty is on to something with this dual-ended product!
How I wear:
Eyes: After applying the stick-side concealer, I tap a VERY small amount in the inner corners of both eyes with the applicator wand. I just barely touch the wand to my skin. Then I use my concealer brush to very lightly blend (but using a patting/tapping motion) the highlighting liquid to the whole inner corner area (working up to the inner corner of my eyelid as well).
Face: For the face, I like to apply this where I would normally place any highlighter: the tops of cheekbones, down center of nose, above brows, and on chin. Primarily I use this as a cheekbone highlighter. Just dab 2 small dots on the very top of each cheekbone with the applicator and then blend out with your fingers. Sometimes I do one dot above each brow, one dot on nose, and one dot on the chin and blend those out as well. It gives a lovely, natural, and subtle glow. So pretty!
In A Nutshell:
When applied carefully, this concealer gives great coverage and wears very well! I love it for both under the eyes (when the eye area is well moisturized and primed) and for targeted areas of the face (like around the nose area and chin).
The stick-style concealer end is great on its own. But, it is even better when layered with the highlighter end! The highlighter works beautifully when paired with the concealer to brighten and wake up the inner corners of the eye. Also, the highlighter is great for the top of the cheekbones! I am so glad that I tried this product.
I would love to hear what concealers you ladies are liking lately! You know me, I am always looking for great new products to try!