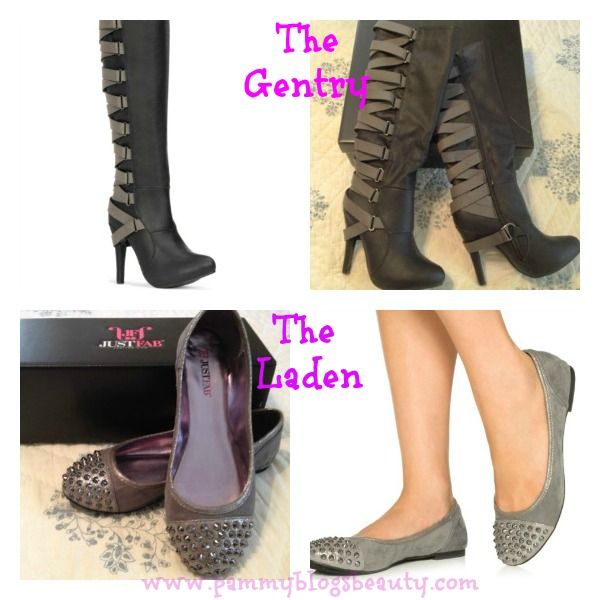 Do you have a standard go-to outfit? I sure do! Often I go through "phases" with my wardrobe. I get really into certain items and then want to wear them all the time.
My most recent favorite look is a simple dolman sleeve grey and black striped tunic sweater and black or grey leggings. The sweater is by rose and the leggings are from Target. The sweater was a great find from a local trendy resale shop: Plato's Closet. Hey, you can't beat finding a cute top for about $4!
This look can easily be dressed up or down depending on the shoes. During the day, if I am just running errands or hanging out, I go with flats. To amp up the look, I opt for boots with heels. A simple shoe switch can totally change the feel of the outfit!
The shoes featured in this look are my November selections from
JustFab
, one of my favorite online shoe and accessories sites. The Boots are the "Gentry" and the flats are from the recent Fowler shoe collection, the "Laden".
What is JustFab? How do I sign up?
JustFab
(short for
JustFabulous
) is an online fashion site and styling service. They offer trendy and affordable shoes, handbags, jewelry, jeans, and accessories to subscribers (called VIP members). When you
sign up to become a VIP member
, you take a style quiz. Then JustFab pairs you with a stylist who creates a personalized online boutique for you to shop from. Everything on the site is $39.95!!! You will be charged a monthly fee (unless you elect to "skip a month" then you won't be charged) which gives you credit for one item. So, that is one monthly fee for one item (not an item plus an additional fee). Of course, you could always purchase more than one item a month. They seem to have a lot of 2 for/ $39.95 deals too. Oh, and depending on what type of deal JustFab is currently running, when you sign up, you get from 20-50% off your first item!!! Plus, when you refer friends, you can earn credits towards free items. So, be sure to check out the links and sign up! :)
Besides the items in your personal
JustFab Boutique
,
VIP Members
also have access to shop in JustFab's Special Collections. Their special collections include The Fowler Collection as well as looks from
New York Fashion Week
, the edgy
Iron Fist
collection, featured selections from the
IPSY Girls
(formerly "My Glam"), the
Denim Shop
,
Fall Bags
, and rocker-chic
Abbey Dawn
by
Avril Levine
.
If you missed some of my previous JustFab reviews, please check them out here:
Just Fab Monthly Shoe and Accessories Subscription
,
Shoe Bag Love
,
What's In My Diaper Bag?
, and
The Fowler Collection
.
To see my outfits with the shoe switch and to hear more details about the JustFab selections, please keep reading!
My Go-To Outfit: Styled 2 Ways with a Shoe Switch!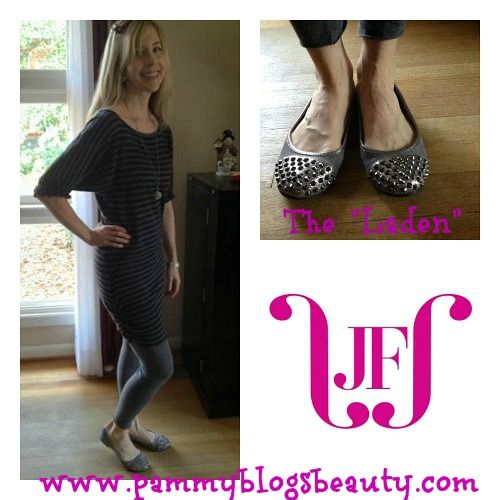 The Laden:
I am going to go ahead and tell ya'll...I am obsessed with these flats!!! Not only are these adorably cute, but also they are comfortable too! These flats give just the right vibe. They are casual with just that extra "something" that makes them special. The silver and grey color dress them up a bit and the spiky studs give them just a hint of edge. These shoes are comfortable and appropriate for daytime while dressing up your casual look just a bit. When I wear these, I constantly get asked about them! I like them so much that I might get another pair in a different color! They come in three colors: Grey, Black, and Leopard. These shoes have started a new flats obsession! I highly recommend this pair of shoes.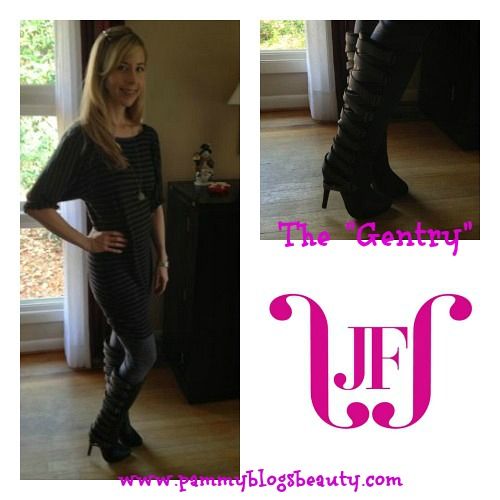 The Gentry:
If you want to vamp up your casual look, these boots are a great choice. The material of the boots make them casual and the style of the boots make them sexy. The black faux leather has an almost matte finish and the grey criss-cross straps are suede-like. These boots are really unique! I honestly have not seen any boots like these!
I am not gonna lie ya'll, these are incredibly hard to walk in. The heel is 4 1/2 inches high. Also, since there is no platform to offset the heel height, your foot is placed in quite an angle. This places a lot of pressure on the ball of your foot. So, I highly recommend getting some of those squishy gel innersole cushions if you want to feel somewhat comfortable wearing these boots. I find that I can only wear them if I am going out and mostly sitting (not standing or walking). With all that said, I still like the boots. I was not expecting these to be comfortable with such a high heel height.
A note on fit: I find that the boots fit quite loosely around my leg. My legs are a bit on the skinny side. However, I think that these would fit loose even on an average leg.
Overall, I am happy with my
JustFab selections from November
! While I have not gotten a lot of use out of the Gentrys, I am still like them for their uniqueness. The adorable Ladens are destined to be a total favorite of mine!!! I wear them all the time be it dresses, jeans, leggings, you name it!
What shoes are you loving lately? Do you like switching up the look of your favorite outfit with a simple shoe switch?
XOXO!
JustFab referral links
in post