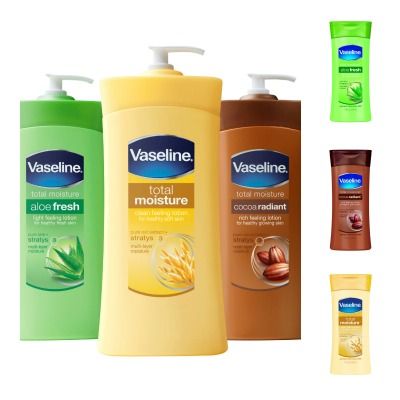 What would I do without my body moisturizers? Body Lotion is one of my most frequently used-up products. Body Moisturizers are the true "work horses" of my body skincare routine. I have dry skin that is prone to irritation. So, daily application (and usually multiple times per day) is a must for me! Yes, I could go with a "fancy" body lotion. However, I primarily rely on body moisturizers that are inexpensive and easily accessible at the drugstore or grocery store. I use them up too quickly to spend a lot of money on them!
Vaseline® Total Moisture® lotion is non-greasy, fast absorbing and offers Stratys-3 TM multi-layer moisture complex, infusing moisture at the top, core, and deep down layers of skin(1). Available in three variants, new Vaseline® Total Moisture® meets a variety of skincare needs.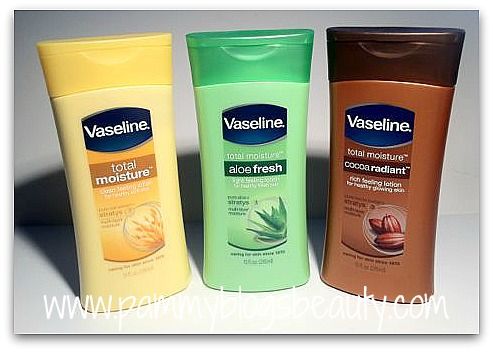 For more about these Total Moisture lotions from Vaseline and Moisturization Tips (from Vaseline and Me!), keep reading!
Vaseline® Total Moisture®
– Clean feeling lotion for healthy soft skin.
This lotion really is clean feeling! What a great everyday lotion. The scent is so pretty and fresh. I get those "you smell good honey" comments from my Husband after I put this on. This formula combines pure oat extract and the Vaseline
Stratys 3 Multi-Layer Moisture
(top, core, and deep down layers of skin) for a lotion that absorbs quickly and feels non-greasy. This is the one is probably my favorite of the 3 types for this time of year. It is about "medium weight" of the 3 (if that makes sense as it is not light nor heavy).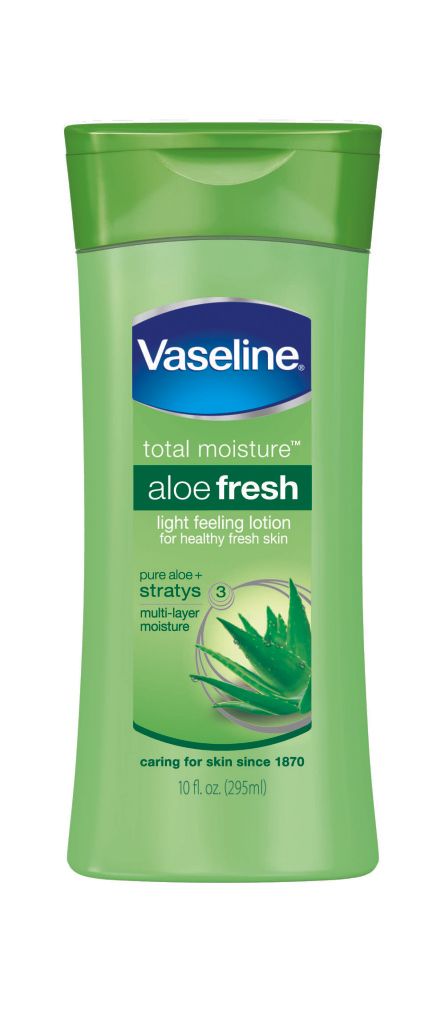 Vaseline® Total Moisture® Aloe Fresh
– Light feeling lotion for healthy fresh skin.
The Aloe Fresh version has a light grassy/aloe scent (the scent actually reminds me of one of my favorite Bath and Body Works scents: Rainkissed Leaves). This lotion has pure aloe plus the Vaseline Stratys 3 Multi-Layer Moisture system. I like using Aloe-based lotions after sun exposure. I will also be using this as my body lotion whenever I use the B&BW Rainkissed Leaves body splash since the scents are so similar
Vaseline® Total Moisture® Cocoa Radiant™
– Rich feeling lotion for healthy glowing skin.
MMM...Cocoa Butter! This is a rich lotion with a decadent cocoa butter scent! I like using this on my very dry hands. Also, I think this will be an ideal all-over body lotion for the colder months when my skin gets super dry. This lotion combines cocoa butter with the Stratys 3 Moisture System. Very rich yet non-greasy.
Top Moisturization Tips for Radiant Skin from Vaseline
®
(with some added tips from me too!)
1.
Moisturize after your shower or bath to seal in hydration and help prevent dry skin.
I literally moisturize after every single bath or shower that I take. I moisturize head-to-toe. If you haven't started doing this yet, this is a great first step towards better hydration!
2.
Exfoliating is a good way to prepare skin for moisturization – it helps to remove dead skin cells from the outer most layer of your skin.
Exfoliation really goes hand-in-hand with using a moisturizer. You will find that your moisturizers work *better* when you exfoliate first! There are so many ways to exfoliate: from using a body pouf to using a scrub. There are tons of options!
3.
Moisturize every day. Daily moisturization helps to create and maintain healthy- looking, radiant skin – just make sure to choose the right lotion for your skin type and the season.
I tend to reach for lighter lotions in the Spring and Summer and heavier mositurizers in the colder months.
Which Vaseline Total Moisture lotion might work for you? Here are the recommendations from Vaseline:
There are three variants of Vaseline
®
Total Moisture
®
to choose from:
·
Vaseline
®
Total Moisture
®
–
Clean feeling lotion for healthy soft skin.
·
Vaseline® Aloe Fresh
–
Light feeling lotion for healthy fresh skin.
·
Vaseline® Cocoa Radiant™
–
Rich feeling lotion for healthy glowing skin.
4.
Look for unique ingredients, which are known for their skin benefits, in your lotion. Vaseline® Total Moisture® has pure oat extract, Aloe Fresh has pure aloe, and Cocoa Radiant™
has pure cocoa butter – each of these natural ingredients
has been used extensively in skin care products due to their soothing and moisturizing benefits.
I like this tip! Find what works for you and go for it! I, for one, just discovered Cocoa Butter while I was pregnant and I still love it for the amazing moisturizing and soothing properties. I feel that it leaves a nice sheen on the skin too. So, lately, I am reaching for cocoa butter!
·
Oat
is known for its anti-inflammatory and anti-irritant properties. It is an effective moisturizer, which can soothe dry skin.
·
Aloe is a known effective skin conditioning agent, which is also known for its soothing properties. It can help hydrate skin, leaving it feeling refreshed.
·
Cocoa butter
is a known effective emollient. It helps hydrate the skin and lock in that moisture to keep skin soft, smooth and glowing.
5.
And don't forget the recommended shelf life of your products, which for most lotions is two years after they are purchased.
I will fully admit (hanging my head in shame), I am bad about this. If you are unsure of when you purchased it, smelling the product is always a good idea. I think I am going to start writing purchase dates on the bottom of my products.
What are your tips for smooth and moisturized skin? I would love to hear!!!
Thanks so much for reading!
XOXO!

I was provided with Vaseline® Total Moisture® lotions
and information about the products by RocketXL.
All opinions are 100% my own.