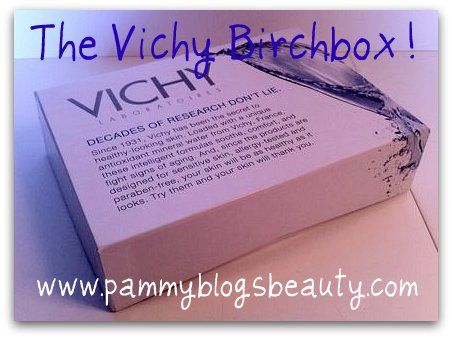 This past month, in addition to the regular
Birchbox
, some very lucky Birchbox subscribers also got this special edition Vichy Birchbox. No, this didn't replace their usual box. This was a free box sent in *addition* to the usual Birchbox. Who got the box? The subscribers whose profile matched specific skincare needs received and email from Birchbox asking them if they were interested in getting this free box sponsored by Vichy.
Wow!!! What a truly sweet deal! What an incredible value!!! Offers like this special Vichy-box are exactly why I continue to subscribe to Birchbox! Honestly, after trying a few different sample subscriptions, I must say that
Birchbox
continues to be my favorite sample service!
Are you not at all familiar with
Birchbox
? Birchbox is a beauty sample service. For $10 per month, members get monthly Birchboxes filled with 4-5 (usually) deluxe sized samples. The boxes are beautiful and totally fun to open. In addition, members have access to the website for shopping (you can earn points towards purchases by reviewing items in your box and getting friends to sign up!), and tips, articles, and videos on trends as well as product demos and tutorials. I have been a happy subscriber for over a year now. I look forward to my box every month!Be sure to check out my various box opening posts:
Birchbox Introduction Post
,
Jan 2011 Birchbox
,
Feb 2011 Birchbox
,
March 2011 Birchbox
,
April 2011 Birchbox
,
May 2011 Birchbox
,
June 2011 Birchbox
,
July 2011 Birchbox
,
August 2011 Birchbox
,
Sept 2011 Birchbox
,
Oct 2011 Birchbox
,
Nov 2011 Birchbox, Dec 2011 Birchbox, January 2012 Birchbox, and Feb 2012 Birchbox
.
Okay, now on to this Vichy box opening, lets peek at what is inside!!!
I honestly have never heard of Vichy before getting this box. I love expoloring new skincare brands. LOL, my love of skincare is one of the main reasons that I started a blog in the first place!
I think that Vichy and Birchbox have really come up with a good idea with these brand-specific boxes! What an inexpensive way to explore a new brand! I find that the Birchbox skincare samples are a nice way to get a good first impression of a product before buying. Plus, these little sample sizes are just great for travel!
About Vichy:
Vichy is a French skincare line with a cult following that uses thermal spring waters to restore skin's firmness and elasticity. The antioxidant-rich mineral water from Vichy, France soothes, comforts, and fights signs of aging. Also, the products are great for sensitive skin! They are paraben-free and allergy-tested. Sounds like a line right up my alley!
The Box Itself:
This box came with the same outer pink cardboard as the "usual" monthly Birchbox. But, inside, was a totally different looking box. While the same size as a Birchbox, the Vichy box is made of a shiny cardboard and has a flip top lid. The products inside are wrapped in tissue in typical Birchbox-style. Like the monthly Birchboxes, you feel like you are opening a present when opening this Vichy box! Birchbox included the standard Postcard with a note about the brand and product information. Also, you can follow the birchbox link to read even more about these products.
Now on to the
box opening
! This box is packed with Vichy's best sellers and star products! These samples are certainly deluxe size and very generous (and adorable containers!). Here is the scoop:
Aqualia Thermal Cream (sample size: .5 fl oz, full size 1.7 fl oz for $29.95): This is a rich and creamy cream with a light and fresh perfumey scent. It is in an adorable hard acrylic screw top jar. 24 hr Hydrating Care. Infused with a high concentration of mineral-rich antioxidant water, this moisturizer keeps skin hydrated around the clock. Use it every morning on a clean face, alone or under makeup. Note: While this is a day cream, I do not see a SPF listed (so be sure to add an SPF! This product appears to be for moisture not sun protection). I can't wait to try this as my skin does get dry.
Lifactiv Rhamnose Night (sample size: .5 fl oz, full size 1.7 fl oz for $49.00): This appears to be Vichy's night cream. Its packaged in the same adorable acrylic screw top jar as the day cream. The product is much, much thicker than the day cream. It has a buttery-type feel and a nice light scent. This night cream is very rich. So, it might be more suited for women with mature skin. Anti-Wrinkle + Firming Care. This lush night cream works its magic with Rhamnose, a plant-derived ingredient (concentrated at 5%) that helps skin renew itself. Apply a thin layer after washing your face. Dont' forget your neck and decolletage.
Purete Thermal 3-in-1 One Step Cleanser (sample size: 1 fl oz, full size 6.7 fl oz for $19.50): This is a cream cleanser is a squeeze tube. What a nice size sample! The cleanser itself carries a perfume-like scent. A real triple-threat, this unique formula works as a cleansing milk, toning lotion, and a makeup remover all at once. Dab it on a cotton pad, or smooth it directly on your skin and rinse with water. Interesting! While I prefer cleansers to be unscented gels, I do appreciate that this is a 3-in-1 product. So, I will give it a try.
Purete Thermal Eye Makeup Remover for Sensitive Eyes (sample size 1 fl oz, full size 5.1 fl oz for $16.50): This is the sample that I am most excited about! I have very sensitive eyes and I always use a liquid remover. It usually takes me forever to go through a bottle of remover. So, I find this 1 oz sample size to be very generous indeed. Plus, this little bottle (like all of these samples) is great for travel. Can't wait to try! Laced with cornflower water and vitamin B, the uber-gentle formula throughly cleanses your delicate eye area. Pour a small amount onto a cotton pad and pat on skin.
Celludestock (sample size .23 fl oz, full size 6.7 fl oz for $39.50): This is interesting...a cellulite treatment cream. I have never tried one of these before. But, since I am trying to get back into pre-baby shape, I will certainly try this little sample. This sample came in a foil pouch. So, not a deluxe size. But, no complaints! This box has very generous samples overall! Intensive Treatment for the appearance of Cellulite. Vichy's own Lipocidine complex teams up with caffeine to tone the skin on your thighs, hips, and derriere. Masage into your skin and zap cellulite.
What a fun box!!! I really enjoyed opening it and can't wait to try some of the items and explore this brand. There is absolutely no question that this box is an incredible value given that it was provided to selected Birchbox subscribers at no additional cost! The samples were nice deluxe sizes!
Did any of you Birchboxers get this Vichy-sponsored special Birchbox? What did you think? I was thrilled to get it! I hope to see more of these brand-sponsored boxes in the future! What a fab way to scope out a new brand and try some items!!!
I did not get this box as part of my Birchbox subscription (which I pay for),
Birchbox sent me this box to consider for review.