Didn't this month literally fly by? I can't believe that it is already time for my monthly Star Products post!
This month I have continued to trim down my beauty routine. It is always the mad-dash to get ready while the baby is sleeping or before my Hub leaves for work. So, I need my beauty products to be super easy to use and apply. So, I am defaulting to products that I know always look great with minimal effort. I could list so many products that fall into this category. But, for this month I am really just picking out the true stand outs that I have reached for continually this month. So, it is a short list this month. But, I think every single one of these items is just fabulous!
Also, I found some truly great new items this month! So, keep reading for some old faves and some
new ones too!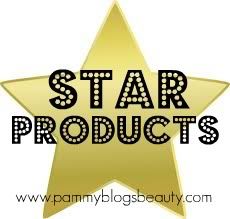 Okay, let me tell ya'll how excited I am to have the two new items that are on my list. Seriously...new Holy Grail items for sure! What are the two new products that I am so excited about???...the Knockout Nails system and L'Oreal's 24 Hour Infallible eye shadow in iced latte. Both of these products have revolutionized my beauty routine and shaved minutes off of my getting ready time!
So, lets go into more detail about each Star Product!
Urban Decay Naked 2 Palette: Yes, a repeat performance here. I love this palette so much that I am sure it will surface in *many* Star Products posts in 2012! I have a full review of this palette scheduled to post of Feb 7th. So, be sure to check it out. I totally love this palette. I loved the first Naked palette. But, this new Naked 2 palette is more suited to my cool-toned coloring. Every single shade looks great, applies well, and I just can't go wrong with any combination of these shadows.
L'Oreal's Infallible 24 hour eye shadow in Iced Latte: Wow! New Holy Grail product for sure! I won't go into a lot of depth here since I just did a full review: L'Oreal Infallible in Iced Latte. Be sure to check it out. In a nutshell, this is a gorgeous champagne shadow that I can apply with my fingertip for full pigmentation in one sweep. Most mornings I just swipe this over my lids and that is it! I just add some mascara and my eyes are done. That is just what this new Mommy needs! Plus, the beautiful shimmer immediately makes me look more awake. I can't wait to try some more colors from this line!
NYC Blushable Creme Sticks (not pictured! Can I blame my sleep deprived new-Mommy brain?): Wow, these are an oldie but a goody (well, not "old", but not new either!): Yes, I have resurrected an old fave here: NYC Blushable Creme Sticks in Big Apple Blush and Plaza Pink (I love them both equally!). These had fallen to the back of my blush drawer and I have recently rediscovered them! They are so pretty and super quick and easy to apply! They always look flattering and never look overdone. I literally just dab a little on my fingertips and blend into the apples of my cheeks.
Hard Candy's Glamoflauge: I am still totally loving this concealer. As I continue to battle with my dark circles, this concealer at least makes them barely noticeable! I still can't get over the super low price on this amazing concealer!!! As a Mommy of a 2 month infant, ya'll know I need this. So, if you don't own this yet...go get ya some! ;)
Elizabeth Arden's 8-hour Cream Skin Protectant: Here is a product that is a "classic"...yet it is totally new to me this month. I have read amazing things about this product. Apparently Victoria Beckham can't live without it. I purchased it awhile back, but just started using it this month. Why did I wait so long? This stuff is great!!! I am honestly not that crazy about the scent...but, I am loving the results. I have this on my nightstand and I apply this at night to my lips and my cuticles. My lips are getting in better shape from using this (and the product mentioned below).
Reviva Labs Vit E Stick: Yes, this has been mentioned in a favorite post before! I am still loving it. While I use the EA 8 hour cream at night on my lips, I use this throughout the day. I like how this product just melts right into your lips and absorbs.
Knockout Nails System: OMG...this UV nail care system is a-ma-zing! It has totally revolutionized my nail-care routine. More than that, it is just so darn fun to use! My nail color lasts as long as I want it to (I usually change it 1-2x per week...but it *could* last up to 2 weeks with this system)...and it just looks great! I won't go into more depth because ya'll can just check out my full review: Knockout Nails UV Nail System.
Some products I purchased myself.
Others were given to me as samples.
Items were chosen because I love them
reguardless as to how I got the item.