I Bought It
Affiliate Link
It is time for another Makeup War!!! After taking a blogging break for a few weeks during my move (hope you have enjoyed all of the pre-scheduled posts!) it is so fun to dive back into a Makeup War! I have missed this!!!
What are Makeup Wars?
Before sharing my favorite peach/coral makeup item, let me tell you a little bit about Makeup Wars in general. The Makeup Wars Bloggers are a group of top beauty bloggers that publish coordinated bi-weekly posts. The Makeup Wars bloggers collectively pick topics to blog about (e.g., Top 10 Products, Beauty Pampering, etc). Then, we publish our posts at precisely the same time and link up through the graphic links and thumbnails at the top and bottom of our posts. It is always a big surprise to scroll through the links from the group to see what everyone picked!
Color Wars:
This week we are having a Color War! Unlike our usual makeup wars, this week we have divided up and are all sharing our favorites for our assigned color. 2-3 of us are representing pretty much every makeup color we could think of: from red, to peach, to yes...even taupe! When you scroll through the thumbnails at the bottom of this post, you will get to see the Makeup Wars bloggers choices for best products or featured looks in a whole rainbow of colors! This is so fun!!! :)
To find out what I picked for my favorite Peach/Coral makeup items, please click "read more" below.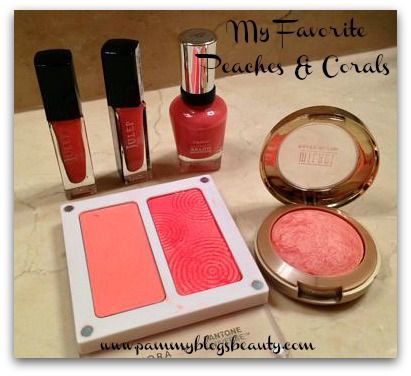 So, when we were picking Makeup Wars colors, I was immediately drawn to my favorite color for blush: peach (or coral). I think that a soft peach blush is universally flattering on just about everyone! For me personally, it is totally my go-to blush color.
In my sea of pretty peach and coral blushes in my collection, I have two clear stand-outs: one high end and one drugstore item. Drumroll please...my favorite peach/coral blushes???
Milani's Baked Blush in Luminoso
and Sephora + Pantone Universe's "Color of the Year" Blush Duo in Desert Flower and Coral.
Milani's Baked Blush in Luminoso
is not only one of my favorite peach blushes, but also it is probably my most-reached for blush in my entire collection. It is just so flattering and easy to wear! I love the fresh pop of peach that this blush gives my cheeks. It is a blush that literally goes with whatever makeup look that I could possibly create. If you have not scoped out Milani's Baked Blush range, then be sure to get to the drugstore to check these out! They are fabulous blushes for a really great price! If you want to hear more about this blush range, please be sure to check out my previous blog review:
Milani's Baked Blushes
.
My other favorite blush set in the peach/coral range is
Sephora + Pantone Universe's "Color of the Year" Blush Duo
from last year in
Desert Flower
and
Coral
. This blush duo is sooooo pigmented! I have to use a really light hand when I use these blushes on my fair skin. The colors are just so gorgeous!!! Rather than go into more details here, I am going to link you to my previous full review on this beautiful blush duo:
Pantone's Color of the Year Blush Duo
.
Polish!!!
Now even though my favorite medium for wearing Peach or Coral is blush, I just can't resist mentioning some Peach/Coral polishes! Summer just wouldn't be summer without a peach/coral mani or pedi!!!
Here are a couple of my
Peach/Coral Polish
Faves:
Sally Hansen Complete Salon Manicure in Casting Call: A gorgeous pinkish coral! I get great coverage and wear with just 1-2 coats of this pretty creme polish. This is such a go-to color for my tips and toes.
Julep Georgia: This is a peachy medium coral with a pretty micro-shimmer effect. This gives great coverage in 1-2 coats. I love this pretty polish on my toes! So Summery!!!
Julep Alicia: Alicia is such a pretty salmon-toned peach cream polish. It is so flattering and very nice for Summer!
So, that is it! I hope you enjoyed my selections for my favorite peach/coral makeup items! What are your favorite peaches or corals???
Have you missed our previous Makeup Wars? Be sure to check out these posts:
Battle of the Taupes
,
The $20.00 Face Challenge
,
Battle of the Favorite Summer Lippie
, the
Most Expensive Face Challenge
, the
Best Brush
,
Favorite Fall Polish
,
Favorite Red Lipstick
,
Best Fall Look
,
Halloween Manicure
,
Favorite BB Creams
,
Favorite Mascara
,
Favorite Holiday Metallics
, and
Holiday 2012 Beauty Wishlist
,
New Year's Beauty Resolutions
,
10 Things I Repurchase Over and Over
,
Beauty Pampering
,
Favorite Cream Shadows
,
Best Waterproof Makeup
, and
Summer Manicure
, and
Complexion Helpers
.
Be sure to click the thumbnails below to scroll through our "Color Wars"! See what my fellow bloggers selected as their favorite products for the whole spectrum on makeup colors!
As always, thanks for reading!
XOXO!!!