Affiliate Link
Press Sample
It is Makeup Wars time again!!! As the Makeup Wars bloggers gear up for Summer, we want to share our picks for the Best Waterproof Makeup items! I don't know about ya'll, but I absolutely live at the Pool during the Summer. Plus, we usually hit the beach every Summer. Only the best waterproof makeup will survive on the beach or during pool-time! No, I do not do a full face of makeup when spending time at the beach or in the pool. However, I do want the makeup that I apply to stay put. Also, even when I am not at the beach or pool, I find that good waterproof makeup works the best in the GA heat and humidity for everyday in the Summer. So, these waterproof choices are great for anyone wanting pool-proof makeup or anyone just wanting makeup that will last all day in the heat without budging!
What are the Makeup Wars?
Before diving into my picks for Best Waterproof Makeup, let me tell you a little bit about Makeup Wars. The Makeup Wars Bloggers are a group of top beauty bloggers that publish coordinated bi-weekly posts. The Makeup Wars bloggers collectively pick topics to blog about (e.g., Top 10 Products, Beauty Pampering, etc). We publish our posts at precisely the same time and link up through the graphics at the top and bottom of our posts. It is always so much fun to see what products this group of top bloggers is using and loving.
My Waterproof Makeup Basics
:
During the Summers I tend to go a bit "lighter" with my makeup. I usually skip foundation and just stick with some eyeliner, mascara, lip color, blush, and (of course) some under eye concealer. Plus, of course I want these items to have amazing staying power.
To find out my choices for
Best Waterproof Makeup
, please click "read more" below!
Make Up For Ever Aqua Rouge
:
Just go ahead and throw away any pre- conceived notions of long-wearing lipstick. I, too, have tired long wearing lipstick in the past that was so drying that I couldn't even stand the feel of it on my lips. However, this is absolutely NOT the case with Make Up For Ever's Aqua Rouge!!! Somehow, they were able to create a budge-free formula that feels comfortable on this lips and does not dry you out terribly! I am pretty amazed at the performance, look, and feel of this super long-wearing lippie!!! It gives the intensity and longevity of a lip stain/lipstick hybrid with the shine of a gloss. These are 2-part long wearing lipcolors: One end of the tube is your lip color and the other end is a clear and super shiny gloss. I tried out the color Pink #15 which is an opaque medium bright pink matte pink (that becomes super shiny with the gloss on top). I am completely amazed with the long-wearing quality of this lippie! It lasted well through all morning, lunch, and most of the afternoon with only gloss reapplication. Even when most of the color wore off, you still have a bit of a "stain". I adore this lip color!!! Aqua Rouge lipsticks come in 12 shades and retail for $24 each at Sephora.
Make Up For Ever Aqua Cream: For Eyes and Cheeks
(and Lips, too!): Smudge-proof, Crease-proof, tear-proof, and waterproof!!! Available in 26 shades for $23 each.
Eyes
:
When I think "waterproof makeup", these Aqua Creams from Makeup Forever are honestly the first products to pop into my head. These are hands-down amazeballs. I have the eye color shades #04
Snow
and
#13 Warm Beige
. These two are my current go-to cream shadows for everyday wear. I just swipe a bit across the lid for a wash of color and I am good-to-go. Actually, I like Snow in the inner corner and Warm Beige across the rest of the lid. So easy!!! Plus, they wear all day and are waterproof!!! These are great for "pool and beach" makeup as they give you just a hint of makeup without you looking too overdone. Plus, I find that these particular shades do double duty as they cancel out and cover any eyelid redness.
Cheeks
:
The
Lips & Cheeks Aqua Cream shades for Lips & Cheeks
are exclusively sold at
Make Up For Ever Boutiques
. Let me tell you, these are *totally* worth a special order!!! I have shade #05 which is a universally flattering soft and slightly shimmery peachy pink. A little dab of this on your cheeks and lips brings such great color to your natural pool/beachy look...or, of course, a great color for a long-wearing cheek color for everyday! :) As a cream blush fanatic, I am becoming a bit obsessed with this blush!!! I consider it a Summer Must-Have!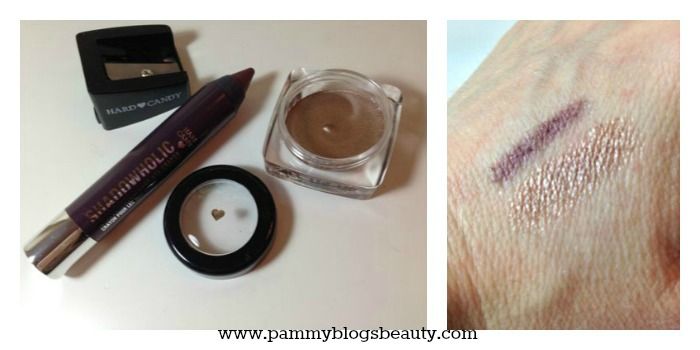 Hard Candy: All Lid Up
:
Looking for a great long-wearing waterproof cream shadow, but Make Up For Ever is not in your budget? Try these bad-boys from Hard Candy at only $5 each (at Walmart!). Just swipe them on with your fingers for a good 6-8 hours of wear. These do slightly crease on me after a few hours. However, they are really great for the price! I have the shade Quick Sand which is so easy to wear. The perfect coppery taupe neutral! If you have not scoped out Hard Candy at Walmart, you are missin' out! Hard Candy is really the only reason I ever venture into a Walmart, lol!
Hard Candy: Shadowholic 12 Hour Waterproof Eye Crayon
:
Here is another great option from Hard Candy! The
Shadowholic Eye Crayon
! These are super chubby long-wearing pencils. They are quick and easy to apply and really don't budge. I have the shade after hours which is a somewhat sheer and slightly shimmery purple color. I am not sure if all of the shades are this sheer or if it is just this one color. They come with a sharpener and are an absolute steal for $5 each!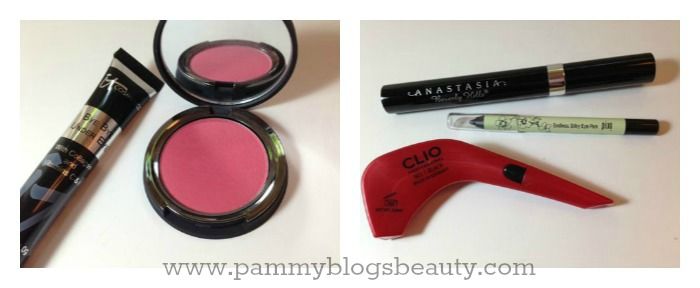 Anastasia Lash Genius
:
Does your mascara always smudge? I struggle with this constantly!!! Either I have to stick to my HG
Cover Girl Lash Blast
(which never runs nor smudges on me) or I can apply Anastasia Beverly Hill's amazing Lash Genius! It is basically a waterproof top coat that can apply over any mascara. The name says it all...Genius!!! Interested in my full review? Check it out here:
Anastasia's Lash Genius
.
Pixi's Endless Silky Eye Pencil
:
I absolutely adore the Pixi Endless Silky Eye Pencils! I have a few shades and reach for these often. They are a snap to apply and don't budge all day (and are, of course, waterproof as well). If you like the look of a gel liner and the ease of a pencil, then you must check these out! They lay down such deep and rich dark pigment for the perfect line. Love, love, love these!!! Here is my review for these
Pixi Endless Silky Eye Pencils
.
It Cosmetics Vitality Cheek Flush Powder Blush Stain
:
Have you discovered IT Cosmetics yet? It is quickly becoming one of my all-time favorite makeup brands! Many of their products are waterproof including this amazing
Vitality Cheek Flush Blush Stain
. I won't go into too much detail here as the full
review is coming soon
!!! Let me just say that the color is beautiful and it lasts all day! It is a powder brush that wears like a "stain". Just beautiful!!!
IT Cosmetics Bye Bye Undereye Concealer
:
The one makeup item that I absolutely NEVER go without is under eye concealer. Even when at the pool or beach! My dark circles are *so bad*. Actually, one of the reasons that I fell in love with makeup was the fact that I could eliminate my dark circles with good concealer. It Cosmetic's Bye Bye Undereye Concealer is easily one of my top 5 concealers of all time. Seriously, it is that good: amazing color match for my very fair skin, opaque coverage, highly pigmented, doesn't cake, and...it is waterproof! This product is so pigmented that you only need a tiny amount for full coverage. This is great for the under eye area as you do not want to cake a lot of product on your delicate under eye skin. I wont say any more as my
full review is coming soon
!!!
Clio Eyeguard Waterproof Liner
:
Just recently I began exploring some Asian makeup brands. One of the best things that I found was this inventive Clio Eyeguard Liner (You can find this liner and some other great Asian brands at
Peach & Lily
). This liner's ergonomic applicator makes it so easy to use! The winged liner look is an absolute snap with this liner. Plus, the liner itself does not budge. I have a full review coming soon! :)
So, those are my current picks for the Best Waterproof Makeup! I would love to hear about what waterproof makeup you love! Plus, be sure to click on the thumbnails below to check out what my fellow Makeup Wars divas are loving for Waterproof Makeup!
Did you miss our last few
Makeup Wars
? Be sure to check out those posts here:
Battle of the Taupes
,
The $20.00 Face Challenge
,
Battle of the Favorite Summer Lippie
, the
Most Expensive Face Challenge
, the
Best Brush
,
Favorite Fall Polish
,
Favorite Red Lipstick
,
Best Fall Look
,
Halloween Manicure
,
Favorite BB Creams
,
Favorite Mascara
,
Favorite Holiday Metallics
, and
Holiday 2012 Beauty Wishlist
,
New Year's Beauty Resolutions
,
10 Things I Repurchase Over and Over
,
Beauty Pampering
, and
Favorite Cream Shadows
.
XOXO!!!