If you haven't heard, Pantone has named Tangerine Tango (a beautiful reddish orange) as "Color of the Year". This color is cropping up absolutely everywhere in fashion and beauty. While some may fear wearing such a vibrant orange shade, no worries here! Tangerine Tango is remarkably wearable for quite a variety of skin tones. Actually, I find this color to be extremely flattering to my super fair skin tone and blue eyes. When you think about color theory, peach-orange shades actually make blue eyes pop! If you want to read more about about
Pantone and the Color of the Year
, please be sure to check out
this great post by fellow blogger Pink Sith
(She explains it all far better than I could! :).
Pantone Universe and Sephora have teamed up for a March 2012 release of a limited edition Color of the Year Collection. The collection includes lipstick, eye shadow, lip gloss, blush, and nail polish. You can either get the collection as a kit, or the items individually. As much as I wanted to purchase the whole collection, I opted to just go for the blush duo. As ya'll may know, I absolutely can't resist blush. Especially a duo this pretty and unique! I honestly do not even have a blush colors remotely similar to this gorgeous
Sephora + Pantone Universe Blush Duo in the Colors Coral and Desert Flower
!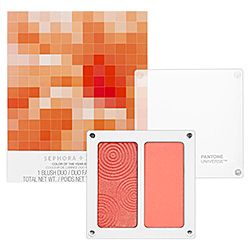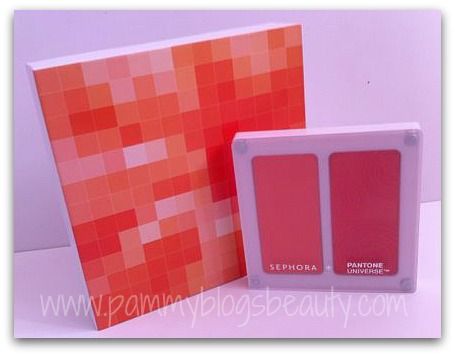 Sephora + Pantone Universe "Color of the Year" Blush Duo in Coral and Desert Flower:
Gorgeous, Gorgeous, Gorgeous! These blushes are absolutely stunning! There is no question that I am a huge fan of the color of the year. These are colors that beg to be worn! This is a duo that I constantly reach for.
Let's talk packaging:
The whole look of this duo is rather mod 60's with its white pan, tangerine tango color, and circular imprint on the blush.
The packaging is so cool! Even the box that it comes in is chic and modern...almost like modern art! The box slides open to reveal the duo. I am constantly trying to eliminate clutter. So, I always recycle all my cardboard makeup boxes. Rarely do I keep outer packaging. But, in this case (even though the outer packaging is bulky), I am going to have to keep it just because it is so pretty and unique!
The duo itself contains two rather large blush pans with 5.5 g of shadow in each pan. The compact has a magnets on all for corners. The lid removes completely and then can snap back on with the magnets. This is the only cosmetic item that I own that is packaged like this! Awesome! I believe that Inglot packages their palettes with this same type of magnetic design?
The Blushes:
The two blush shades are similar in tone but vary in texture and finish. Both shades are very soft (you will get a ton of product with the slightest dip of your brush or light swipe of finger). Also, the pigmentation...WOW! Crazy-good pigmentation here! These will be amongst the most pigmented blushes in my entire collection.
Desert Flower is the color on the left. It is a matte peachy-tangerine orange.
Coral is the bolder of the two. It is packed with gorgeous gold shimmer. The texture of the shimmer particles makes this one a bit more "gritty" to the touch. The shade is a beautiful and vivid coral-orange.
You can wear these colors layered together, mixed together, or wear them on their own. I love them both! I need to apply these with a *very* light hand as I am so fair and the blushes are so pigmented.
These blushes retail for $26.00 at Sephora. They are a bit pricey. But, you get two huge and gorgeous blushes! :)
So, what do ya'll think? Does the "Color of the Year" Tangerine Tango appeal to you? Are you going to pick up any items from this collection? The full kit really is a great deal at $68 because you get a ton of product.