Affiliate Link
I Purchased

it
Are you ready for another Makeup War??? This week the Makeup Wars bloggers are sharing their favorite Summer Manicures! I have a go-to Summer Polish that I am very excited to share!!! Seriously, I when I look at this polish on my nails I just think "Ahh!!! Summer!"
What are Makeup Wars?
Before sharing my favorite polish for Summer, let me tell you a little bit about Makeup Wars. The Makeup Wars Bloggers are a group of top beauty bloggers that publish coordinated bi-weekly posts. First, the Makeup Wars bloggers collectively pick topics to blog about (e.g., Top 10 Products, Beauty Pampering, etc). Then, we publish our posts at precisely the same time and link up through the graphics at the top and the thumbnails at the bottom of our posts. It is always so much fun to see what products this group of top bloggers is using and loving! After you read my pick for Favorite Summer Manicure, be sure to click on all of the thumbnails at the bottom of my post to see what polishes my fellow Makeup Wars bloggers are loving for Summer 2013! :)
Often it is hard for me to narrow down my favorites to just one item. Not this time! This polish is a clear winner for me for my
Favorite Summer Manicure
! :)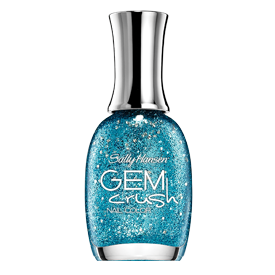 Sally Hansen's GEM Crush Glitters:
Sally Hansen's GEM Crush polishes
are the most dense one-coat glitter polishes that I own. One coat gives you a sheer, yet pretty dense layer of glitter, two coats gives you almost opaque glitter, and three coats lays down a completely opaque layer of glitter. I usually go for three coats for full on glitter. I absolutely adore the effect!!!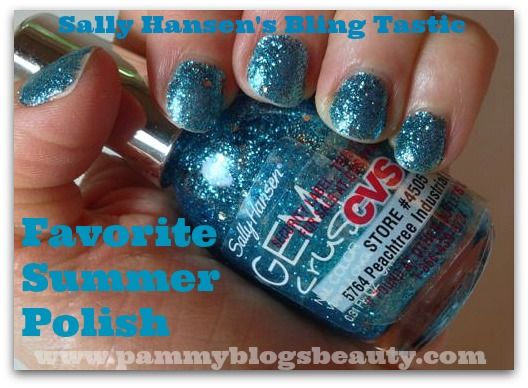 Sally Hansen's GEM Crush in #04 Bling Tastic:
Bling Tastic
is a gorgeous light aqua blue glitter with larger round silver glitter flecks. The 2-tone glitter gives such a gorgeous shimmer. The shade really does remind me of water and just makes me think, "Summer"! :) I picked up this polish last Spring and this is really my 2nd year in a row with it being my favorite Summer glitter! While you can most typically find this polish on my toes, I also love wearing it on my tips, too!
If you love Glitter Bombs, then you will love these
Sally Hansen GEM Crush polishes
! I also have the shade Big Money which is a gorgeous soft gold with flecks of round lavender colored glitter. Just writing this post I am realizing that I might need to hit the drugstore to pick up more of these gorgeous glitters!
Here is the full collection of Sally Hansen GEM Crush Polishes:
Did you miss our last few
Makeup Wars
? Be sure to check out those posts here:
Battle of the Taupes
,
The $20.00 Face Challenge
,
Battle of the Favorite Summer Lippie
, the
Most Expensive Face Challenge
, the
Best Brush
,
Favorite Fall Polish
,
Favorite Red Lipstick
,
Best Fall Look
,
Halloween Manicure
,
Favorite BB Creams
,
Favorite Mascara
,
Favorite Holiday Metallics
, and
Holiday 2012 Beauty Wishlist
,
New Year's Beauty Resolutions
,
10 Things I Repurchase Over and Over
,
Beauty Pampering
,
Favorite Cream Shadows
,
Best Waterproof Makeup
, and
Summer Eye Look
.
Be sure to click on the thumbnails below to see what my fellow Makeup Wars bloggers are loving for their Summer Manicures! :)
As always, thanks for reading!
XOXO!!!