Affiliate Link
Press Sample
Are you looking for an online source for high-end Asian beauty brands? Many times Asian brands launch hot new products (like BB Creams) years before they hit the US. We all know how hard it can be to get our hands on some of these amazing brands! Look no further than
Peach & Lily
!
Peach & Lily
is an e-commerce site bringing you the best beauty products from Japan & Korea.
Peach & Lily
has a nice lineup of Asian Beauty products.
Peach & Lily
offers both best-sellers and best reviewed products: Sheet Masks from Korea, makeup from Clio, BB Creams from Sua Young, detoxifying charcoal soap from Morihata Japan, hyaluronic acid, collagen and peptide serums from Mizon, and much more!
I tested out a couple items from
Peach & Lily
: The Clio Eyeguard Liner and the Mizon Aqua Gel Cream. To hear more about these items and see photos and a video tutorial, please click "read more" below!
The Clio Eyeguard Waterproof Liner
:
I am so impressed with this eye liner!!! The ergonomic design of this liner makes it incredibly easy to hold and manipulate. Therefore, you get better results! They key with creating a perfect line is your tool/product! This liner seriously makes creating an inky black line so easy. This liner is great for beginners, anyone who struggles with applying liquid-type liners, or just anyone who wants great results with ease.
I love the deep and dark inky black line that this Clio Eyeguard liner creates! It goes on so easily and smoothly. No running nor smudging! Plus, this liner stays put like nothing else (it is waterproof!!!).
The Clio liner is incredibly comfortable to hold and easy to manipulate. When I first saw it, I was almost a bit skeptical. However, I quickly got the feel for it in my hand and fell in love with it! This is a fabulous product for creating winged liner!
The Skinny:
The Clio Eyeguard Waterproof Liner is available at Peach & Lily for $23
Check out this Video Tutorial from
Peach & Lily
:
How to Create the Perfect Everyday Smoky Eye
(with Clio products)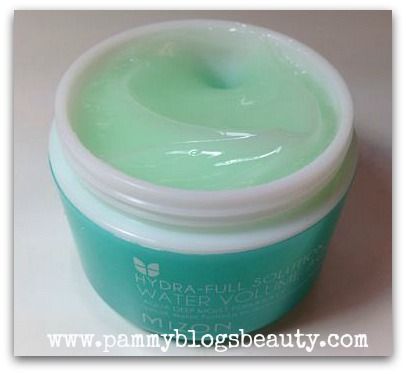 Mizon Hydra-Full Solution Water Volume Aqua Gel Cream
:
This is the perfect moisturizer for Spring and Summer!!! My combo skin gets much more oily when the weather gets warm. So, this light weight moisturizer is just perfect for this time of year! I can use this moisturizer knowing that it will not break me out nor make me feel greasy.
A refreshing cream that hydrates and calms skin without irritating it or leaving it filmy. Complexion is left silky smooth and firmed as moisture is retained in the skin. A bestseller and favorite for the gentle and potent hydrating power and A-list ingredients. Ideal for all skin types, especially for oily and acne-prone skin.
This refreshing gel moisturizer feels incredible going on the skin. It is so lightweight and it just sinks right in. My skin is left feeling hydrated and cooled. It seems to plump my skin nicely and soothe any irritation. This huge tub will last me a long time! I especially like to use this soothing moisturizer after doing a skincare treatment like a home peel. It really soothes my skin and hydrates it.
I like this Mizon Aqua Gel Cream so much that I would like to explore the rest of the Mizon skincare line. I like having a moisturizer that I can trust to give my skin hydration without causing breakouts. If you have combo, oily, or acne-prone skin, I highly recommend checking out this Mizon Aqua Gel Cream!
The Skinny:
If you are looking for an online source for Asian Beauty brands, be sure to check out
Peach & Lily
!
I would love to know, what are your favorite Asian brands? I would love to try more!
Thanks for reading!
XOXO!!!