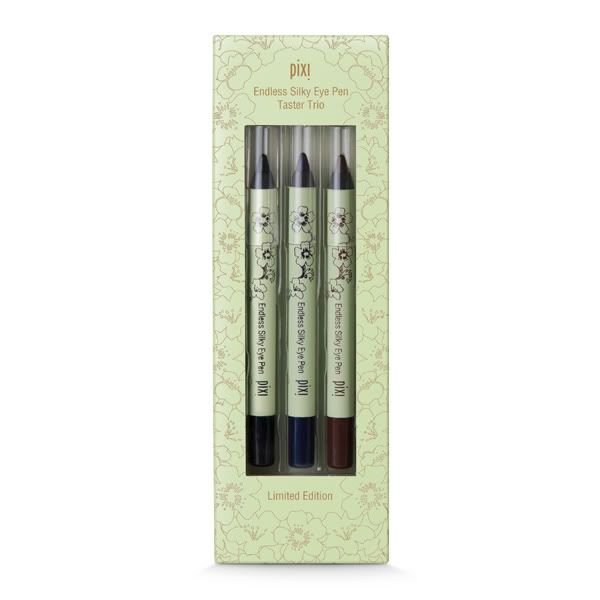 Do you love the look of liquid liner but love the ease of a pencil? Well, then these liners from Pixi might just be for you! There were so many cosmetics value sets released around the holidays. This set is for sure one of my faves!
Pencils are just so easy to use in general. But, when you combine the pencil ease with a lovely creamy gel-like formula application truly becomes a breeze.
Ever since I tried Urban Decay's 24/7 liners, I have been totally spoiled. You can get the look of liquid today in a pencil form! These
Endless Silky Eye Pens by Pixi
are very, very similar to Urban Decay's 24/7 liners at a more reasonable price. Plus, this limited edition 3-pack "Taster Trio" gives you an even better deal!
So, what's the skinny on this trio set?
Pixi Endless Silky Eye Pen: Taster Trio:
Pixi Endless Silky Eye Pens normally retail for about $14 each. This trio set offers 3 mini best seller silky eye pens for only $12. Now that is a great deal!!! The pencils are each 3 1/2 inches long. This is a great value!!!
Shades in set:
No 1 BlackNoir: intense black
No 3 BlackTulip: darkest lilac
No 4 BlackCocoa: deep brown
Formula and Application: These waterproof pencils glide on like a dream. Effortless. Quick. Love! I love how this formula doesn't tug at the lids like a traditional liner. It just feels so gentle going on. The formula is very soft and it just melts into your skin and then sets to a long wearing line. You have plenty of time to blend the formula before it dries. But, once it dries, it sets and absolutely does not smudge on me (I wear on upper lash line).
My one critique is that the product is so soft that it wears down quickly and needs to be sharpened often if you want to work with a sharp point. I am sure that I will go through these quickly. The product can be tricky to sharpen too. So, an easy remedy is to make sure the pencil is cold enough for sharpening. You can just pop it into the freezer or fridge for a minute to get better results from sharpening.
I have been reaching for these frequently and really enjoy using them. I really like using the darkest lilac shade as I just don't have another liner in my collection quite like it! I am not sure how long Pixi will be offering this value set. It is still on the website. So, if you are thinking of trying this type of pencil, then this Taster Trio set is a great deal! Check out the photo below of colors in the full sized Eye Pen Collection.
Thanks for reading!