Us
Makeup Wars
bloggers are at it again! This time we are battling it out over who can create the most expensive face. I know, we are nutty!!! lol But, I love that about us!
You may remember our
$20.00 Makeup Challenge
? Well, this Most Expensive Face challenge is the antithesis of that. We are trying to create the most expensive face that we can with items that we already have on hand. I am talking the whole face here my dear readers: skincare, beauty tools, and makeup. Yikes!
I think that participating in this challenge will be eye opening. As much as I like my expensive skincare, makeup, and tools, the vast majority of my beauty collection is inexpensive. Actually, I pride myself on discovering inexpensive beauty gems that work just as great as high end products. But, when I need to, I can whip out some pricey items from my collection. While I don't buy expensive items as often, I find that when I do, I use the crap out of them! For me, expensive items are typically VERY well researched purchases. I will often test samples of expensive items extensively before even considering purchasing. So, my point is that my collection really is a mix of high end and inexpensive items. If an item works for me, I like it reguardless of price.
Disclaimer:
I feel that this
Most Expensive Face
post really does need a big disclaimer. I truely and honestly believe that you do not need to spend a lot of money to look like a million bucks! You can easily find high quality skincare, makeup, and beauty tools at drugstore prices. So, please don't read this post with a mind-set that you *should* create the most expensive face that you can. In real life, I never set out to use the most expensive items that I can. Nor do my total face looks usually contain all expensive items. Typically, my face is done with a total mix of high and low end products. This post is just for fun ya'll! Also, keep in mind that I am a beauty blogger and I collect beauty products and makeup. These products have been collected over time. I certainly could not afford to go out and get all these items at once. Whew!!! As a blogger, I get professional samples of products and have a wide variety of expensive and inexpensive items at my fingertips (without having to break the bank). Many of the items in this post I purchased myself; but, also many others were professional samples.
I know that even though I am not "that high end" that my total will be WAY too expensive. Especially since Skincare is included. So, lets find out what it takes for me to create my Most Expensive Face!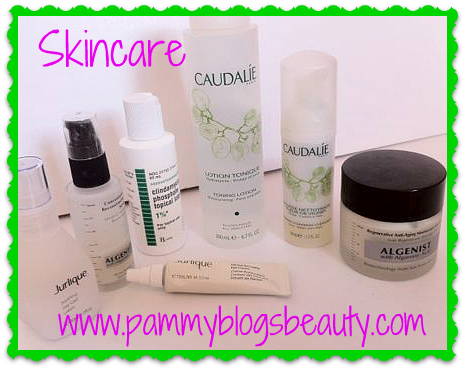 Skincare:
I am in the midst of product testing and my skin is sensitive. So, rather than just picking out what I could use that is the most expensive, I pretty much just pulled from products in my current skincare rotation and/or current products that I am testing. Sure, I could have pulled items that were more expensive. But, I don't want to throw off my product testing.
Tools:
Honestly ya'll, my tools are just not expensive. Sure, I have a stray expensive tool here and there; but, mostly I just love my everyday mid-priced brushes from brands like Sigma and Real Techniques. Shoot, I even love some of my elf Studio brushes! With great brands like Sigma and Real Techniques I figure...why pay more? So, the tools that you see listed here are my everyday staples! I love all of these brushes and tools!!!
Makeup:
This is where I really tried my hardest to pull expensive items. I pretty much just went through each category and picked out the most expensive item that goes with each category (lipgloss, blush, etc).The way I really "upped the bill" was to pull palettes rather than single items for blush and eyeshadows. That really automatically made the cost skyrocket. Sure, palettes are generally a "good value"...but, when you compare the cost of a single eye shadow versus a whole palette...well, you can guess which one costs more.
So, ya'll know the drill. My "Most Expensive Face" items are listed below. If you are curious about what my fellow Makeup Wars bloggers picked for their expensive faces, please click on the links in the very bottom of this post. Also, if you want to scroll through our collective blogs at your leisure, be sure to hit the "previous" and "next" buttons on the graphic at the top of this post.
In an attempt to "not be wordy" (I know, I know...this is HARD for a verbose blogger like me...I am literally just going to list the product and the approximate price). It is so hard for me not to give a mini review of each item!!! What I will say here: I am thrilled with how my "Most Expensive Face" turned out!!! The colors all work well together and the overall effect was very flattering. Many of the products that I used to create this face are favorite products. If I have reviewed them already, I will link the review in the list. If the product is a fav, I will note that to the side too! Also, some of the products (especially the skincare) are products that I am testing for review. I will note "review coming soon" if that is the case. See...you guys figured, I can't just write a "list". ;)
Here it goes! Pammy Blogs Beauty's "Most Expensive Face"
:
Skincare:
Caudalie Instant Foaming Cleanser ($26.00)
Caudalie Toning Lotion (fav!) ($26.00)
Clindamycin Topical Lotion (almost didn't include as it is a Rx, but trying to keep it real! (fav): This is the generic. I think it was about $10.00.
Jurlique Soothing Day Care Lotion (review coming soon!!! Be sure to enter my Jurlique giveaway linked at bottom of page): ($36.00)
Jurlique Herbal Recovery Eye Cream (review coming soon!!!): ($40.00)
Skincare Total: $323
Tools:
No, I don't normally use this many brushes or tools on a daily basis. :) Just wanted to use as many as I could here to increase my $ for the challenge!
Concealer Brush: LA Minerals ($12.00): Shame on me for not reviewing this sooner! I love this brush. It is the perfect size!!! (fav)
Japonesque Safari Chic Bronzer Brush (used for powder application) ($29.95) Be sure to check out my full review! (new fav)
Bare Minerals Face Brush (used for blush) ($28.00): I am not sure if they make this exact brush anymore. It is OLD. Found the closest match.
Sigma F80 Flat Top Kabuki: (for foundation) ($16.00): Love, love, love this for foundation! Be sure to check out my full review! (fav)
Sigma F25 Tapered Face (for bronzer/contouring): ($22.00)
Smashbox Travel Tapered Shadow Brush: Freebie (I believe I got this as a GWP from an Ulta.com order)
Tweezerman Pro Lash Curler:($20.00) (fav) Love this rose gold curler!
Real Techniques Contour Brush: ($17.99) this is part of the core collection kit. Perfect for highlighter!
Bobbi Brown Ultra Fine Eye Liner Brush: ($25.00)
essence of beauty Crease Brush: ($5.49) Part of a 2-brush set
Sigma E55 Eye Shading Brush: ($9.00)
Sonia Kashuk Crease Brush: ($9.50)
Tools Total: $194.93
Makeup:
Urban Decay Build-Your-Own-Palette with 5 Eyeshadows used: ACDC, Mushroom, Verve, Walk of Shame, Polyester Bride ($18.00x6=$108.00 total)
NARS Danmari All About Cheek Palette: I used the Orgasm blush in this palette (full price for palette with 6 cheek colors: ($65.00)
Omorovicza Complexion Perfection BB SPF 20: ($135) Pricey for a BB Cream/Foundation! In this case: so worth it!!! (fav)
Napoleon Perdis Bronze Patrol: ($50.00): (fav)
Dermablend Setting Powder: ($19.00)
Dior Diorskin Amber Diamond: ($44.00) (fav!) Most gorgeous highligher!
Too Faced Shadow Insurance: ($18.00)
Amazing Cosmetics Amazing Concealer in Fair: ($28.00)
MAC Prep and Prime Vibrancy Eye Primer ($30.00) (fav)
BeneFit Bad Gal Lash Mascara: (freebie!) I think I got this with my Sephora Insider points? Normally it is $19.00
Laura Geller Inkwell Gel Liner: ($16.50)
Anastasia Tinted Brow Gel in Carmel: (I got as part of the See and Be Seen kit, normally it would be $21.00)
Mai Couture Social Gloss ($28.00)
Pop Beauty Concealer Duo: ($24.00)
Dior Addict Lip Glow: ($29.00)
Makeup Total: $621.50
Total: $1139.43
*Note: I realized after taking the photos and creating this post that I think I included more skincare than I needed to (and this inflated my price). Were we just supposed to include skincare that is on our face before makeup? If so, eliminate all of my skincare list except for cleanser and SPF! That brings my skincare total down and my overall total down to $932.43
Here is how it turned out!
The overall effect is very natural and flattering!
YIKES! That is just ridiculous ya'll! Like I said, no one needs to spend this much on makeup at one time. If it wasn't for my years of collecting and professional samples, there would be no way that I would amass such a crazy expensive amount of makeup. Nor would I necessarily wear all these products at one time. I really just kept adding and adding things trying to see if I could build a ridiculously expensive face. It looks like I succeeded in that.
The total is a bit mind-blowing. High end beauty products really add up quickly when you look at the cost of things cumulatively! I think the take-away point here is to pick what you want to splurge on. Know that there are many great drugstore options out there!
Be sure to check out my fellow Makeup Wars Blogger's Blogs to see what their totals were!
Thanks for reading!
Some items I bought myself and
some I got samples of.