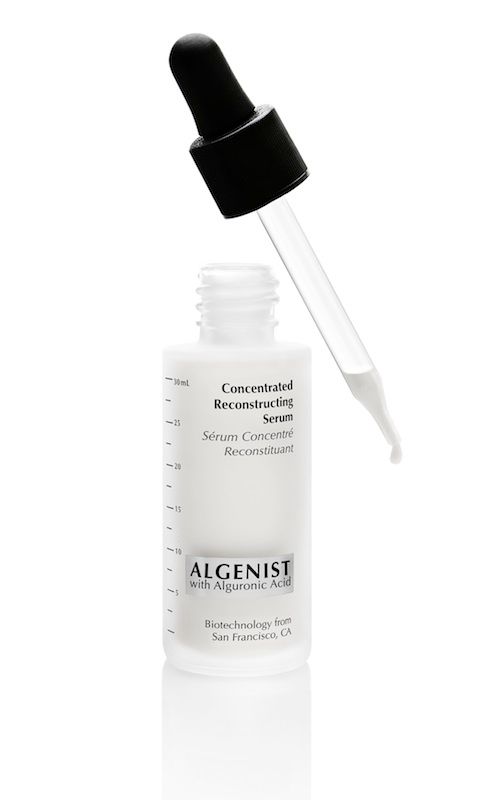 Are you looking for innovative skincare that is scientifically based and proven effective? Look no further than the new Algenist line of skincare! So far, I have had a really great experience with the brand. If you missed it, a few weeks ago I reviewed
Algenist Complete Eye Renewal Balm
and
Algenist Regenerative Anti-Aging Moisturizer
.
What is Alguronic Acid and what does it do?
The story of the discovery of Alguronic Acid is an interesting one. Sometimes the best discoveries are the accidental ones! Algenist's research claims that Alguronic Acid is even more effective than proven skincare powerhouses Retinol, Vitamin C, and Hyaluronic Acid! This is promising news. There is a lot of potential here!
A team of biotechnology scientists in San Francisco, California, focused on developing microalgae-based renewable energy solutions, unexpectedly discovered Alguronic Acid, a powerful compound responsible for regenerating and protecting the microalgae cell. When scientifically tested, Alguronic Acid demonstrated significant anti-aging properties, increasing elastin synthesis by up to 32%* and cellular regeneration by up to 55%*.
Algenist is a brand based on Alguronic Acid. Actually, they are the first brand to introduce
Alguronic Acid
in the skincare market.
So, back to the serum! I am totally blown away by this serum! After about 6 weeks of testing, I can tell you that this product really worked for me! To find out more details about the product and my experience, please keep reading!
It is official: I have fallen in love with this serum!!!
Algenist Concentrated Reconstruting Serum:
If you are looking to really discover the benefits of Alguronic Acid, look no further than Algenist's Concentrated Reconstructing Serum. This serum is formulated with a high concentration of the brand's famous and brilliant new ingredient: Alguronic Acid. This product will help to
rebuild skin firmness and elasticity while restoring skin density...Wrinkles are minimized and radiance is boosted.
Whenever I am looking to get the most "bang for my buck" with skincare ingredients, I reach for a serum. As the name suggests, this product is concentrated. You are delivering the very effective Alguronic Acid right to your skin! When you layer skincare products, serums should always be the first thing you apply to your skin (for better absorption of product). My order of products: cleanse, apply serum, apply moisturizer.
Algenist Concentrated Reconstructing Serum:
-Restores skin density and elasticity.
-Minimizes deep wrinkles.
-Tightens and lifts the skin.
-A high concentration of Alguronic Acid: increases cell regeneration and elastin synthesis.
-Tetrapeptide-21: boosts collagen synthesis and reduces wrinkles.
-An algal-based alternative to retinol (vitamin A): increases skin density and reduces wrinkles.
All Algenist products are formulated without: Parabens, Sulfates, Synthetic Dyes, Phthalates, GMOs, and Triclosan.
After cleansing my face in the mornings and the evenings, I apply this serum. So, this serum goes on
before my morning sunscreen application and my nighttime moisturizer. I use about 1 1/2 pumps of
The product absorbs quickly and sinks right into the skin leaving it feeling fresh, somewhat tightened, and lightly hydrated. A very slight and dewy sheen is left behind after product absorption.
This serum has a gel/serum feel (but not like a silicone based serum). It has a bit of slip to allow for nice application. Yet, it is non-greasy and just sinks right into your skin. The serum has the trademark Algenist "scent" (it is not an added scent, it is just the natural and almost medicinal smell of Algenist products). The scent is very light. I find that the scent is very appealing after you get used to it.
The product is packaged in a glass bottle with the option of either a dropper or a pump style top. I opted to put the pump in. I think it is so nice that you get the "option"! I always prefer products with a pump.
My Results:
I am so impressed with this serum! Honestly, my skin looks the best that it has in months! The texture seems smoother and the skin looks and feels more "plump". I have also noticed that there has been a subtle change in my skin's tone: I just look more "even". I have never had any major dark spots. But, the light ones that I had seem lighter. In addition, my skin is nicely hydrated. I am really thrilled with the results!
The Skinny:
Concentrated Reconstructing Serum retails for $95.00 for a 1 fl oz bottle.
Available at Sephora, Sephora.com, and Algenist.com
I give this product my newly-designed
PBB Stamp of Approval! :)
Thanks so much for reading! Stay beautiful!!!
XOXO