Ya'll know that I have been on a massive foundation hunt lately with my
Foundation Fairy Series
. I don't know what it is, but I just seem to go through such phases with my makeup. Right now, I am determined to find my perfect shades in both drugstore and higher end foundations.
Having such fair skin, it really is a feat to find a good shade match. Many ranges just simply do not go light enough for my porcelain skin. That is why Almay's Smart Shade Liquid Makeup really appeals to me. A self adjusting makeup? This has to work in a fair girl's favor, right?
Another thing that I struggle with (besides trying to find a good foundation color match) is my large pore size. Honestly, besides my dark under eye circles, my large pores are the bane of my existence. My skin is overall pretty good. It is fairly even toned and it rarely breaks out. But, my pores, yikes! Most foundations just seem to sink into my pores and emphasize them. While I do not need primers to increase my foundation wear (as my skin is not oily), I do need primers to function to "fill in" the pores and allow my products to apply more smoothly. I hate adding another step to my busy makeup routine. But, if I want a flawless face, I really need primer.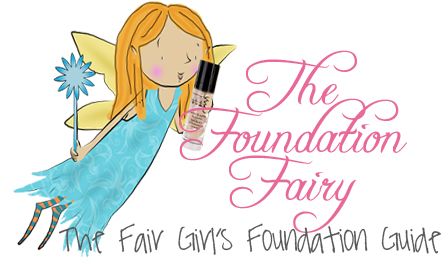 With my fair skin and large pores in mind, I am excited to test out these products from Almay! To see my reviews for
Almay's Smart Shade Liquid Makeup and Smart Shade Perfect & Correct Primer
, keep reading!
Almay's Smart Shade Liquid Makeup with SPF 15: Skintone Matching Makeup!
The whole idea behind self-adjusting foundations is that the product "magically" adjusts to your skin tone. Well, I know that there really isn't any real magic involved. Darn! I really want to whip out a Harry Potter incantation when I put this on my face! Foundation on, wand out, Foundation-amous! lol!!! Okay, sorry...I digress, if you haven't figured it out already. I am a bit of a dork! lol!
So, alas, we know that there is no magic here. So, how does this product adjust to your skin? Well, the skin tone pigments are suspended in the foundation base. They look almost like little dots or beads. As you apply the foundation and work it into your skin, the pigment gets released and it distributes.
I am testing out Almay's Smart Shade Liquid Makeup in shade #100 light pale. As I mentioned above, the product comes out of the tube looking whitish with pigment dots. As you blend it into your skin, the pigments "adjust" and it becomes a sheer-light foundation. I find that the shade works quite well for my fair skin!
The foundation is sheer enough that it will likely work with a range of skin tones. The finish seems natural and I really like how this looks on my skin. If you are looking for coverage, you will likely need concealer in addition to this foundation. I just just use under eye concealer with this and just a touch of concealer to cover the redness by my nose.
I like this foundation! I like it even better when paired with Almay's Smart Shade Primer. Also, I love that this foundation has a SPF of 15. If you are looking to a sheer-light foundation/tinted moisturizer. You should scope this out!
The Skinny:
1 oz tube retails for about $13.99
Comes in 3 shades.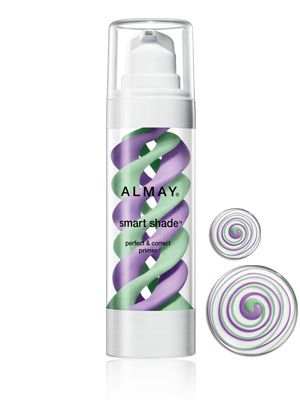 Almay Smart Shade Protect & Correct Primer:
I am such a sucker for products with cool packaging! This primer comes in a clear tube which reveals the super cool and twisty pattern of purple and green pigments. You may remember that I am crazy about my
Napoleon Perdis Nude Bar Off Duty Tinted Moisturizer
that has the same sort of cool tube design.
This primer claims to both soothe and color correct your skin. I find that this primer is primarily a nice gel moisturizer. While it is really too sheer to do much in the area of color correction, I still really like it. My skin always seems to need that extra boost of moisturizer. But, I don't want to end up looking greasy either. I find that when I add the extra step of applying this before my foundation, my skin ends up looking better and more hydrated all day.
A makeup artist at Sephora once told me that primer was just a "lazy person's moisturizer". I have to lol at that comment. Often I do skip that extra step of adding moisturizer because usually my sunscreen contains enough moisture for me. But, maybe I am one of those "lazy people" that needs a hydrating primer to "make" me moisturize. :) I keep this product right next to my foundations in my makeup drawer and I now add it every day.
The Color Correcting Pigments, Feel, and Wear:
So, as I mentioned, I did not find that this did much for me as far as color correction. The product comes out of the tube looking quite strange indeed (but don't be scared!). It looks like purple and green in a gel base. As you blend it in, it becomes a greenish shade. I think that it does slightly color correct. But, the product is quite sheer. So, the result is subtle. Any result you see would be covered by your foundation anyway. It leaves behind a bit of a sheen and the product is just a tad bit sticky after it sets. I use about a 1/2 pump amount for my whole face.
My Pores?
This does not seem to be a primer that promotes "filled in pores". With that said, the combo of this primer plus the Smart Shade foundation does not seem to emphasize my large pores. Yay! Or maybe my pore issue is just not as bad as I thought? Either way, my pores do not bother me when I am wearing these two products together.
The Skinny:
Smart Shade Perfect & Correct Primer retails for approximately $13.99
If you are looking for a very sheer tinted-moisturizer type foundation and a hydrating primer, you might want to check out these options from Almay!