A kabuki love-affair (lol!)
Hello there my dear readers!
While I am a long-time makeup lover and beauty enthusiast, I am just beginning to delve into the usage of
professional quality makeup brushes
for makeup application. Anyone else out there like me in that regard?
I mean, I have a scattered assortment of some higher end brushes from lines like MAC, Bobbi Brown, and Smashbox. But, for the most part, my brush collection consists of drugstore/inexpensive brushes. I just haven't been able to bring myself to the point just yet of investing in a full set of professional brushes. I mean, can you imagine the cost of a full set of MAC or Bobbi Brown makeup brushes??? OMG, I just wouldn't be able to afford that, nor could I justify the expense when there are less expensive brushes on the market. Because, lets face it, while I am cosmetically inclined, I am not a professional makeup artist.
So, with that said, you can see why I am so excited about finding out about the
Sigma line of makeup brushes
!!! This line delivers extremely good quality professional caliber makeup brushes. According to everything I have read online or heard on YouTube, these brushes are totally comparable to higher end brands like MAC, but at a fraction of the cost! I would describe these as "mid price" brushes. They are not "cheap", but they are not expensive either. They seem to be a great value for a reasonable price.
Now, don't get me wrong, I still LOVE all my drugstore/inexpensive brushes. These have served me well for so many years. My collection of brushes is from brands like
Ecotools
, e.l.f.,
Essence of Beauty
, Ulta, Sephora brand, and
SpaResource
. I will continue to use all of those! But, as I continue to "build" my brush collection, I would love to start adding some real professional caliber brushes from the Sigma brush line as I know those quality brushes will last me forever and will be a pleasure to use!
So, now, on to the review for the
Sigma F80: The Flat Top Synthetic Kabuki Brush
(keep reading)!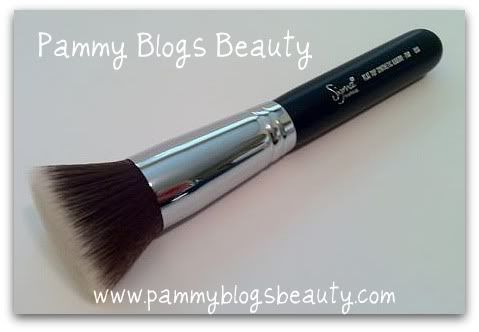 Sigma "Sigmax" High Definition Brushes:
The Flat Top Synthetic Kabuki (F80)
Wow!!! Let me just start out by totally raving here! This brush has totally and completely changed my outlook on liquid foundation application!!! I absolutely adore this brush!!!
Now, I must say, as an avid powder foundation devotee, liquid foundation application has never been my forte. I have always preferred powder foundation because of the quick "down n dirty" application with a big fluffy brush. I mean, it doesn't get any easier than swirling a brush in powder and fluffing it on your face. With powder, I am "done" with application in 5 seconds. Liquid foundations have just always seemed more laborious to apply than powders: dealing with the liquid, the blending and smoothing, etc. But, I am happy to say that with this Sigma F80 Flat Top Kabuki, liquid foundation application has become *just as easy* for me as powder foundation application. YAY!!!
LOL, could this brush be, gasp, life changing??? Yes!!! As someone with dry skin, liquids are really what I should be using. Now, I don't need the "fuss" of liquid application to hold me back, because honestly there is no "fuss" when using this great brush!
The "Skinny" on this brush:
The F80 Kabuki feels so good on your face its like getting a little mini facial massage when you apply your foundation. LOVE the feel of this!!!
The Brush itself: This is a very dense and soft flat topped kabuki brush with a long black handle. The brush hairs are just about the softest that I have ever felt. They are very dense which allows for a really flawless and even foundation application.
This F80 brush has revolutionized my liquid foundation application! It is quick and easy with this brush!!!
This brush is totally unlike other foundations brushes and applicators that I have used in the past! Perfect streak-free even distribution of product without the brush "sucking up" your foundation. The "classic" shape foundation brushes usually leave me "streaky", using your fingers is "messy", and sponges soak up so much product. You will not waste any product when using this brush!
What a great price! Only $16 for a professional caliber brush! Not drugstore cheap, but not as expensive as High End/professional quality brushes!
This brush has a nice and sleek design. The style looks very much like a MAC makeup brush. Sleek and professional with its black handle and silver ferule.
Washing: No problem. I didn't experience any shedding when washing this brush.
How I apply liquid foundations with the Sigma F80:
It is so easy-peasy my dears!
Dot 5 small "spots" of foundation on my face (forehead, both cheeks, chin, and nose).
Spread out and blend with brush. I use a somewhat circular sweeping "massaging" motion. You will notice that your foundation blends seamlessly and effortlessly into your skin.
That's it!!! The brush does all the "work" for you!!! It just smooths and blends it all in beautifully!
The brush evenly distributes your foundation and gives you flawless coverage. Your foundation will just look completely blended into your skin. Truly, it blends so well that my foundation is virtually undetectable! My skin just looks like even flawless skin! Now, who doesn't want that!!!
My closest comparison to this brush:
(the e.l.f. Powder brush vs. the Sigma F80):
At first glance, I thought, "this is just like my
e.l.f. Powder Brush
". Well, let me tell ya, there is a world of difference here. While I do love my e.l.f. powder brush, it is far from perfect. These brushes both have flat tops, are synthetic, and are super-duper soft!!! They are both great for applying powder and liquid foundations.
So, here are the differences:
Price, the e.l.f is only $3.00. The Sigma F80, as I mentioned above is $16.
The Sigma, is no question, of a much higher quality than the e.l.f. powder brush. When you actually hold them both and compare. The Sigma is clearly much more "Sturdy" and better made. The ferule on my e.l.f. brush is already loose after a few months of use despite my very gentle care when washing.
The Sigma's brush hairs are much shorter and denser. Because of this, the Sigma brush "bends" less when applying and blending foundation. I think that this gives it the "edge" against the e.l.f. brush.
The e.l.f. brushes is wider. I think that this brush is somewhat better suited for powder application than the Sigma because of its larger size.
I prefer the Sigma over the e.l.f. for liquid application hands-down. My e.l.f. brush absorbs WAY too much product into the brush (too much wasting of foundation!). I absolutely do not have this problem with the Sigma F80.
Using this brush makes me *excited* (lol) to apply my foundation in the morning. Foundation application has actually become a very soothing ritual for me! Its all because of this great brush!!! LOVE it!!! So, yes, this brush has revolutionized my foundation routine and truly made me a lover of liquid foundation. This brush allows your application to look so light and natural...like you aren't even wearing makeup! I have never gotten such seamless liquid foundation coverage before. In the past, liquid makeup felt so heavy on me. Well, not with this amazing brush!!!
If you can't guess already, I highly recommend this awesome
Sigma F80 Flat Top Kabuki brush
as I am totally in-love with it (lol)! I think it is a must-have for any makeup savvy girl's brush kit!!! Sigma-users, I would love to hear what other brushes you love from this line as I contemplate future orders!