When I think of
Anastasia Beverly Hills
, I think of great brow products. Well, this brand has got much more than that! Their new for Summer 2012 limited edition "
See and Be Seen
" Kit is a collection of products for your lips, eyes, *and* your brows. Plus, after seeing this cute little box, I just couldn't wait to dig inside! Ya'll know me. I am a total sucker for cute packaging. The good news: the products inside are just as pretty!
Have you ever tried Anastasia Beverly Hills products? If not, the
"See and Be Seen" limited edition kit
is a great way to try out a variety of items from this line or to stock up on items if you are already a fan!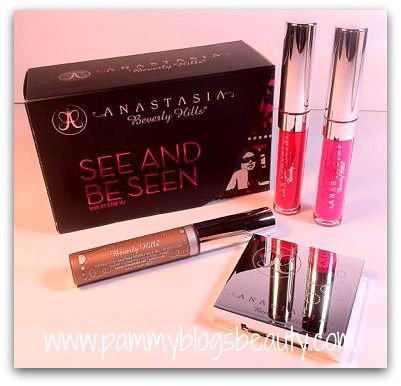 The Skinny:
The "See and Be Seen Kit" retails for $44.00 (kit value is $80).
It is available for a few more weeks at Sephora and Anastasia.net.
What is inside?
HydaFull Gloss in "Heiress" and "Plastic"
Carmel Tinted Brow Gel
Shadow Duo in "On Set"

This kit is so cute! I think the colors are so perfect for summer! I like going really neutral with my eyes for summer and punching up the "color" with some bright lips. The products stand well on their own, but also they pair beautifully with each other!
HydraFull Gloss colors in Heiress and Plastic:
Heiress is a bold coral-pink and Plastic is a vivid blue-based bright pink. They are semi-sheer: Like a gel with an intense tint. They are super duper sticky and also very shiny. Heiress has some slight sparkle too. Also, they have a (slightly vanilla?) scent. The applicator is unique. It is almost like a little spatula instead of a typical doe-foot or brush. It gives the feeling like you are spreading the gloss on your lips as if you were icing a cake. Cool! I have honestly never tried a gloss with this type of applicator.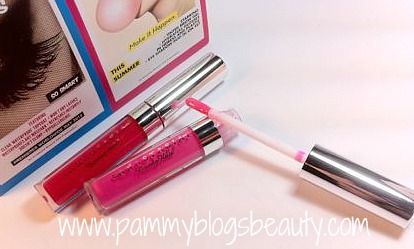 Wow! These glosses are so vibrant and bold. What beautiful glosses for summer! I tend to go with less eye makeup in the summer. So, I like to spice things up with a bold lip! Plus, I am all about Vibrant pinks lately. So, I am nuts about the gloss in Plastic. This has potential to be my "going out" lippie for Summertime!
These new limited edition bright summer colors were created specifically for the theme of "Make It Happen" and are not available anywhere except in the See and Be Seen Kit. Anastasia's Hydrafull Glosses contain lip tint to maintain longer lasting color while maximizing lip hydration and fullness.
I will admit, these glosses are what I am most excited about in this kit! Why? Well, besides the gorgeous colors, I am so enthralled with the fact that the tint of the gloss lingers on your lips. Lip tints are so "now" and so fresh. I think there is something effortless about a lingering lip tint. So, after that pretty high-gloss shine wears down (we all know that lipgloss only lasts for so long!), you get a pretty tint. I am liking this!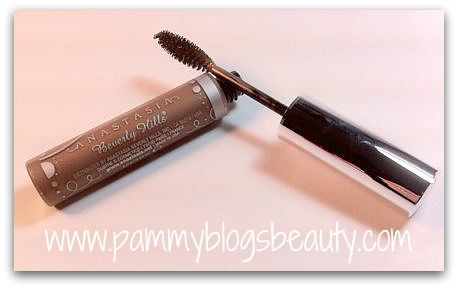 Caramel tinted Brow Gel:
I am a huge fan of Anastasia's Brow Gel! In the past, I have used the clear; but, this tinted gel is a nice option too!
As any girl (like me) with unruly brows knows, brown grooming is the key to looking polished. Your face just isn't fully finished without some brow grooming. I don't often fill mine in. But, brow gel? That is a daily essential for me. Usually I use clear mascara. But, also I have used Anastasia's clear brow gel in the past with great results.
It is a nice switch to try a brow gel with a tint. The brow gel offers hold and brow control with some metallic color. After using this I realize that I really do prefer a brow gel over a clear mascara. Brow gels offer so much more control. While I have blonde hair, my eyebrows are very dark. So, the color of this brow gel didn't really show up much on me. But, the metallic shine does add a little bit of "oomph" to my eyebrows (lol, can eyebrows have oomph?). If you have lighter eyebrows, this color might show up better.
Anastasia's brow gel sets your perfect brow look with a hint of tint and is fortified with botanical hair conditioners and essential oils to keep brows feeling as great as they look.
ILLUMIN8 Shadow duo in On Set:
What a nice shadow duo! This is my first time trying Anastasia's shadows and I am so totally impressed!!! The Texture? Buttery! The pigment? Highly pigmented! The finish? These shadows have a nice metallic shimmer. The packaging is totally cute too. I is a mirror-finish little compact with a mirror and applicator inside. It is sleek and expensive looking.

The shades are both medium toned browns. One is golden/rust type shade and the other is a coppery shade. I like wearing the rust color on my lid and the copper on the outer corner and through the crease. These pair beautifully together and really work to bring out my blue eyes. The shades seem to lean a bit towards warm (I am neutral-cool toned; but, was still able to pull off these shades).


ILLUMIN8 Eye Shadow Duos are designed to illuminate the appearance of skin while also soothing, softening and hydrating.
I am quite impressed with the texture, pigment, and overall quality of Anastasia's shadows!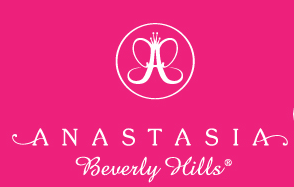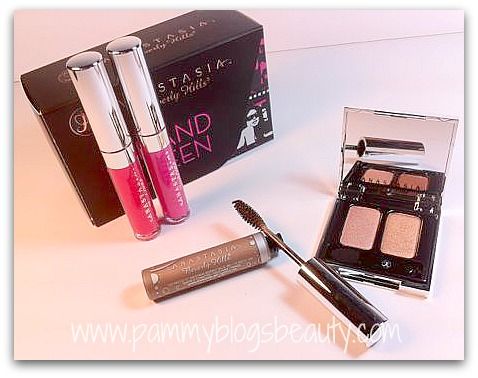 If you are looking for a great kit for summer, search no further than this adorable kit from Anastasia! I think the glosses are the stand-out items in this kit! LOVE the colors and the shine!!! Keep in mind that the glosses are sticky. However, I always wear my long hair in a ponytail during the summer. So, getting my hair stuck in the gloss is not an issue for me. :)