My goodness, do we all really *need* another neutrals palette? Um, well...if it is as good as this brand spankin' new one from
Anastasia Beverly Hills
...then, heck YES! I know, lol, I need another nudes palette like I need a kick in the head. I have the original UD Naked, the Naked 2, the Nude'tude palette, etc. You got the idea? Even if you already have a handful of Nude palettes, this new one from Anastasia is definitely worth checking out!
So, my
Palette Princess
palette review series continues with this review of the
"She Wears It Well" palette from Anastasia Beverly Hills
. My
Palette Princess
series speaks to the "princess" in all of us. We all want to find our perfect "princess pretty" moment with a palette that is close to perfect! Will we be able to find that perfect palette? Will this one be "the one"? So, join me for this series because you are serching for your perfect palette too! Or, just join because you are a fellow palette collector like me!
She Wears It Well:
Well, it looks like I am not the only one that thinks that this palette is amazing and worth checking out: As I write this article, it is already sold out online! I am not surprised at all!
She Wears It Well was inspired by...women of the 1930's. Anastasia created (the) She Wears It Well Eye Shadow Palette to bring the drama and beauty of Hollywood's golden age to the modern girl. The She Wears It Well Palette consists of 9 versatile matte and shimmer high-pigment eye shadows that offer long-wearing and crease-free color. This palette can be worn dry for a sheer wash of color or wet for an intensified finish! The matte shades have a velvety smooth finish for a crease-free eye while the shimmer shades are clinically proven to firm, hydrate, and reduce the appearance of fine lines and wrinkle.
To find out more about this palette and to see photos, swatches, and a video tutorial, please keep reading. :)
The "She Wears It Well" Palette from Anastasia Beverly Hills:
This brand new palette from Anastasia features nine, pigment-rich, matte and shimmer shadows in neutral nude shades.
Nude meets knockout with this pretty palette which offers shades in Trophy, Glow, Latte, Foxy, Sunset, Frosting, Almond, Onyx and Toffee. No matter how you wear them, you're sure to wear them well.
Just as the name suggests, these are very easy to wear shades that most people can wear very well! The shadow selection is just right!
The Packaging:
This palette is just beautiful. It is sooooo elegant! I will fully admit to being a sucker for great packaging. This packaging really does have a ritzy vintage flair that just reeks of glamour. The outer boxing/sleeve is a pretty pinkish purple with a metallic prism-like design. You slide off the sleeve to reveal the palette itself. The palette's outer design looks a bit like a vintage suitcase. It is black with copper/gold detailing and it has a faux leather texture. The palette itself has a slim design. I love that the packaging is not overly bulky. This makes it ideal for travel! Also, there is a little dual ended brush included in the kit. It is super tiny and the brush heads are small too. While it is not what I will typically use (as I usually prefer to use my usual brushes), it is not bad.
The Palette Itself: The Layout and Organization
One of the things that I really love about this palette is the design/layout of the shadows. For me, palette organization is key for useage! If the shadows are laid out in good trio/quad arrangements, then I automatically know how I would like to apply them. Such is the case with this palette.
The shadows are basically arranged in two quads with a big "sunset" shadow in the middle. The left side has a shimmery neutrals quad and the left side has a matte quad. Personally, I love that there are both matte and shimmer in this palette. As much as I love and tend to gravitate towards shimmery shades, nothing beats a good matte shadow to complete a look. You get so much more dimension in your look if you use both matte and shimmery shades.
Big Center Shadow:
Lets talk about this big "sunset" shadow in the middle of the palette. I love that they gave us such a large pan of this beautiful shade!!! "Sunset" is a gorgeous shimmery medium golden champagne shade. Champagne is the eye shadow shade that I wear most often! I almost always have shades like this on my lid no matter what color combination that I am doing. Most of my champagnes are a bit lighter than this one. So, I am thrilled to have it in this kit!
On days that I wear one single shadow, it is almost always a shade like Sunset. Therefore, I hit pan on these shades quicker than any other color in my collection (runner up for "most used" in my collection: taupe for the crease). So, I love that this pan is larger for Sunset as it is the color that I will use up the quickest.
Texture, Pigmentation, and Wear:
As you can see from the swatches, the pigmentation is really amazing for these shadows. The shadows are soft and buttery. Such nice quality! Honestly, the more that I use and explore the Anastasia line, the more that I fall in love with it.
KEY INGREDIENTS:
Youthful SynergyTM Complex

in Shimmer Shades

Brown Algae -

A key ingredient that smoothes, firms, hydrates, and revitalizes the appearance of skin.
Diamond Core Powder -

Diffuses light for a soft focus effect.
Sea Whip Extract -

Soothes the skin
Macadamia derivative -

A natural hydrator capable of holding up to 300% more water in the skin.
Powerful antioxidants of Vitamins A, B, C, E, and F.
Balkan Botanical Infusion®
FEATURES & BENEFITS

Deluxe mirrored compact with professional dual brush that features 9 shadows for day and evening looks.
Illumin8 formula featuring Youthful Synergy Complex® is clinically proven to illuminate, firm, and hydrate the skin.
For inspriation, Anastasia included 5 cards with different eye looks to recreate in my package. Now, I don't believe that these cards come with the kit? I found that these cards really did get me inspired!
Here is a sampling of some of my favorite looks from the cards: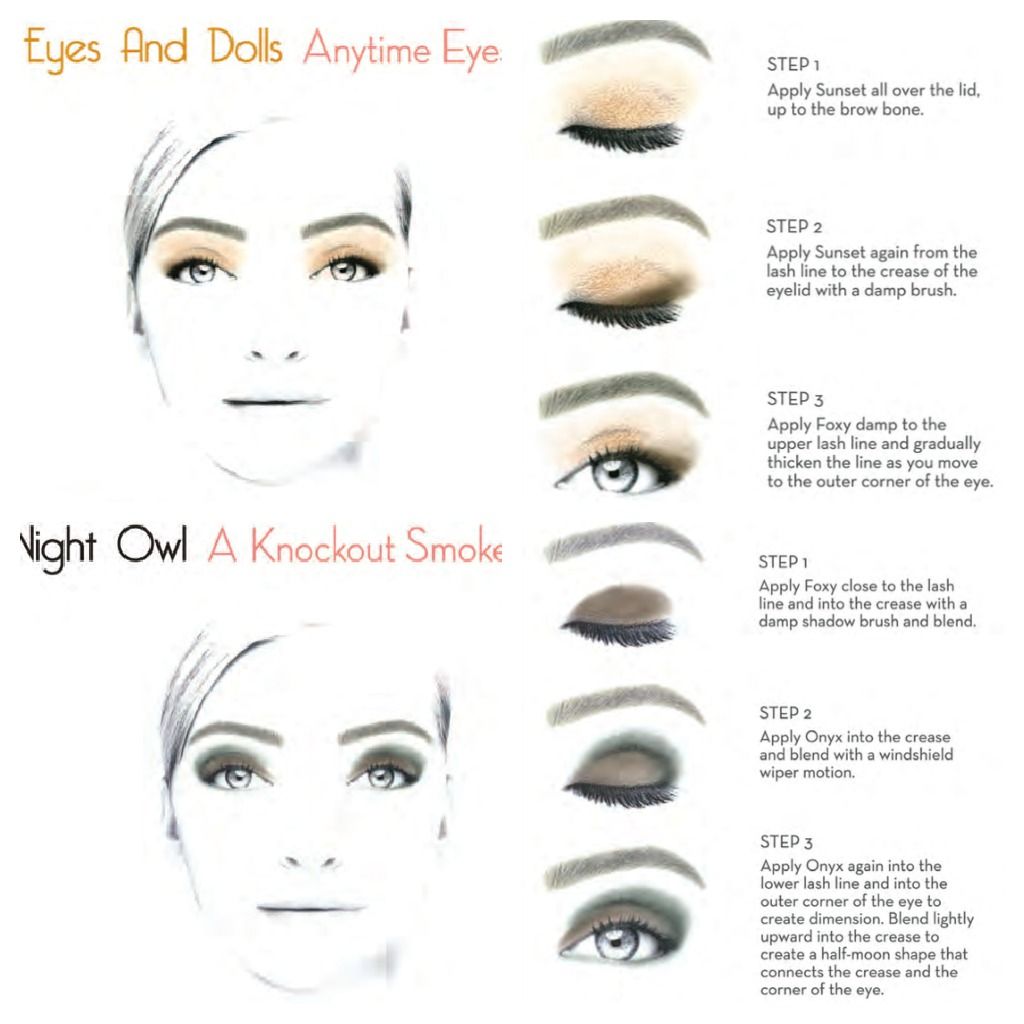 Also, I included this video from Anastasia to get you inspired as well!
The Skinny:
Retails for $34.00
Available at Ulta, Sephora, and Anastasia.
If you are looking for a great neutrals palette, you should totally check out the She Wears It Well palette from Anastasia! I think this palette has such a nice balance of shades in both shimmer and matte. She Wears it Well provides a good selection of usable neutral shades without overwhelming you with too many choices. Also, I love that there are both matte and shimmer shades as well as a liner and browbone highlight shade. This kit truely is all you need for a complete neutral look.