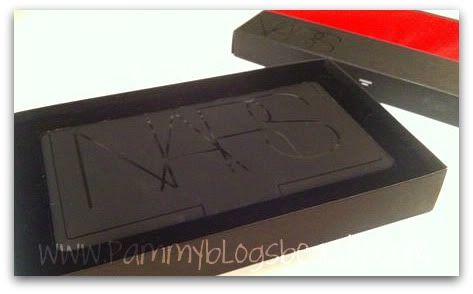 There are some really great Holiday Palettes available for 2011!
This fabulous
NARS Limited Edition Danmari "All About Cheeks Palette"
is no exception. Actually, it is the palette that I was most excited to purchase, review, and use! While I have quite a collection of eyeshadow palettes and palettes that contain eye shadows and blushes, this is my first "cheeks only" palette. That alone is reason for excitement!!! :)
NARS is known for their awesomely pigmented and high quality blushes. So, if you are looking into getting a blush palette and want great quality. NARS's Danmari is an obvious choice!
I am such a huge fan of blush. It is my cosmetic "weakness". Nothing perks up your face better than a good blush! So, as you can imagine, a "cheeks" palette is right up my alley.
For more photos, swatches, and my full review, keep reading.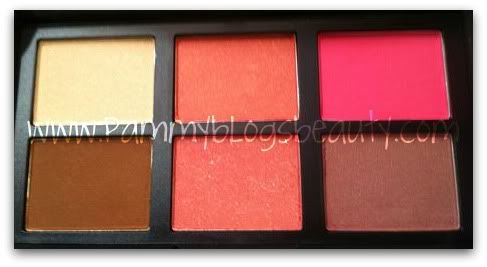 The NARS Danmai "All About Cheeks Palette":
What a truly gorgeous palette!
Even when I was standing in line to purchase this from Sephora, a MUA stopped me while in line saying "I hope you are buying that palette for yourself. It is too perfect to give away as a gift." LOL! I am glad that I was. :)
This Limited Edition "All About Cheeks" palette from NARS contains 6 X .12 oz pans of blush/bronzer/highligher. The shades include:
Hungry Heart (Highlighter: Gold Ivory with Gold Shimmer)

Super Orgasm (Peachy Pink with Gold Glitter, slightly pinker than Orgasm but wears about the same shade, just with more glitter)

Desire (Uber-bright Cotton Candy Pink, matte)

Casino (Bronzer: Dark Brown with metallic gold shimmer)

Orgasm (Peachy Pink with Gold Shimmer)

Sin (Mauve-Berry with Gold Shimmer)
Great Value!
What really impresses me about this palette is the value and the pan size! Typically, a NARS blush, bronzer, or highlighter comes in a .16 oz pan for $27 each. Well, the pan size in this palette is .12 oz and you get 6 for $65. So, for me, the value is fantastic! Plus, you are getting the amazing quality of NARS. Yes, $65 is very expensive. But, if you look at the good pan size and the number of pans, it adds up to a good deal.
Range of Shades Finishes:
This palette, overall, might be best suited for those with medium skin tones. I am very fair skinned (MAC NC 15 or a NARS Sheer Glow in Siberia). While my skin is far, I like a wide assortment of blush shades (depending on my mood). Sometimes I like soft and subtle. While other times, I like a more vivid blush or a pop of color. I like that both glitter, matte, and shimmer shades are included in this palette.
Blushes: Orgasm and Super Orgasm are just beautiful! I think these shades would be suitable on a wide variety of skin tones. Orgasm is a best selling blush for a reason! It is just lovely. But, I must admit, I am surprised that they included both Orgasm and Super Orgasm in the same palette as they are so similar.
I need to apply Desire and Sin with a VERY light hand for them to work for me. If you are fair skinned, and want to make this palette work for you, you certainly can with the right application. Light application and good blending are the key with the darker and bolder blushes. I think that Sin is a great addition to my blush collection. I probably wouldn't have bought this shade if it wasn't included in this palette. But, upon wear, I am really liking this unique blush shade!
Bronzer: Unfortunately, Casino, is really is too dark for my skin. I would have preferred it if NARS included a lighter bronzer in this palette. Oh well! But, with that said, I am going to continue to experiment with bronzer brushes to see if I can find one that makes it work better for me.
Highlighter: Hungry Heart is very golden and shimmery highlighter. If you do not like shimmer in your highlighters, then you might not like this shade. I like to apply this sparingly to my upper cheekbones and inner eye corners. It is a tad more "gold" than I usually go with a highlighter. But, with a light hand, it can work.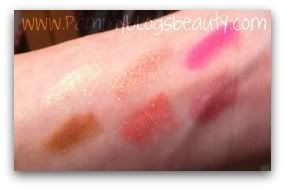 The Packaging:
I really adore the packaging of this palette. Generally speaking, I prefer slimmer and sleeker palettes. They just work better for travel and storage. The palette measures approximately 6 in x 3in. What a great solution for travel! Sleek and elegant! Plus, there is a huge mirror inside. You will have a nice assortment of blushes when you travel with this.
All-in-all, this palette is a winner for me! I will mostly use this palette for its 4 gorgeous and pigment-rich blushes. Yes, some of the blushes are quite bold in color or finish, but bold color and glittery/shimmery finishes are so appropriate for the holidays. Or, just to perk up your winter skin. The highlighter I use on both my cheeks and my eyes. The bronzer is really too dark for me. But, as I mentioned above, I am still determined to make it work for me. If ya'll have any good brush recommendations for applying dark/pigmented bronzers, I would love suggestions!
If you are wanting this palette, you might want to find it sooner rather than later! It is Limited Edition and is already sold out online at Sephora.
What palettes are you excited about this Holiday Season? I would love to hear!
Thanks so much for reading!
Stay Beautiful and Happy Holidays!!!
XOXO!