Makeup Wars
time again! This time the
Makeup Wars
bloggers are sharing their current picks for the
Pantone Color of the Year 2013: Emerald Green
! I am so inspired by this challenge!!!
At first the thought of
Emerald Green
made me reminisce about the late 80s/Early 90s. Emerald Green was everywhere then: home decor, fashion...yes, I was *all about* Emerald Green. So much so that I wish that my coloring was more "Winter" (remember those seasonal colors? What was that Beauticontrol?). Well, colors always come back in Fashion. What is new is old and what is old is new (lol!). If you have scoped out your local Mall lately you know what I mean 80s/early 90s Fashion is back in a big way: the shorts and tights combos of the 90s, 'ugly" printed sweaters (No, I have not jumped on the Wildfox jumper bandwagon just yet), lots of color throwbacks like peach and emerald, and OMG I have even seen Stirrup pants (seriously!!!). Want more 80s inspiration? Look no further than Prime Time television and the new hit (and 80s throwback) the Carrie Diaries. As a lover of all things Carrie Bradshaw and *cough* high school teen dramas (OMG, how old am I again?), you know that I am watching and loving that show (lol!) and supressing the urge to crimp my hair. A combination of my nostalgia, my general love for green, and my interest in trends has me all-over Emerald!
What are the Makeup Wars?
What are the Makeup Wars? The Makeup Wars bloggers are a small group of top beauty bloggers with a serious love for makeup. We mutually pick topics (e.g.,
Favorite Red Lipstick
,
Best Fall Look
,
Most Repurchased Items
) and blog-blast our posts at precisely the same time every other Monday. We include a graphic link at the top and bottom of all of our posts so that you, the reader, can scroll through all of our blogs reading different blogger's perspectives on the same general concept. Get a pen and paper ready! I always seem to make my makeup wishlist while reading through all of the Makeup Wars blogger's posts!
So, lets dive in! What are my recent Emerald purchases and my beauty picks in Emerald (and other greens)? Keep reading to find out!
Go "Green" with your Polish!
Since I am such a neutrals makeup girl, most of my color experimentation happens on my nails! I have my 4 favorite new Green polishes to share with you! These greens are all very different and beautiful in their own unique way!
Pure Ice's "Emerald Crush": A gorgeous mulit-color green glitter in a sheer light green base. Bigger glitter chunks are emerald and smaller glitter dust looks like a light green with flecks of gold. Very pretty! This is gorgeous layered over Julep's Fiona (see swatch below).
Le Metier de Beaute in "Christmas Town" (see full review of Le Metier's Holiday Collection here): As I mentioned in my full review, this polish is amazing! Serious 1-coat coverage in one coat. Absolutely beautiful!!! This is the purest Emerald Green polish that I own. If you buy one makeup item for this Emerald trend, get this one!!! You know that I can't mention Le Metier without plugging my local Le Metier contact! If you are in the Atl area and want an amazing Le Metier Counter experience, please go visit Karen Fields at Neiman Marcus Atlanta: Phone: 404-266-8200. If you visit Karen, be sure to tell her that I sent you! :)
Pure Ice in "Turn it Up": This is such a "fun" glitter! This glitter paired over Le Metier's "Christmas Town" was my go-to mani for the Holidays this past year (see swatch below). No, it is not full coverage glitter in one coat, but 2 coats gets you pretty close. I love the combo of the chunky round silver glitter with the fine green glitter. Pretty, pretty!
Julep's "Fiona": Fiona is a bright and light almost-Chartreuse green. This color is such a departure for me! I think that is what is so fun about it! It represents such a change from my average everyday nail color. I know that I am going to be loving and rocking this shade all spring. :)
These swatches are done with *one coat*! I want you to pay particular attention to the amazing one coat coverage of both the Le Metier and Julep polishes. I am completely impressed! Le Metier polishes are my new obcession for sure (and ya'll know how much I <3 my Julep subscription!).
Looking for a bargain? Look no further than Pure Ice at your local Walmart or Walgreens! These polishes are amazing too and less than $2! Such a good cheap thrill! Pure Ice has tons of colors and quite a nice assortment of greens! :)
Go "Green" with your Accessories!
Another great way to dive into a trend is to pull it into your wardrobe in the form of accessories. My other love, next to beauty, is certainly fashion! Both of these pieces let you add a little bit of Emerald into your look without breaking the bank. Sometimes trends come-and-go quickly. So, I tend to go inexpensive when I purchase items based on a trend.
Here are my picks for Green Accessories:
Jewelmint's Mad World Necklace: I am a huge fan of choker length necklaces. This one is so easy to wear! You can either go dressy with it or (do what I do) dress up a simple pair of jeans and a top. I need to be careful with necklaces these days as I do have a 14 month old. This one holds up to her grabby hands, lol!
JustFab's Bloomsbury Handbag in Dark Green: This handbag is a fabulous way to embrace the Emerald trend! I am *all over* large JustFab handbags used as handbag/diaper bag combos. I am a reformed designer purse junkie. This time in my life is just not for high end designer bags. They would only end up over-stuffed with baby accessories and be a magnet for milk spills. It just doesn't seem right for me to stuff a sippy cup into my beloved Gucci bag. :) So, enter the Bloombsbury handbag in Dark Green! It is a perfect shade of Emerald!!! Plus, it holds everything I need for both myself and baby...and then some. Love it!!!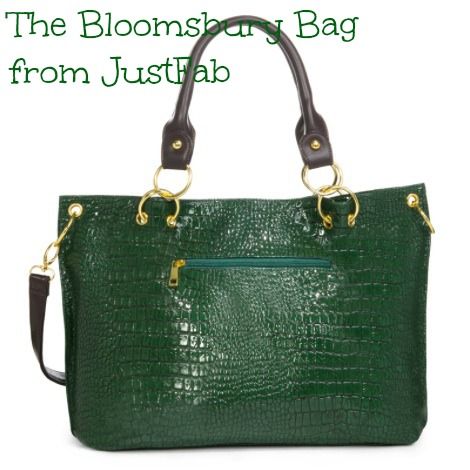 Did you miss our last few Makeup Wars? Be sure to check them out here:
Battle of the Taupes
,
The $20.00 Face Challenge
,
Battle of the Favorite Summer Lippie
, the
Most Expensive Face Challenge
, the
Best Brush
,
Favorite Fall Polish
,
Favorite Red Lipstick
,
Best Fall Look
,
Halloween Manicure
,
Favorite BB Creams
,
Favorite Mascara
,
Favorite Holiday Metallics
, and
Holiday 2012 Beauty Wishlist
,
New Year's Beauty Resolutions
,
Most Repurchased Products
,
Get The Look: Valentine's Day
, and
Beauty Blogger Travel
.
Be sure to click through the links below to see what Emerald Beauty and Fashion items top beauty bloggers are loving!
As always, thanks for reading!
XOXO!!!
Some items I purchased myself
and some I got for samples.
JustFab and Jewelmint referral
links included in post.