Ever since my amazing
facial and makeover experience at the Le Metier de Beaute counter
at Neiman Marcus, I have completely fallen in love! There really is something extra special about this brand.
When it comes to nail polish, I rarely venture into high end brands. I always thought that the quality was pretty comparable between drugstore and high end brands. Well, that was before I tried
Le Metier's polishes
! There is no question that the Le Metier de Beaute's polish formulation is superior!
Not only is the shade assortment fabulous, but also the polishes themselves are probably the best that I have ever tried. I literally can't remember the last polish that I used that applied this beautifully and perfectly with one coat. Le Metier's polish does just that: perfect one coat application! Using only one coat really speeds up the polishing application process while also reducing your dry time.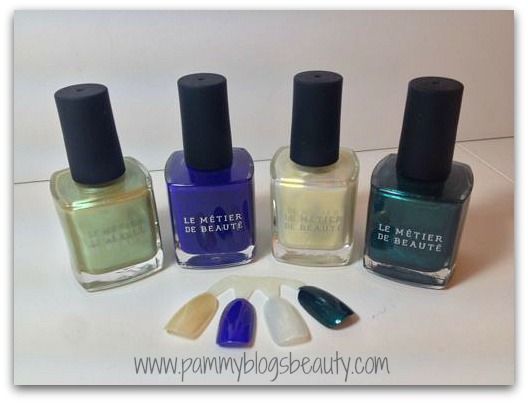 Being a high-end brand, Le Metier is pricey. However, they have some great deals on their polishes! You can either get a full sized bottle for $18, or a mini bottle for only $10! Considering that you only need one coat, these polishes should last you a bit longer than a typical bottle of nail polish. So, if you need a little high-end treat, the mini polishes are a great choice! :)
Here is my assortment of
Le Metier polishes
from their recent
Limited Edition Holiday Collection
:
Christmas Town (deep forest green with slight metallic shimmer): This polish has already become my new fave!!! I wore it on my nails for Christmas! I like either wearing it on its own or using it as the base shade for green glitter polish. If you haven't heard, Emerald Green is the 2013 Pantone Color of the Year. So, not only is this shade gorgeous, but also it is completely on-trend.
Dream Maker (deep and rich royal blueish purple cream): This color is so fun!!! I am a huge fan of purple shades on my nails and this is a gorgeous one. I always admire the fun and trendy polish choices of the girls on Pretty Little Liars. So, I feel like I am channeling my favorite character, Aria, when I wear this polish!
Tinsel Town (iridescent transformer shade with glimmering tones of gold/green/silver with a holographic-type flash): This is a sheer polish that can either be worn alone or layered over another shade to give your polish a new twist of color and finish.
Moon's Glow (iridescent transformer shade with a gold toned whiteish pearl finish): This is a sheer polish that can be worn alone or layered over another shade to transform the look and finish.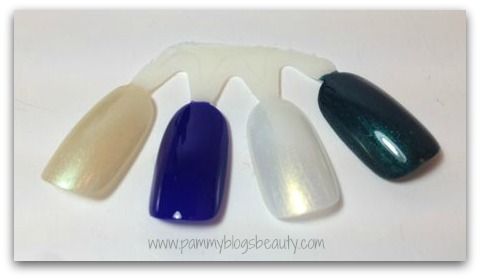 I just love these polishes!
Christmas Town
has been my go-to shade ever since it has been in my possession. Dream Maker is totally beautiful too!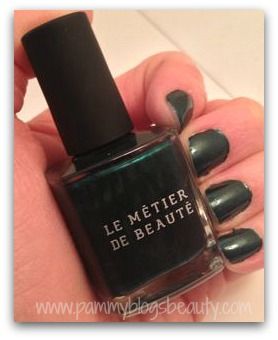 The transformer shades have been incredibly fun to play with too! I keep them in my little makeup bag of top coats that I keep right next to my vanity. When I get "bored" of my mani (day 2 or 3 of polish wear), I whip out one of these to refresh my manicure and transform it into something "new".
Sure, the Holidays are over; but, these polishes are beautiful to wear throughout the Winter and be

yond

!
They are still available online and at Neiman's.
If you are looking for beautiful high-end polishes, be sure to check out the assortment from Le Metier de Beaute! Remember you can always opt for one of their $10 mini bottles.
*If you are interested in Le Metier de Beaute products, please contact my awesome local Le Metier contact Karen! She has done my makeup and a facial at the Le Metier Counter and she is totally awesome!!! Here is her info at Neiman Marcus Atlanta: Phone: 404-266-8200. Here is the link to my post about my experience at the counter:
Beauty Pampering with Le Metier
. If you visit Karen, be sure to tell her that I sent you! :)
Thanks for reading!
XOXO!!!