It is time for another
Makeup War
!!! This time we are searching for the
Best BB Creams
out there!
I am just thrilled that "
BB Creams
" is the
Makeup Wars
topic for the week as searching for the perfect BB Cream has been one of my main missions with my
Foundation Fairy
review series! If you happened to miss that series, feel free to check out that intro post here:
Foundation Fairy: The Fair Girl's Guide to Foundation
.
I will fully admit to being a bit picky when it comes to foundations. If you are going to apply something all over your skin (that you work so hard to keep clear!), the product better be fabulous, right?!?! It can be so hard to find the perfect foundation-type product. That task is compounded with having very fair and hard-to-match skin! Often even the lightest foundation shade from any given brand is just a bit too dark for my skin.
What are the Makeup Wars?
The Makeup Wars group blog hops/blog blasts about the same topic about every other week. We link to each others' posts through the themed graphic at the top of the post (see the last cream, next cream links) and the blog logo links at the bottom of this post. We encourage you readers to click the links and scroll through all of our blogs to see what manicures we are loving this year for Halloween!!! Our posts all go live at the same time. I am always so eager to click through to see what my other lovely and creative Makeup Wars girls came up with!!!
Did you miss our last few Makeup Wars? Be sure to check out those posts here:
Battle of the Taupes
,
The $20.00 Face Challenge
,
Battle of the Favorite Summer Lippie
, the
Most Expensive Face Challenge
, the
Best Brush
,
Favorite Fall Polish
,
Favorite Red Lipstick
,
Best Fall Look
, and Halloween Manicure.
Back to BB Creams: BB Creams in a Nutshell:
BB Creams have completely flooded the market. Just about every major brand has released either a BB Cream or a tinted moisturizer repackaged as a BB Cream. BB Cream stands for Blemish Balm or Beauty Balm. They originated in Asia as post-laser treatment skin care products. Soon they became a cult favorite and eventually their popularity prompted Western brands to jump on the trend. While BB Creams vastly differ in what they offer, for the most part they are a amped-up tinted moisturizers. So, they are foundation-like products containing skincare ingredients like moisturizers, SPF, and anti-aging ingredients.
To find out what BB Cream (or Creams!) that I picked for this Makeup Wars Challenge, please keep reading!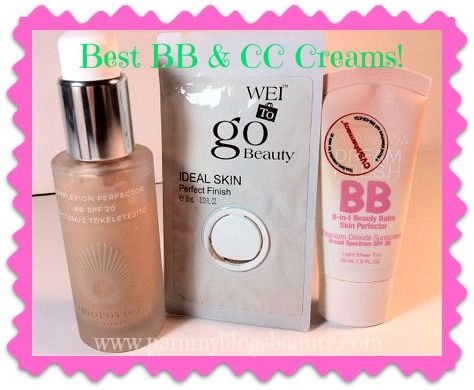 Why Choose a BB Cream?
Personally, I love using BB Creams! If you are going to apply something all over your face, you might as well get the added skin-loving benefits that BB Creams promise. Extra moisturization and anti-aging ingredients? Yes please!
I found it impossible to pick just one! So, I choose three. I picked the best High End BB Cream, best Drugstore BB Cream, and a CC Cream. Oh my! A CC Cream? What the heck is that? Just when you think that you have figured out all of this BB Cream nonsense a CC Cream crops up! That is right, the "newest" incarnation in this category is CC Cream. Essentially CC Creams are BB Creams with better foundation-like coverage and extra moisturizers. I would say "whatevea!" to this whole CC Cream idea except for the fact that I have completely fallen in love with the one that I have tried! Honestly, if I had to just choose one product for this challenge, it would be my CC Cream:
Wei Beauty's Perfect Finish Cream
. However, this is a BB Cream challenge. I felt that only picking a CC Cream would kinda be cheating. LOL, I know, I know. I am such a rule follower! So, I am just slipping it in this post with two other BB Creams that I love! ;)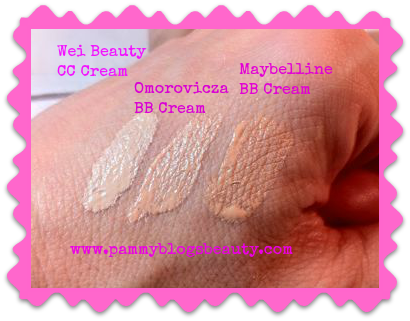 Best Drugstore BB Cream: Maybelline's Dream Fresh BB Cream:
For me, this Dream Fresh BB Cream by Maybelline has been the best drugstore BB Cream that I have tried (but, mind you, I have only tried one other drugstore version). This product is essentially just a tinted moisturizer with a nice sunscreen. The coverage is extremely sheer. This BB Cream was one of my go-to items for Summer because of the light coverage and feel. When I wear this, I still need concealer around my nose and under my eyes. It leaves my skin looking slightly dewy. The color match is pretty decent for my super fair skin. This BB Cream comes in shades and I wear the very lightest one: . While the product itself is a bit darker than my skintone, it is so sheer that when you blend the BB Cream it self adjusts and blends into your skin seamlessly.
The Skincare Claims? Honestly, I really think that this product is just a tinted moisturizer with "BB Claims" as I have never really noticed any skincare improvements from wearing this.
Best High End BB Cream: Omorovicza Complexion Perfector BB Cream SPF 20:
Without a doubt, this is my favorite all-around and high end BB Cream. There is no doubt that this product is extremely expensive at $135.00 per bottle. Actually, this is the most expensive foundation-like product that I have ever put on my face. With that said, I think that this product is fully worth the price as it truely is good for your skin. You really are getting fabulous skincare packed into this product. It plumps and hydrates your skin with Hyaluronic Acid while giving antioxidant protection with Vitamin C. The sunscreens in Omorovicza are Titanium Dioxide and Zinc Oxide. These particular sunscreens have always been a winning combo with my skin.
I am amazed at how soft and smooth this product makes my skin! It just feels touchably soft and baby smooth! The Hyaluronic Acid really boosts your skin's moisture and the result for me means that my pores look less noticeable and my fine lines are smoothed out. I am so fully impressed with this product!!! I fully reviewed this product a few months ago. If you are interested in reading that review, please click here:
Foundation Fairy: Omorovicza's Complexion Perfector BB Cream
.
Omorovicza's Complexion Perfector BB Cream comes in only one shade. It sounds crazy but the formula really does self adjust to your skintone. It might look a bit light at first, but just keep blending! With that said, my skin is extremely fair. So, I am not sure how this would self adjust to those with deep skin tones. Out of the three products mentioned in this post, I think that this BB Cream by Omorovicza is the best spot-on match to my skin.
This product has been great in the warm weather. I have not had the chance to test it out yet in the cold weather. I think that this product will be just perfect in the winter because of the skin hydration benefits! I am excited to continue to use this through the winter!
I have tried a few higher-end BB Creams, and this one is certainly my clear favorite! Yes, the price is steep, but you are truly getting fabulous quality skincare and skin perfecting benefits. The upside is that the bottle is quite large and you only need a small amount. So, a bottle should last you awhile.
Best BB Cream-like Product/Best New Innovation: Wei Beauty's Perfect Finish CC Cream:
Okay, I am kinda "cheating" by slipping in a CC Cream into my "Best BB Creams" post. I discovered this product through
Birchbox
in Wei Beauty's Sleep Over Kit (for a full review, click here:
Wei Beauty Sleep Over Kit
). I think it is a bit funny actually now that BB Creams have hit the mainstream, the CC Creams are emerging! What is the difference? While BB Creams tend to be more like tinted moisturizers, CC Creams perform a bit more like foundation and provide more coverage.
There is no question that this product is thicker and provides more coverage than the other two BB Creams mentioned in this post by Maybelline and Omorovicza. Actually, the coverage is so good that I don't really need concealer when I use this product (but I do still add a bit to my uber-dark under eye circles). I think many people could skip concealer completely when they use this.
This product comes in three shades. I wear the shade light. The product really matches my skintone quite well when blended out. Like the Omorovicza, this Wei Beauty CC Cream hydrates the skin well. However, the coverage is much thicker and fuller with the Wei Beauty CC Cream. Also, the thickness really allows the product to act as a primer and it fills in pores beautifully. With that said, I think that the Omorovicza looks a bit more natural and invisible on the skin.
I loved sampling this through
Birchbox
and have already purchased a full sized product! The only downside that I can find about this product is that it lacks a SPF.
In Summary, I really like all of these BB Creams! They are all quite different and I reach for them for different reasons. I find that a person can have many favorites when it comes to foundations and BB Creams depending on what type of coverage you might want on a particular day. :)
When comparing, Maybelline's is by far the thinnest with the least amount of coverage. Maybelline's version truly is a tinted moisturizer with a BB Cream name. Also, Maybelline's comes in shades, Omorovicza comes in one shade, and Wei Beauty's CC Cream comes in three shades. The Wei Beauty CC Cream has the thickest coverage and no SPF. The skin benefits seem the greatest with the Omorovicza as my skin looks and feels incredibly hydrated, plumped, and smoothed when I wear it. Continuted use keeps my skin more hydrated than when I do not wear the Omorovicza.
Have you readers tried any BB Creams yet? Have you heard about CC Creams? I would love to hear about what BB/CC creams you are using and loving!
As always, thanks so much for reading! Stay beautiful!
XOXO!
of the Omorovicza and the
Wei Beauty CC Cream
I purchased the
Wei Beauty CC Cream
and the Maybelline BB Cream
Birchbox referral links in post