What is it about little travel sized kits that I just love? I think that I am just a lover of all things cute and girly.
This little
Birchbox-exclusive
NEW kit from
Wei Beauty
is such an adorable concept! This
To-Go Sleep Over
kit is designed to keep your skin looking looking great, even if you spend the night away from home. Often nights spent away from home mean you are not getting your ideal beauty-sleep. I don't know about ya'll; but, I know that I never sleep that well unless I am in my own bed. So, perk your skin up in the morning after a fun night away with this little kit!
Not a traveler? Well, this kit is also just a more affordably priced way to try out a few products from this brand in smaller sizes.
These travel-friendly sized products can just slip right into your purse for on-the-go! This "Sleep Over" beauty kit contains
Wei's Real Clean Gelled Oil Cleanser
and the
Ideal Skin Perfect Finish Cream
. The
Ideal Skin Perfect Finish Cream
is an amazing new product: It is a
CC Cream
(more about what that is later...)!!!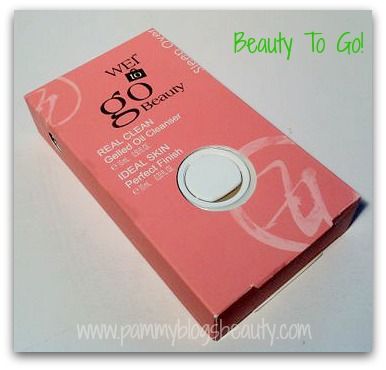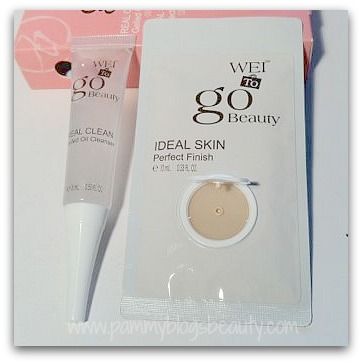 As you can see in the picture, the two items in the kit are small and compact. The Real Clean Gel Oiled Cleanser is .5 fl oz and the Ideal Skin Perfect Finish Cream is .33 fl oz. These two items slide right in the little box. However, if you are really packing for on-the-go use, toss the box and just pack the items.
CC Creams: A Brand New Type of Product!
Wei To Go Ideal Skin Perfect Finish CC Cream:
As a lover of BB Creams, this product had me intrigued from the get-go. Can CC Cream possibly be the "next BB Cream"? What is the difference?
CC Creams
are "
Color Correction Creams
". The first on the market are by Wei and Chanel and Olay has one coming soon (in October). CC Creams are super hydrating tinted moisturizers that also function as a primer and a serum. They really function much more like an ultra hydrating foundation than a tinted moisturizer. So, you get better coverage plus all of the great skincare benefits. Like BB Creams, these CC Creams originated in Asia. After trying a ton of BB Creams and this one CC Cream, I must say...I am a CC Cream convert! I just feel like the CC Cream does "more" for my skin and is more what I need.
This
Ideal Finish Perfect Finish CC Cream
by WEI has a beautiful, silky, almost serum-gel like consistency. It glides on the skin and leaves it feeling touchably soft and hydrated while evening out the skintone. I found the coverage to be about medium and much better than most BB Creams. So, I would say that this CC Cream generally has better coverage and a nicer texture than most BB Creams that I have tired. Another big difference? I do not see a SPF listed for this CC Cream. So, while it is super hydrating and it provides great coverage, you are still going to need to apply a SPF first for sun protection.
*note: This is a first-impressions post. Only long-term testing will reveal if the skincare claims are true.
According to Wei, the
Ideal Skin Perfect Finish Cream
will improve your skin over time. It contains skin-loving ingredients like licorice root, mulberry leaf, and mandarin orange (which has a high content of Vit C).
This To Go Sleep Over sized CC Cream is packaged in a strange little square packet with a flip top lid in the center. The packaging is odd. It is extremely travel friendly in this size. It is ultra slim and could fit in even the smallest evening bag. While the packaging is strange and different, it certainly is functional. I believe the full sized version is packaged pretty much the same way (just a larger size).
To Use:
Just apply as you would a foundation. Wei states that you can skip a moisturizer with this product. I agree, it is very hydrating. However, as I mentioned, it does not contain an SPF. So, you still need that. Apply a thin layer and build coverage as needed. You can also reapply as needed throughout the day. I find that the coverage lasts without needing to reapply.
I can't get over how beautiful my skin looks and feels when I wear this
Ideal Skin Perfect Finish Cream
! Honestly, this has quickly become my new favorite foundation-like product! It comes in 3 shades and Light is a really great match for my ultra-fair skin. As soon as I apply this product, my pores disappear and my skin looks even and feels soft. Besides my dark undereye circles that require concealer, this Ideal Skin CC Cream provides all the coverage I need! It covers all the redness around my nose and chin areas and my very faint dark spots that remain post-pregnancy. Most foundations seem to sink into my pores and make them look huge. Not this product! Love it!!!
Wei Gelled Oil Cleanser:
This is an oil based gel cleanser. This product is unique! While it is an oil, it looks and feels like a gel. So, you do not feel like the product is greasy going on. It actually goes on more like a non-foaming gel cleanser. The clear gel oil binds with the dirt and debris on your skin to gently lift it away. It removes dirt and makeup so gently!

This little cleanser is conveniently packaged in a small squeeze tube. Yes, it is perfect for travel and does not take up much space. Since you only need a tiny amount of product, this small .50 oz To-GO Sleep Over kit size will actually last you quite awhile!

The Gelled Oil Cleanser is infused with tea seed oil. It is very soothing and certainly gentle enough for sensitive skin like mine. It cleanses effectively without leaving skin feeling tight or dry nor irritated.

To Use: Just smooth a very small (pea sized) amount over your skin. Then gently remove using a warm wet washcloth.
The Skinny:
The Wei To-Go Beauty kit retails for $19.00 (and this month it ships free on Birchbox for subscribers!) for the .5 oz Real Clean Gelled Oil Cleanser and .33 oz Ideal Finish Skin Perfect CC Cream. What a great way to try these items for an inexpensive price!
Interested in Full Sizes? Ideal Skin Perfect Finish CC Cream retails for $30.00 for 1 oz and the Real Clean Gelled Oil Cleanser retails for $26.00 for 1.5 oz. These are also packaged in a very travel friendly size.
The Wei To Go Beauty Sleep Over Kit is available exclusively at Birchbox!
As you might have guessed, I am going to award
Wei's Ideal Skin Perfect Finish CC Cream
with my offical PBB Stamp of Approval!
I really love both of these products in the
Wei To Go Sleep Over beauty kit
! What a great introduction to the brand. I found two products that I like so much that I want to order the full-sized versions. I like how the unique gel/oil cleanser provides a gentle way to wash my face and the Ideal Finish CC Cream leaves my skin looking flawless and hydrated. When I use these products, I can't resist touching my face. It feels so incredibly soft! Quite frankly, I am a bit blown away by these products!
Not a
Birchbox subscriber
yet? Jump on the Bandwagon! ;) Just kidding! For real though, Birchbox continues to be one of my very favorite beauty sample subscriptions. I keep learning about great brands through them! For only $10.00 per month, you get a lovely box filled with deluxe sized samples from mostly high-end or luxury brands. It is so much fun! It is my monthly treat to myself. It feels like opening a present every month!
I got a sample of the To Go Sleepover Kit.
I liked it so much that I also purchased another
from Birchbox! Also, I pay for my own
Birchbox monthly subscription.
Birchbox referral links in post.